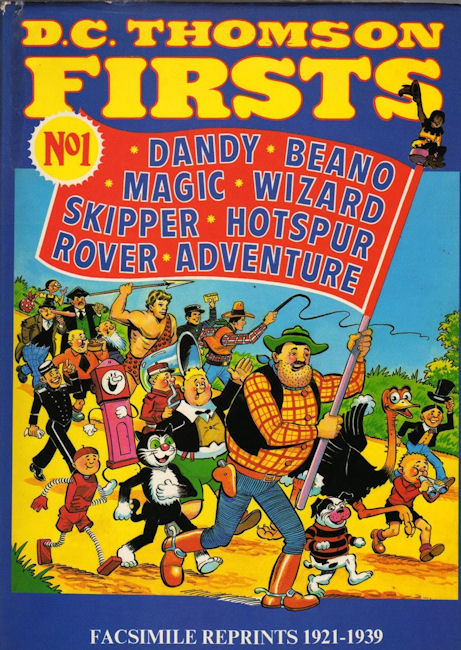 D.C. Thomson
History:
Publications: Beano, Beezer, Buddy, Bunty, Cracker, Crunch, Dandy, Debbie, Diana, Emma, Hornet, Hotspur, Judy, Magic, Mandy, Nutty, Rover, Sparky, Spellbound, Topper, Victor, Warlord
Characters: Amazing Mr. X, Al Change, Ali and his Baba, Billy the Cat, Black Hawk, Black Sapper, Baggy Pants, Brassneck, Bananaman, Captain Hornet, Comet, Cat, Desperate Dan, Danger Man, Diablo, Danger Twins, Simon Death, Flaming Avenger, Fiend's Beans, Frosty McNab, General Jumbo, Iron Hand, Iron Teacher, Invisible Dick, Iron Fish, Iron Fish, Inky-Top Imps, Jack Flash, Jackie Flash, Johnny Jett, King Cobra, Larry Kelso, Klanky, Katie the Cat, Morgyn the Mighty, Nick Jolly, Ping the Elastic Man, Peter Piper, Pansy Potter, Q-Bikes, Red Star Robinson, Smasher, Supergirl, Souper Boy, Supercats, Syrius Thrice, Superwitch, Spring-Heeled Jackson, Scarlet Hawk, Trixie's Treasure Chest, Thor Thumb, Valda, Wild Boy of the Woods, Jimmy Watson, Billy Whizz, Danny Wilson, Wonder Wellies, X-Bow, Zogg the Wizard
Back to General UK Comic Book Heroes.
Back to UK Superheroes Main Page.
All images and characters depicted on this site are copyright their respective holders, and are used for informational purposes only. No infringement is intended and copyrights remain at source.