Buddy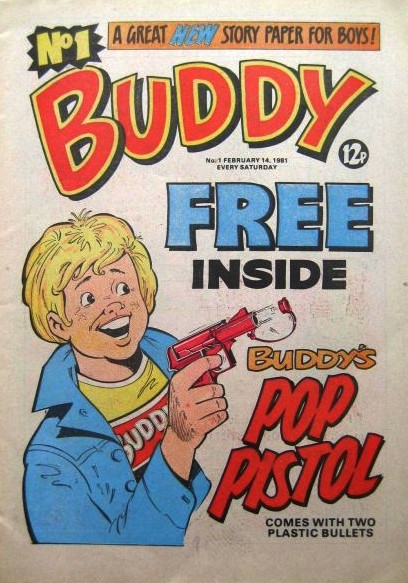 Publisher: DC Thomson
Format: Weekly anthology comic
First Issue: February 14th 1981
Last Issue: 6th August 1983 (130 issues)
Absorbed: None
Absorbed into: Victor
Strips: Deep Sea Danny's Iron Fish, Billy the Cat, Limp Along Leslie, Wolf of Kabul, Jonah - The Biggest Jinx on the Seven Seas, Tuffy - A Boy All Alone, Hammer, Boy on the Run, Q-Bikes, General Jumbo, Starhawk, Mice of Tobruk, Jasper Sly, School of Soccer, Hudfield Hackers, Roul the Warrior, Tom Smith's School Days, Maskface the Samurai, Frontline UK, Klog, Run Boys Run, Tad Turner, The Bushwacker, Wingfoot
Comments: A weekly boys comic from DC Thomson, Buddy concentrated on adventure strips rather than humour strips (like its stablemates Beano and Dandy). The first issue was published on 14th February 1981 and included a free 'Pop Pistol with Two Bullets'. Buddy issue two came with a free 'Banshee wailer', while issue three included a free' Super Zoomer' a balloon that 'soars and swoops and loops the loop'. Though it was not uncommon for the occasional strip in one title to have originally appeared in another, defunct title, and very common for strips to transfer titles via a failing comic merging with a more successful one, Buddy was unusual in having an extremely high percentage of strips which had originated in other DC Thomson titles, suitably reimagined and updated, both from cancelled titles and from titles such as Beano which had included adventure strips in its earlier days but gradually phased them out on favour of humour strips. The stories in the first issue were 'Limp Along Leslie' (originally from Wizard), 'The Wolf of Kabul' (previously appearing in Hotspur), 'Deep Sea Danny's Iron Fish' (a reimagined version of the Beano's Iron Fish), 'Jonah - The Biggest Jinx on the seven Seas' (a rare Buddy humour strip, originally seen in Beano) and 'Billy the Cat' (a slightly older version of the character who used to appear in the Beano), plus new series (e.g. not having appeared in other titles beforehand) 'Tuffy - A Boy All Alone' (an orphan trying to survive on his own), 'Hammer' (a ninth century Briton fighting Vikings), and 'Boy on the Run' (a young boy fleeing the mysterious Man in Black). Later issues revived Beano's Q-Bikes and General Jumbo, Crunch's Starhawk, Bullet's Mice of Torbuk, and introduced new series Bushwacker (featuring a futuristic crimefighting vehicle), Jasper Sly (a Victorian-era villain), Hudfield's Hackers (a football strip), School of Soccer (another football strip), Tom Smith's Schooldays, Roul the Warrior (a Briton fighting the Romans), Maskface the Samurai (starring a masked warrior in ancient Japan), Frontline UK (an invasion story) and Klog (a humour strip featuring a Stone Age footballer). After a little over two years and 130 issues, Buddy ended on 6th August 1983.
Back to General UK Comic Book Heroes.
Back to UK Superheroes Main Page.
All images and characters depicted on this site are copyright their respective holders, and are used for informational purposes only. No infringement is intended and copyrights remain at source.