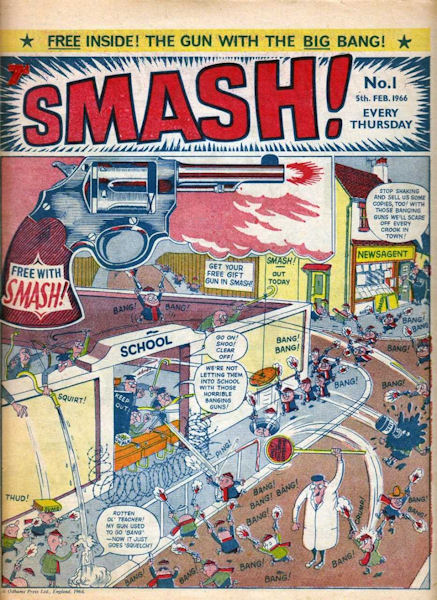 Smash!
a.k.a.: Smash! and Wham!; Smash! and Pow!; Smash! and Pow! incorporating Fantastic
Publisher: Odhams, then I.P.C.
Format: Weekly anthology strip comic, with occasional text stories
First Issue: Smash! #1 (5th February 1966)
Last Issue: 3rd April 1971 (257 issues)
Absorbed: Wham!, Pow!, Fantastic
Absorbed into: Valiant
Strips: The Ghost Patrol, Brian's Brain, The Legend Testers, The Moon Madness, It's The Rubberman, Batman and the Boy Wonder, The Spectre, Destination Danger, Devil of the Deep, King of the Ring, Laird of the Apes, Sergeant Rock - Paratrooper, Bunsen's Burner, Bad Penny, Grimly Feendish, The Cloak, Queen of the Seas; The Man from B.U.N.G.L.E., His Sporting Lordship, Simon Test, Ronnie Rich, Percy's Pets, The Nervs, Space Jinx, The Tellybugs, The Swots and the Blots, Charlie's Choice, Tuffy McGrew
Comments:
Back to General UK Comic Book Heroes.
Back to UK Superheroes Main Page.
All images and characters depicted on this site are copyright their respective holders, and are used for informational purposes only. No infringement is intended and copyrights remain at source.