Chapter 6, "Born Again", doesn't seem to introduce anyone new, and it's not until the end of Chapter 7, "Marching as to War" that we catch a glimpse of someone new.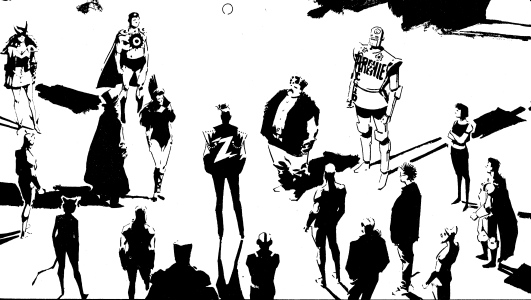 Standing around in the group that is heading to Earth 666, are the other members of the Amazing Three (we've already seen Tanya, and we meet her properly just prior to departing for the Lloigor infested world.)
| | | |
| --- | --- | --- |
| | The Blue Wizard can be seen standing just next to Tanya. Introduced one panel earlier, he is one of the major guest stars of this Phase, and survives to the end. He uses his magic wand to erect a memorial for the dead before he departs for his own reality. | |
| | | |
| --- | --- | --- |
| | At the bottom of the panel with his back to the camera is Oakman. Like the Blue Wizard he is a major guest star with a sizable role, and he survives to the end of the Phase. | |
Everyone else in that part of the panel has been seen earlier, although not all of them have been identified.
The other half of the panel also features a couple of newcomers.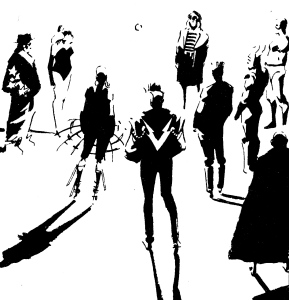 | | | |
| --- | --- | --- |
| | Standing between DJ Chill and Mantra is Electrogirl. She travels to Alternative 257 and is seen to be among the survivors in the final chapter. | |
Vertex and Spook are readily identifiable to the right of Mantra, but then there are four people who are harder to place. Three of them could have been seen already, but at least one is new. He looks like he is wearing some sort of armour with horn-like prongs at the top of the helmet. Anyone recognise him?

Someone has suggested he might be the Phantom Viking, but "cosmick" has come up with another possibility - he wonders if it is an obscure character called Manxman. The plot thickens!
Back to UK Superheroes Main Page.
All images and characters depicted on this site are copyright their respective holders, and are used for informational purposes only. No infringement is intended and copyrights remain at source.