2000 A.D.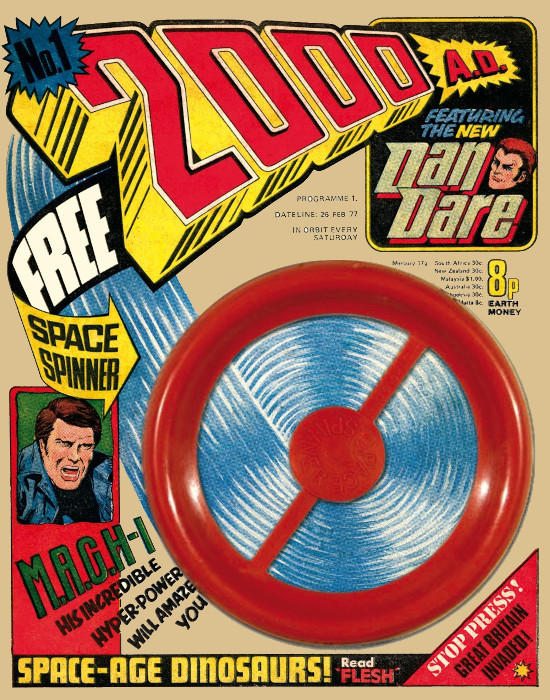 a.k.a.: N.A.
Publisher: Rebellion, formerly Fleetway, I.P.C.
Format: Weekly anthology strip comic
First Issue: 26th February 1977
Last Issue: Still ongoing, 2000 issues and counting!
Absorbed into: N.A.
Strips: Numerous - see below
Comments: 2000 A.D. has been published weekly since 1977, absorbing fellow magazines Starlord and Tornado along the way. It launched the careers of many prominent writers and artists, and, alongside The Beano, is the last surviving "old style" British comic from the heyday of the weekly anthology. With its science-fiction bent a large number of its characters qualify as "super humans" and hence an entry in this site.
The beginning
Developed by Pat Mills and John Wagner for I.P.C. magazines at the suggestion of Keith Gosnell, 2000 A.D. launched with a cover date of 26th February, 1977. It aimed to tap into the growing interest in science fiction, as typified by the release of Star Wars later that same year, and to help give it immediate public recognition, the best known pre-existing British science fiction comic character Dan Dare was updated and included in the opening line-up. However, Dare didn't prove to be the most popular character with the readers. That honour initially went to super-powered spy M.A.C.H. One, but was soon stolen by future cop Judge Dredd, who debuted in the second issue and has not only been in almost every issue since, but also got his own spin-off title, novels, short-lived U.S. title (a new version, not reprints like his fellows), and (somewhat disappointing) movie. One of the comic's conceits was that it was not edited by a human, but rather by Betelgeusian Tharg the Mighty; this wasn't the first time a fictional character purportedly handled I.P.C.'s editing chores, as Captain Hurricane had taken up the role in the comic Battle. Rather than terming each new weekly installment of the comic an issue, Tharg preferred to refer to them as Progs, short for Programmes; in Prog 24 Tharg starred in his own strip, the first of a number of intermittent adventures he would have, and, more significantly, in Prog 25 the comic featured the first of Tharg's Future Shocks, short stories (usually a single episode) with a twist to them. Over time many future top writers would debut this way, as would a few recurring characters.
2000 A.D.'s anthology nature allowed for old stories to run their course, reach a logical conclusion, then end or take a rest while another series replaced it. However, in the first year and a half none of the new series had the same verve as the starting strips; it wasn't until #76 and the introduction of Robo-Hunter that the comic gained another strip possessing true longevity, and it was 10 issues after that when the comic picked up some more strips that would prove to have real staying power...
Starlord - meanwhile 2000 A.D.'s success saw the launch of another science-fiction weekly title, Starlord. However, after 22 issues, Starlord was cancelled and merged into 2000 A.D.
2000 A.D. and Starlord
With Ant Wars concluded, Judge Dredd having returned home to Mega-City One at the end of his epic Cursed Earth adventure (so as to provide a clean jumping on point for new readers coming to the book from Starlord), and Dan Dare and Robo-Hunter taking a break until Prog 100 to make space for the newcomers, Prog 76 featured Dredd at the start of a new epic adventure, the return of fan favourite Flesh, and Starlord's Ro-Busters and Strontium Dog. Though Strontium Dog was the first of these strips to take a break, in the long term it would prove to be the only series which has ever seriously challenged Dredd's supremacy as the readership's favourite. Meanwhile, only two issues into the merger, readers got a hint of a change to come, when Ro-Busters began an extended flashback to war droid Hammerstein's military service; less than a year down the line Ro-Busters would have ended, but the spin-off ABC Warriors would eventually become another enduring recurring element of 2000 A.D.
Angel, the first all new strip after the merger, proved less of a hit, vanishing almost as soon as it arrived. Prog 100 saw Robo-Hunter and Dan Dare return, the latter having undergone a facelift, both as a character and series. Prog 119 saw the cover style change, with the "and Starlord" shrunk in size, and a number of new series beginning, including the aforementioned A.B.C. Warriors, as well as Invasion's Bill Savage returning for the prequel Disaster 1990. However, the next big change was to come with Prog 127, when another merger brought new blood to 2000 A.D. Starlord's name would vanish from the title, never to return, and Dan bowed out to make space for the newcomers, his story unfinished. At the time he was intended to return, but with the launch of a new Eagle comic a few years later containing a radically different Dan Dare and both Dan and 2000 A.D. now being owned by different companies, it looks highly unlikely 2000 A.D.'s Dan will ever see a conclusion
Tornado - another title merged with 2000 A.D. after a short (22 week) run. Three strips making the jump: The humour strip Captain Klep, the psi-power drama of The Mind of Wolfie Smith, and Blackhawk, which was majorly overhauled to change an historic adventure series into a science fiction one. None of the series survived in the long run.
2000 A.D. and Tornado
With Prog 127, 2000 A.D. and Starlord became 2000 A.D. and Tornado, and on the cover Tharg proudly welcomed the Tornado heroes who had survived the merger to their new home. Sadly for Big E, he barely got past that cover; Prog 127 was his last appearance bar a small cameo in Prog 500. Though Blackhawk, Wolfie Smith and Captain Klep made good stabs at fitting in, all of them would likewise be gone within a year, only to be seen since in cameos in other series. Prog 139 saw both A.B.C. Warriors and Disaster 1990 end; both the Warriors and Bill Savage would return, but it would be nearly seven years before the former resurfaced as guest stars in another character's strip, and more than eight before the Warriors got their own series back. For Bill, the future seemed even bleaker; in Prog 500 he was included amongst several older characters who cameoed in a Tharg story, where he was deemed too old-style and uninteresting to ever be brought back. He'd make a couple more similar appearances where he was derided as being irrelevant in the new scheme of things; then, nearly 25 years after Disaster 1990 ended, he returned in his own series, stronger than ever. Which just goes to show, it's never wise to write a character off - or to put it another way, there's no such thing as bad characters, just bad stories.
Prog 140 saw new series replace these departed ones. One, the V.C.s would, like A.B.C. Warriors, prove a major hit at the time, then vanish for several years before being recognised as one of 2000 A.D.'s classics and revived more recently. The other, the Stainless Steel Rat, was an adaptation of Harry Harrison's novel of the same name; with art by fan favourite Carlos Ezquerra, it transferred well from prose to comic, and was the first of several adaptations of the Rat's adventures. Unlike other, later non-comic adaptations, the Rat's presence in 2000 A.D. felt natural, not forced. A few issues later Ro-Buster's Ro-Jaws made a return as the host of short, robot-related stories, Future Shocks by another name, and Starlord's Timequake made a somewhat lackluster and all too brief return. Prog 152 saw Robo-Hunter return, proving himself to be more than a one-hit wonder, and the arrival of the eerie Fiends of the Eastern Front; this was another series that writers in the late 1980s and 1990s seemingly looked back on with a level of derision, only for more recent writers to embrace and resurrect. M.A.C.H. 0 also made one last, very final return, bringing his sad story to a natural conclusion. During all this, in Judge Dredd's strip several characters were introduced who would eventually go on to have their own spin-off series...but more on them later. Prog 167 saw a one-shot story, Terror Tube, which at the time seemed to be little more than a Future Shock, but which would soon (11 issues later, in Prog 178) return as an ongoing series, Nemesis the Warlock. But by that point, The Mind of Wolfie Smith had ended, and with it the last of Tornado's heroes and Tornado's name in the title. Captain Klep would cameo in Prog 178 to bemoan his fate in the strip that replaced him, but the Tornado had blown itself out.
2000 A.D. - early to mid 1980s
The early 1980s saw a number of new series debut, and (imo) the overall quality of 2000 A.D. Existing thrills, Judge Dredd and Strontium Dog both had several powerful epic stories, interspersed with enjoyable shorts, other old series such as Robo-Hunter made recurring appearances in some of their best stories, top writer Alan Moore moved from providing one-off Futureshocks to scribing several classic series, several other new series which became fan favourite staples of the title were introduced, and though there was the odd lackluster series, by and large the run up to Prog 500 was golden.
Prog 178 was a start point for new readers: Tornado was gone from the title, Strontium Dog began a new story, and four new series began - the two part sequel to Prog 167's Terror Tube, and would soon lead to the hit Nemesis series; the future sports story Mean Arena, which would be a 2000 A.D. stalwart for several years; Meltdown Man, one of 2000 A.D.s best one off epics; and Dash Decent. Well, they can't all be good I guess. Only Judge Dredd had a story continuing from the previous issue, the epic Judge Child storyline that wasn't going to be interrupted for anything. As issues progressed, other new series came in to replace the ones that had finished: Launched in Prog 185, Return to Armageddon wasn't terrible, but didn't measure up to it's excellent company, and departed fairly shortly, while Prog 189 saw the debut of one Abelard Snazz in a Ro-Jaw's Robo-Tale; though Snazz would never hold down a long running series, he proved extremely popular, and returned in a Future Shock, and eventually graduated to headlining short stories all his own. Prog 204 saw Joe Black, agent of PEST, star in a Future Shock; he too would soon get his own intermittent adventures. Another character who debuted in a Future Shock and then escaped to have his own story was Agent Rat; why he got this privilege is another matter. The most successful Future Shock spin-off, the aforementioned Nemesis, finally began his own ongoing series in Prog 222, and a few issues later another classic started, when Prog 228 saw Rogue Trooper replace the recently concluded Meltdown Man.
Prog 232 welcomed Ace Trucking to the comic, while Prog 237, Prog 241 and Prog 273 saw Abelard Snazz, Joe Black and Agent Rat move from Future Shocks to their own series, albeit only intermittent short stories. Prog 287 introduced space prison drama Harry Twenty on the High Rock, showing readers to the beautiful art of Alan Davis for the first time, while Prog 294 saw the first Time Twister, Future Shocks by another name. Prog 308 witnessed the arrival of Skizz, the first of Alan Moore's ongoing series, and another of Moore's creations, D.R. & Quinch, joined 2000 A.D. in Prog 317, starring in a Time Twister; like others before them, they would soon win their own series (Prog 350). The next big hit of the comic started in Prog 330, when the barbarian warrior Sláine hacked his way on to 2000 A.D.'s pages, and in Prog 376 Alan Moore's Ballad of Halo Jones began. Prog 387 saw the first series to expand Judge Dredd's world outside the boundaries of Mega-City One, when the Helltrekkers began their quest to find a new life in the Cursed Earth; Annuals had given Dredd cast members the odd starring short before, and Walter the Wobot had held down a brief run of comedic single pagers in the early days of the comic, but Helltrekkers marked the true start of series set in Dredd's world not directly tied to the lawman. In Prog 416, the issue after the Helltrek concluded, Dredd's ally Judge Anderson got her own series. Not every story from this era was so good though: Prog 437 introduced the Mean Team, which started poorly and went downhill from there, and Prog 468 brought in Bad City Blue, which wasn't terrible but didn't really go anywhere. A more adventurous strip, Sooner or Later, debuted the same issue, a one page humour strip that unlike past humour attempts (Bonjo, Walter, Captain Klep and Dash Decent) was actually funny. The last new strip to debut before Prog 500 was Metalzoic, reprinting a story originally published as a DC Comics graphic novel, but written and drawn by 2000 A.D. regulars Pat Mills and Kevin O'Neill.
Diceman - Early in 1986, several months before Prog 500 came out, 2000 A.D. gained its first proper spin-off title, in the form of Diceman, which combined new strips for established 2000 A.D. characters such as Dredd, Sláine, Nemesis and Rogue Trooper with the then-fad for "choose your own adventure" gaming.
Progs 500 to 592
Late in 1986 2000 A.D. reached its 500th issue, and was arguably at the height of its game. The next year or so saw this high spell continue, but it wasn't to last. During 1987, IPC sold off its comic section, Fleetway, to Robert Maxwell, and whether directly or indirectly, the comic suffered an overall downturn in quality. Some of the older series still produced classic runs, and some of the new strips were good, but many were mediocre or worse.
Things weren't too bad to start with though. Prog 500 launched a great new "future war" strip, Bad Company, while Prog 510 introduced the somewhat bizarre but compelling The Dead. Prog 523 saw the first of an occasional series of stories set in Mega City One, with no discernible lead; effectively Future Shocks but all with the comic's most enduring backdrop behind them. With Alan Moore now working mostly on U.S. titles, his collaborator Alan Davis brought back D.R. & Quinch for the one pager D.R. & Quinch's Agony Page, where the alien delinquents provided advice to readers; though shorter, the tales remained as funny. One of the last truly classic new strips for many years began with Prog 535, as writer Grant Morrison, previously only known to most 2000 A.D. readers as a Future Shock writer, began the story of superpowered pop star Zenith. A few later strips showed some promise, but only the Journal of Luke Kirby, starting in Prog 571, which really shone.
Crisis - intended as a 2000 A.D. spin-off for older readers, Crisis was launched the same week as Prog 592. Strictly speaking a separate title, it's noteworthy to 2000 A.D. because several 2000 A.D. alumni worked on it, and because one character, Third World War's Finn, would go on to star in his own series in 2000 A.D. a few years later.
Prog 593 to 700
Meanwhile, back in 2000 A.D. proper, the next couple of years continued to see mostly mediocre new series; worse, many of the old stalwarts seemed to lose their way. One sad loss was Strontium Dog, who lost regular artist Carlos Ezquerra, and which began a lengthy story which ended in the demise of the lead character, a move the fans hated and which the comic itself would later admit was a mistake. Only Judge Dredd (mostly) and Zenith remained guaranteed good reads, though some light glimmered from new arrivals Bix Barton (Prog 663) and Indigo Prime (Prog 678).
Revolver - With Crisis still ongoing at this point, another 2000 A.D. spin-off, Revolver, launched, though again, it had little to do with the main title other than lip service and some overlapping creators. It did, however, have a very different take on Dan Dare, written by Grant Morrison. It only lasted seven issues, with two stories transferring to Crisis to complete their runs shortly before Crisis also folded.
| | | | | |
| --- | --- | --- | --- | --- |
| Dare | Rogan Gosh | Happenstance & Kismet | Dire Streets | Purple Days |
| Pinhead Nation | | | | |
Judge Dredd Megazine, Volume 1
Soon after Revolver hit the newsstands, and the same month as 2000 A.D. reached its 700th issue, another spin-off comic was launched from it. This time the ties were unmistakable, as Judge Dredd was the star. With Dredd having successfully enjoyed several spin-off strips, a magazine full of them seemed an obvious good idea. And for the most part, it was. Granted, there were a few clunkers, but many of the Megazine's strips were golden, and some later crossed to the main comic.
Prog 701 to 780
Back in 2000 A.D. new strips continued to see-saw between very good (Time Flies) through the bland (Tao De Moto) to the very bad (Junker). Many of the comic's most accomplished writers (those who had not jumped ship for American comics) started working on their own rival magazine, Toxic, which triggered 2000 A.D. shifting to full colour as of Prog 723 to compete. Another change behind the scenes was that during 1991 Fleetway was bought up by magazine giant Egmont; how this impacted, if at all, on the comic's contents, is unclear.
| | | | | |
| --- | --- | --- | --- | --- |
| | | | | |
| | | | | |
| | | | | |
| | Tales from Beyond Science | | | |
Judge Dredd Megazine, Volume 2
Prog 781 to 977
Arguably 2000 A.D's darkest hour.
| | | | | |
| --- | --- | --- | --- | --- |
| Tharg's Dragon Tales | | | | |
| Tharg's Terror Tales | | | | |
| | | | | |
| | | | | |
| | | | | |
| | | | | |
Judge Dredd Megazine, Volume 3
This volume also saw the Megazine reprint American titles such as Hellboy, Preacher, Black Heart (a crime drama from Dark Horse Presents) and Sin City.
Prog 978 to Prog 1174
Megazine editor David Bishop came on board late in 1995 with Prog 978, and began to turn things round, cutting the worst series and trying out various new ones. While sales continued to decline, and there were still several poorer series amongst the new attempts, some glimmer of light showed with new arrivals such as Sinister Dexter and Nikolai Dante. Around Prog 2000, 2000 A.D. was sold to Rebellion Studios, and under the new management 2000 A.D. would truly start to approach something like its old grandeur.
| | | | | |
| --- | --- | --- | --- | --- |
| | | | | |
| | | | | |
| | A Life Less Ordinary | Pulp Sci-Fi | | |
| | | | | |
Judge Dredd Megazine, Volume 4
| | | | | |
| --- | --- | --- | --- | --- |
| | | | | |
| | | | | |
| | | | | |
| | | | | |
| | | | | |
| Meet Darren Dead | Lilly MacKenzie | Hondo City Justice | Samizdat Squad | Numbercruncher |
| American Reaper | Strange & Darke | Snapshot | Tales from the Cursed Earth | Ordinary |
| Dept. of Monsterology | The Man from the Ministry | Lawless | Angelic | Demon Nic |
| Storm Warning | Realm of the Damned | Blunt | | |
Prog 1175 to 1999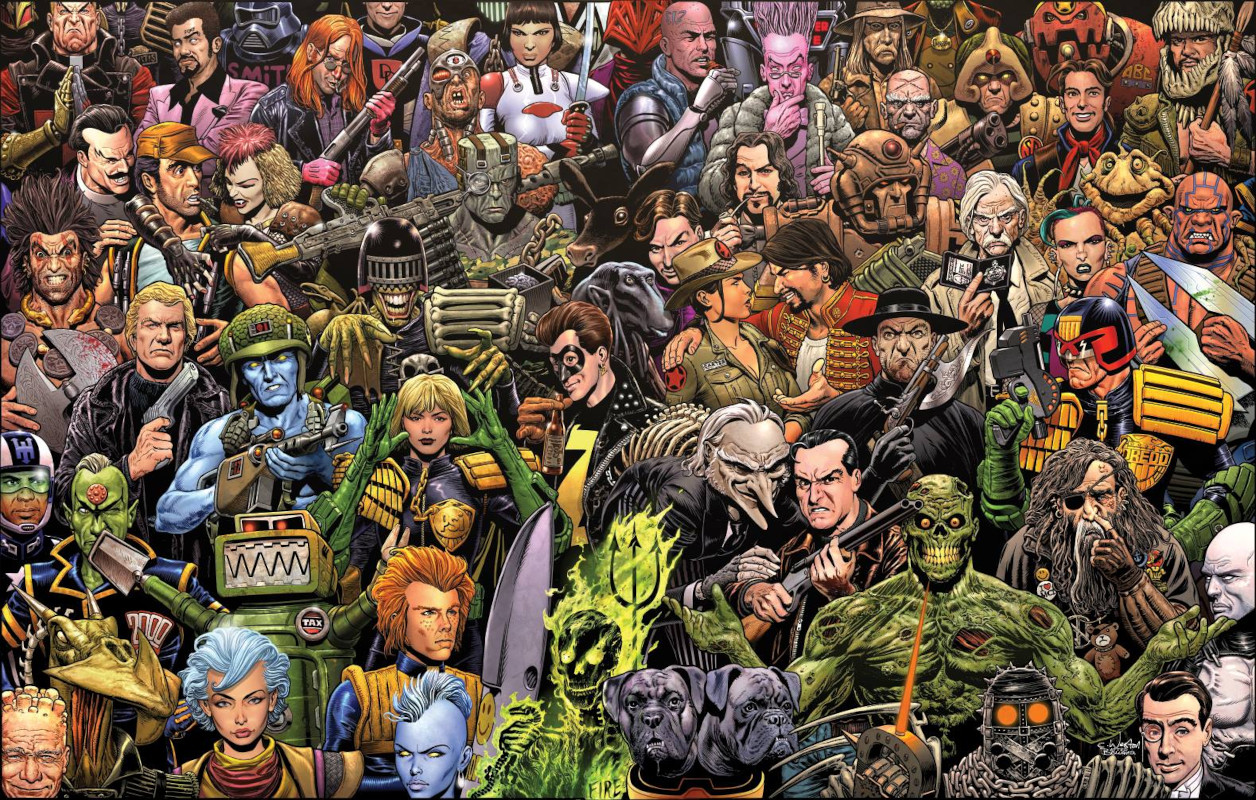 | | | | | |
| --- | --- | --- | --- | --- |
| | | | | |
| | | | | |
| | | | | |
| | | | | |
| | | | | Past Imperfect |
| | | | | Tharg's Alien Invasions |
| | | | | Droid Life |
| | Shaun of the Dead | | | |
| | | Future Shorts | | |
| | | | | |
| | | | | |
| | Bob Byrne's Twisted Tales | | | |
| | | | | |
| | | | Damnation Station | |
| | | | Tharg's 3rillers | Angel Zero |
| | | | Brass Sun | Ulysses Sweet |
| Jaegir | Outlier | Black Shuck | Max Normal | The Order |
| Orlok the Assassin | Survival Geeks | Helium | The Alienist | Dreams of Deadworld |
| Tainted | Brink | | | |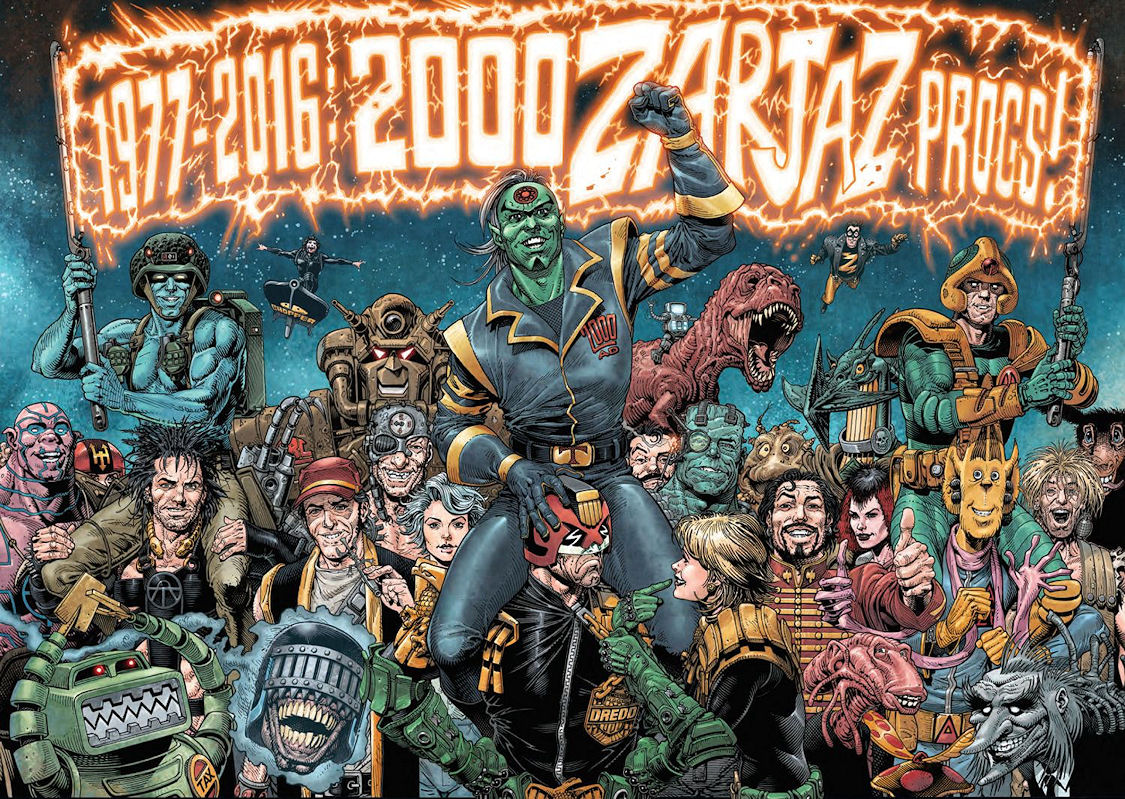 Prog 2000 onwards
| | | | | | |
| --- | --- | --- | --- | --- | --- |
| Counterfeit Girl | Hunted | Hope | Kingmaker | | |
| | | | | | |
Other sites which relate to 2000 A.D. characters include:
2000 A.D. The Matrix The Official 2000 A.D. website
All images and characters depicted are copyright their respective holders, and are used above for informational purposes only. No infringement is intended and copyrights remain at source.