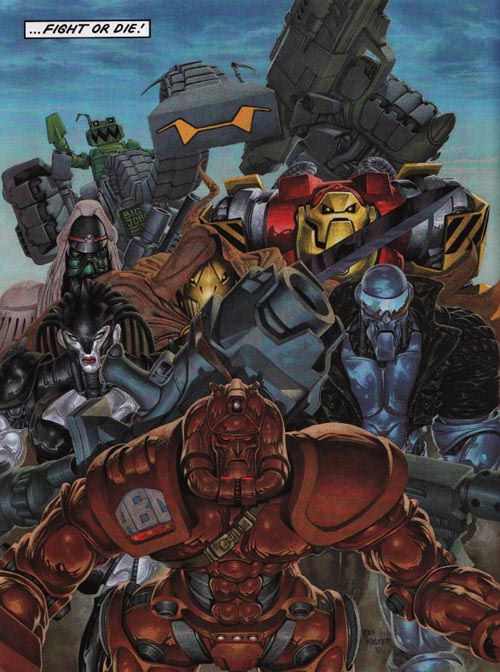 Membership: Hammerstein; Mongrol; General Blackblood; Joe Pineapples; Deadlock; the Mess / Steelhorn; Zippo;
former Happy Shrapnel; Hitaki; Mad Ronn; Ro-Jaws; Terri; Morrigun; Mek-Quake
Purpose: (originally) to fight the Volg War;
(initial team briefing after squad was gathered) to bring peace to Mars
(upon reforming during the era of the Termite era) to battle Torquemada's Termites
(in the Time Wastes) to hunt down Thoth
Affiliations: Nemesis the Warlock; George, Colonel Lash
Enemies: Torquemada; the Volgs (except for Blackblood, who was a Volg), Golgotha
Base of Operations: Earth, then Mars, then the Time Wastes
First Appearance:
History: The origins of the Atomic Bacterial Chemical Warriors lie in the Starlord series Ro-Busters. This story of a robotic disaster relief squad (think Thunderbirds with less wooden actors) included former war droid Hammerstein as one of the leads. (Ro-Jaws was the other one). Ro-Busters was one of the strips that survived Starlord's merger with 2000 A.D., and it was in their new home that the foundation was laid for the ABC Warriors, when Hammerstein told his fellow robots of his war years. After Ro-Busters reached it's conclusion, a prequel of sorts would return to this earlier part of the war droid's life. Written by Pat Mills and with art by Kevin O'Neill, it debuted in Prof #119. We joined Hammerstein and his cohorts Joe Pineapples and Happy Shrapnel in the latter days of the Volg War (see Bill Savage), where they were recruited to gather a very special squad for a dangerous mission. The war ended before the squad was fully gathered, but that didn't matter - because the squad's mission didn't have anything to do with the war. Instead, they were to tame the newly colonised Mars. For many progs the Warriors faced the worst the Red Planet had to throw at them, bringing justice to the frontier world. They told those they encountered to make sure others knew that the warriors were coming: Spread the Word!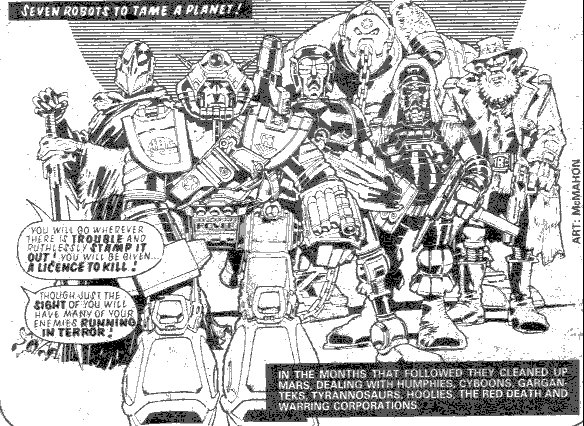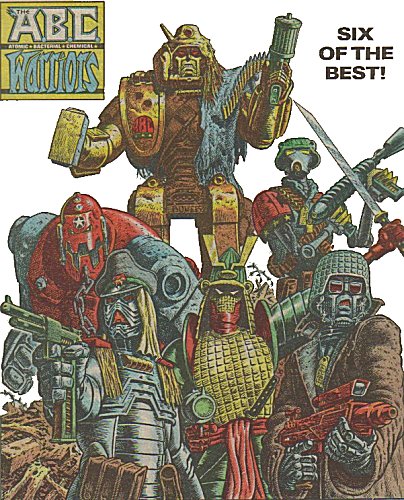 Years passed after this mission finished, with the Warriors going their separate ways. It was centuries later, when Earth had been taken over by the totalitarian regime of the alien hating Torquemada, that Nemesis the Warlock recruited Hammerstein and had him reform the squad. Under his command they would be sent to battle throughout time and space.
Comments: Created by Pat Mills.
CLARIFICATIONS:
Any Additions/Corrections? Please let me know.
Back to UK Superheroes Main Page.
All images and characters depicted on this site are copyright their respective holders, and are used for informational purposes only. No infringement is intended and copyrights remain at source.