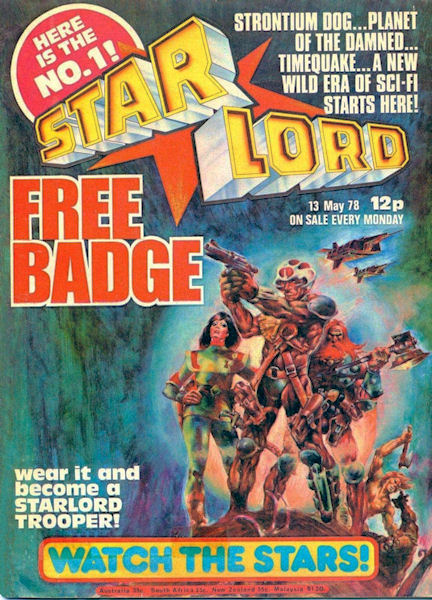 Starlord
a.k.a.: N.A.
Publisher: I.P.C.
Format: Weekly strip comic
First Issue: 13th May 1978
Last Issue: 7th October 1978 (22 issues)
Absorbed: N.A.
Absorbed into: 2000A.D.
Strips: Holocaust, Mind Wars, Planet of the Damned, Ro-Busters, Starlord Shorts, Strontium Dog, Timequake
Comments: Launched 13th May 1978, a little over year after 2000 A.D., Starlord was a glossy magazine more expensive than its sister comic. Like 2000 A.D., it featured a fictional editor, this time the heroic Starlord, who had come to Earth to prepare us for alien attack by teaching us through the comic. Despite higher sales (and frankly an overall higher story quality), the higher costs also meant it was the title to be axed, and it merged with 2000A.D. after 22 issues. Two Starlord strips initially survived the merger, futuristic mutant bounty hunter Strontium Dog and robotic disaster relief agency Ro-Busters, which soon morphed into the more popular A.B.C. Warriors strip. A third, Timequake, an excellent strip recounting the adventures of James Blocker of Time Control as he sought to spare Earth from devastating temporal disruptions, would eventually make a brief and mediocre return in 2000A.D. before vanishing again, apparently forever. Other Starlord strips included Mind Wars, the story of twin humans turned into powerful psi-weapons by a hostile alien species who planned to use them against humanity; Planet of the Damned, set on a hostile world on the other side of a dimensional portal accessed via the Bermuda Triangle; and Mind Wars' replacement, Holocaust, about private investigator Carl Hunter, who stumbled across a covert alien invasion.
One Summer Special (1978) and three annuals (1980-1982) were also published.
Back to General UK Comic Book Heroes.
Back to UK Superheroes Main Page.
All images and characters depicted on this site are copyright their respective holders, and are used for informational purposes only. No infringement is intended and copyrights remain at source.