Starlord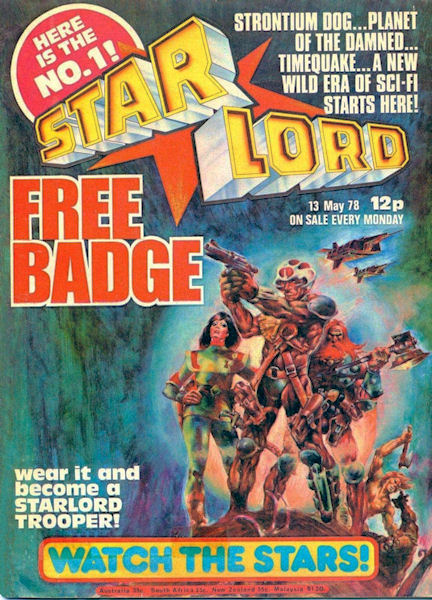 a.k.a.: N.A.
Publisher: I.P.C.
Format: Weekly strip comic
First Issue: 13th May 1978
Last Issue: 7th October 1978 (22 issues)
Absorbed: N.A.
Absorbed into: 2000A.D.
Strips: Holocaust, Mind Wars, Planet of the Damned, Ro-Busters, Starlord Shorts, Strontium Dog, Timequake
Comments: Launched 13th May 1978, a little over year after 2000 A.D., Starlord was a glossy magazine more expensive than it's sister comic. Like 2000 A.D., it featured a fictional editor, this time the heroic Starlord, who had come to Earth to prepare us for alien attack by teaching us throught the comic. Despite higher sales (and frankly an overall higher story quality), the higher costs also meant it was the title to be axed, and it merged with 2000 A.D. after 22 issues; it only lasted long enough for one continuing series, Mind Wars, to end, and another, Holocaust, to replace it. Three of its strips crossed over to the merged title - Strontium Dog was an immediate hit, while Ro-Busters soon morphed into the more popular A.B.C. Warriors strip. Timequake, which had been an excellent strip in Starlord, would eventually make a mediocre return in 2000 A.D. before vanishing again, apparently forever.
Back to General UK Comic Book Heroes.
Back to UK Superheroes Main Page.
All images and characters depicted on this site are copyright their respective holders, and are used for informational purposes only. No infringement is intended and copyrights remain at source.