Each issue was numbered on the cover, which wasn't the norm for IPC titles, and the inside front pages included a contents list of the strips and features within, another unusual, if not totally unknown, attribute.
What was fairly normal was the inclusion of free gifts in the first three or so issues. In Wow!'s case, the first issue included a "funny face" (a partial head drawn on card with a small chain that could be shaped to form different noses and mouths - four different versions of the back of the head were released - see the cover for the different looks), the second issue a "spooky spider" (a rubber spider that would stick to surfaces, more or less, when moistened), and the third a "Will you, won't you" question and answer booklet.
When Wow! ended a surprisingly high percentage of the strips survived the merger with Whoopee!; of the 18 ongoing strips in Wow! in its final issue, 12 of them made the crossover, a whopping 66.6% - Bleep!, Boy Boss, Creep Comix, Family Trees, Here is the News, KBR, Kid Comic, Ossie, Shipwreck School, Spare-Part Kit, Team Mates and TV Quiz Kids. Not only that, but nine of those strips survived in their new home right until Whoopee itself ended a little under two years later, with only KBR, Spare-Part Kit and Team Mates not going the full distance.
---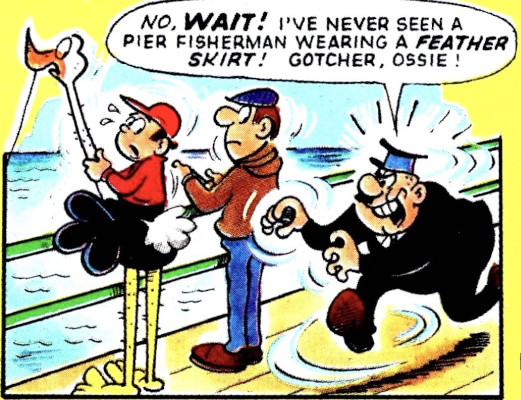 Ossie was an ostrich who escaped from the zoo in the first issue of Wow!; in the second issue he befriended a young boy (who, to the best of my knowledge, was never named), and in the third he moved in with the boy's family, with both the mum and dad happily accepting their new houseguest. As well as the general misadventures he enjoyed either solo or with his new friends, every few issues he'd have a run in with the Zoo-Keeper (also never given an actual name), who sought to recapture the bird and return him to confinement. Luckily for Ossie, he was pretty good at disguising himself to fool his pursuer. As well as wanting to stay free, Ossie's other defining personality trait was his flight envy of other birds.
Created by Robert Nixon, Ossie appeared in every issue of Wow!, with mostly half page strips usually at the front of Wow! issues, as well as all three annuals and all the Holiday Specials except the 1985 one. Surviving the merger with Whoopee, he continued his appearances there from the 2nd July 1983 issue until the 30th March 195, the last issue before Whoopee merged into Whizzer and Chips, an impressive 96 issues.
---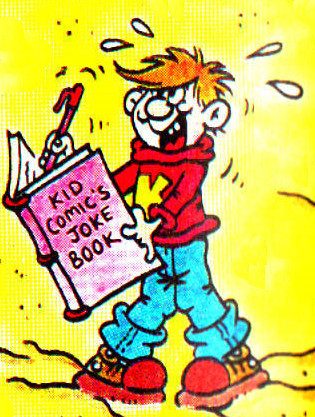 Kid Comic was a boy intent on one day becoming a professional comedian, and who in preparation for this insisted on constantly telling jokes, no matter how inappropriate the situation.
Created by Martin Baxendale. For the first 17 issues Kid Comic was near the front of each issue, the first full page strip after Ossie and Bleep's appearances on the contents page, but from #18 his strip began shifting around, with no set location. His strip appeared in every issue of Wow!, as well as all three annuals and five Holiday Specials. When Wow! merged with Whoopee Kid Comic not only transferred over, but became an example of one of the less common but not unknown occurrences of such a merge by absorbing the characters of another strip into his own; Whoopee's Smiler was a kid who always appreciated any joke and greeted the world with a massive grin regardless of the situation, so he was a natural fit to become Kid Comic's sidekick and personal audience, a role he retained until he made his final appearance in Kid Comic's strip in the 5th January 1985 Whoopee issue.
---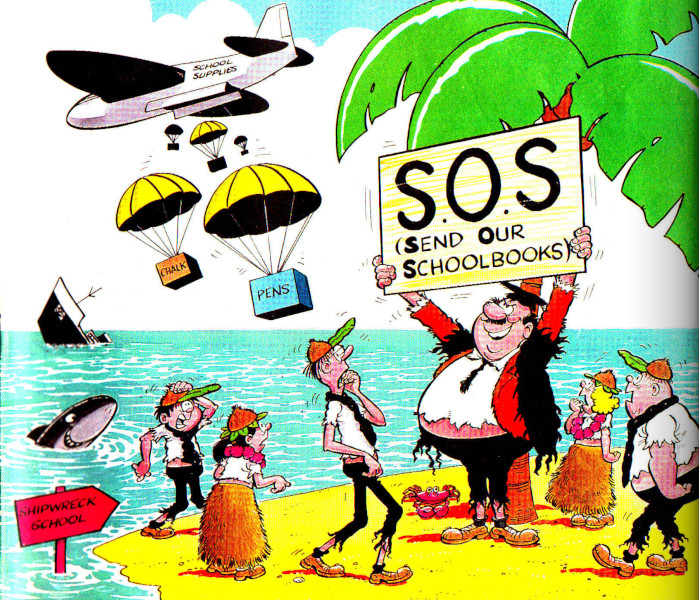 Shipwreck School was created by Mike Lacey. In the first issue of Wow! the SS Blackboard, a ship taking a school trip on a cruise, docked at a South Seas island, but while the crew went ashore the unfortunate pupils were stopped from doing so by their teacher, who insisted they finish a practical science lesson first. While below decks the mooring rope snapped and the ship drifted out to sea, where it was then caught in a violent storm that swept away from civilisation. The buffeting then caused Teacher to spill some chemicals that blew up, destroying the SS Blackboard. Luckily for Teacher and class, they were washed ashore on a desert island, but the pupils' hopes of finally being able to relax were quickly dashed by teacher, who insisted they build a school house and continue their lessons. Thus Shipwreck School began its enduring run that would see it appear in every issue of Wow! including all annuals and specials, and then into Whoopee where it continued right until the final issue of that title. Their last appearance was in the Whoopee Holiday Special 1992, though only in a colourised reprint of one of their earlier adventures.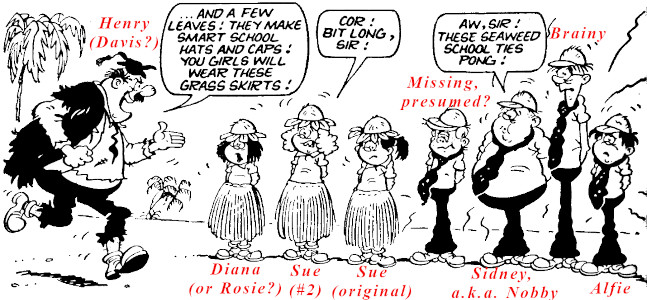 The stories tended to follow one of a handful of different themes. Many focused on attempts by the pupils to evade teacher's lessons by finding either some semi-legitimate excuse why they couldn't continue or by distracting him with some ruse or other. Others saw them interacting with the surprisingly diverse inhabitants of the island, which included gorillas, crocodiles, giant crabs, giant turtles, pythons, elephants, man-eating plants, a sea serpent, and even the ghost of Black Jake the pirate. And yet others chronicled their always unsuccessful attempts to get rescued by ships and planes that frequently passed near the island.
The names of the pupils were gradually revealed - the tall, thin, bespectacled one was Brainy; Nobby (later also called Sidney) was the portly lad; in Wow! Sue was the girl with black hair in a ponytail, but after the transition to Whoopee that name started being used for the blonde girl - presumably the writers forgot, but I guess it could be explained that Sue's a common enough name for two of the girls to both be called that; "Dozy" Diana was the girl with short black hair, at least in one issue of Wow!, but was later Rosie in Whoopee. Alfie, the dark haired, shorter boy, was the last to be named, well into the Whoopee run. Rather worryingly, while there were clearly seven pupils in the second issue (see right), by Wow!#7 the pupils clearly state that there are only six in the school. Let's hope that last pupil, the lighter-haired boy, somehow escaped the island, rather than suffered a less...palatable... fate. #7 also saw teacher declare himself Headmaster, a promotion he justified by adding new pupils in the form of monkeys, apes and parrots recruited from the island's animal population. In #10 after losing his memory thanks to being hit with a coconut, the pupils tried to fool teacher into thinking he was a dinner lady, Mrs Davis - since the text put an emphasis on the Mrs but not the Davis, it might be intuited that the teacher's surname actually was Davis. Then in Wow!#40 the pupils accidentally sank a rescue ship that had been searching for them, stranding its occupant, the teacher's wife, on the island. Not only did she become a recurring cast member for the next few issues, but her interactions with her henpecked husband revealed their first names, Henry and Brenda - so the teacher's name was presumably Henry Davis. She vanished after #48, never to be seen or mentioned again, likely suffered the same fate as the errant seventh pupil. Other recurring characters included Charlie Chimp (who, based on his size, was more likely a gorilla), Coco the gorilla, and Ocky the octopus.
During the Whoopee run (the 3rd December 1983 issue to be exact) Brainy turned sixteen and quit the school, subsequently deciding to become the island's police officer instead, a new status that was reflected in the Wow! Holiday Specials from 1984 on.
From Wow!#10 Shipwreck School moved to the coveted front page position, meaning that part of the strip also became colour; though they skipped the odd cover thereafter, they mostly retained that placement for the rest of Wow's run.
---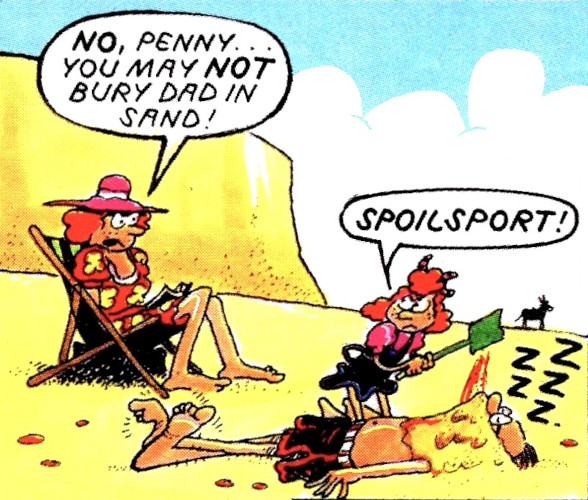 Penny Dreadful was a delinquent girl in the same vein as Bad Penny, Pearl Potter, Minnie the Minx or Beryl the Peril. Her name inspired by the nickname given to the lurid and cheap Victorian era magazines, there was really nothing that made her stand out from all the "naughty girl" clones running around British humour comics. Despite this, she managed to appear in every issue of Wow!, as well as all five Holiday Specials and all three annuals. She did not, however, survive the merger with Whoopee.
---
Just Testing was a page where kids, mostly pre-teens, were asked to try out various things and give their opinions. Presumably because it was a cheap way of filling a page, it lasted to #33, albeit skipping a few issues along the way. Issue by issue it covered:
#1 The Great Pyramid Game from Waddington
#2 Chocolate Biscuits (Club, United, Penguin, Breakaway, Sports and Trio)
#3 DoodleArt MiniKits and pens
#4 Ice Lollies (Fab, Funny Feet, Zoom, Dracula, Fudgee, Cider Woppa)
#5 Gyro Tennis game
#6 Tasty Snacks (Wotsits, Football Crazy, Piglets, Outer Spacers, Farmer Browns, Monster Munch)
#7 Takeaway Food (Fish & Chips, Burger & Chips, Chicken & Chips, Chinese)
#8 Bubble Gum (Hubba Bubba, Super Bazooka Spearmint, Super Bazooka Smooth'n'Juicy, Bubble Yum, Bubbilicious Strawberry, Bubbilicious Cola)
#10 TV Adverts
#11 Soft drinks (Tizer, Vimto, Cariba, 7 Up, Fanta, Coca Cola)
#12 Jail Break board game from Waddingtons
#13 Yogurt (Ski, Munch Bunch, Prize, Chambourcy, Mr Men, Sainsbury's)
#14 Ray Reardon's Pot Black Snooker Dice Game
#15 Wow! Readers were encouraged to cut out (!!), fill in and send in a questionnaire about the comic and its strips.
#16 The MY International Football Trainer (basically a football attached by elastic to a heavy duty peg that could be hammered into the ground)
#17 Toothpaste (Crest+, Ultra Brite, Signal, Colgate, Close-Up)
#18 Mints (Fox's Glacier Mints, Murray Mints, Sharp's Extra Strong Mints, Polo, Pacers, Trebor Mints)
#19 Cereals (Lyon's Ready Brek, Kellogg's Corn Flakes, Quaker Sugar Puffs, Weetabix, Nabisco Shredded Wheat, Alpen, Kellogg's Rice Krispies)
#22 Choc Bars (Mars, Bounty, Marathon, Crunchie, Star Bar, Milky Way)
#24 Raleigh Burner Bikes
#25 Wow! results - spread across two pages instead of the normal one, and breaking the results into separate Top 10's for boys and girls. See below: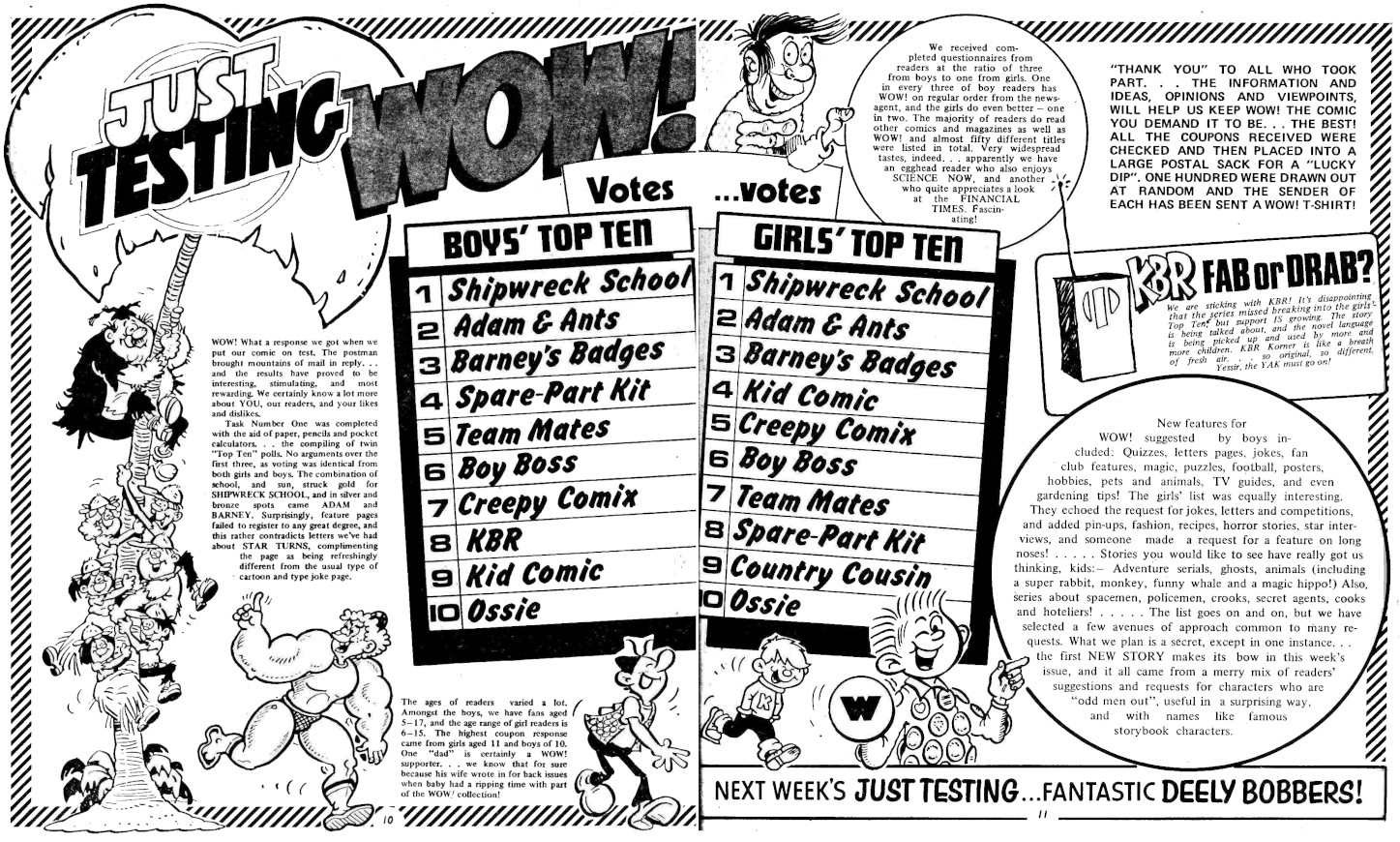 #26 Deely Boppers
#27 Savoury Snacks (Baked Beans, Cheese, Scrambled Egg, Spaghetti)
#28 Pocket-Money Pens (Ball Point, Fountain Pentel, Nylon Tip, Roller Ball, Felt Tip)
#29 Puck Monster handheld computer game
#30 Christmas Crackers (W.H.Smiths, Safeway, local shop)
#31 Ace Stamp Collecting Project Kits
#33 Humbrol/ESCI warship Model Kits
---

Beat the Bell were puzzle pages that ran in Wow!#1 through 7. It was replaced by Phone Prize Puzzles.
---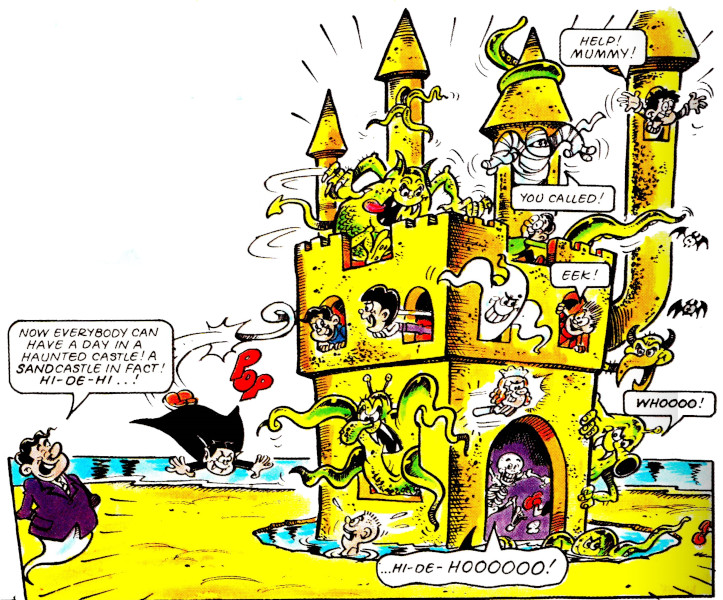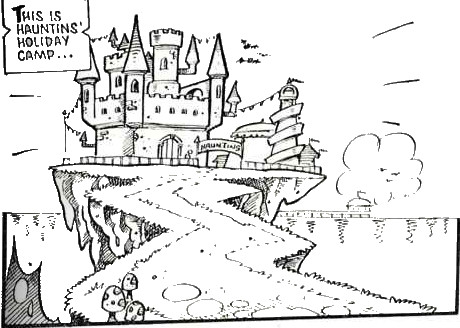 Hi-De-Hi... Hi De Hooooo was a "scary location" themed strip, similar to Knockout's Haunted Wood or Shiver and Shake's Scream Inn. Created by Rob Lee, its setting was inspired by British holiday camps, seaside resorts designed to provide British families with cheap holidays away from home, staying in chalets and enjoying games and events arranged by the staff; these had been hugely popular in the 1950s and 60s, but had begun to slowly fall out of favour from the 1970s as cheap overseas package holidays usurped them. Nevertheless, in the 1980s the concept remained well known, not least because of the hugely successful sitcom Hi-De-Hi which was at its height of popularity when Wow! was being published.
Hi-De-Hi...Hi De Hooooo's name was a play on the sitcom's title, itself a nod to how the staff working the camp's P.A. system would try to inspire the holiday spirit by beginning announcements with the catchphrase "Hi-De-Hi!" to which campers were meant to respond with an enthusiastic "Hi-De-Ho."
Set in Hauntin's Holiday Camp (a play on major holiday camp chain Butlins), similar to the other "scary location" strips, its regular cast where the ghost, ghouls, vampires and other monsters that worked there, as they sought to scare the humans who found there way there. Regular characters included the specral camp manager, the fanged camp announcer, young Count Draculad, a witch and the decapitated maid. Apart from Draculad, none were ever given a name, nor even official job titles.
Ultimately Hi-De-Hi...Hi De Hooooo was one of the Wow!'s least successful strips, appearing in only the first fifteen issues, as well as two Holiday Specials, the first (1983) and the last (1987), though all three outings in that were reprinted stories from the weekly comic. The final installment in the weekly saw the camp shut down for the season and then vanish.
---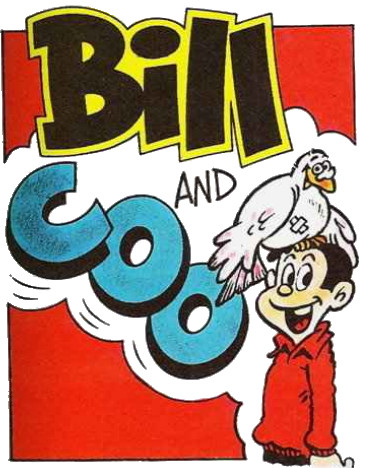 Bill and Coo was created by Trevor Metcalfe. In the first episode the pigeon Coo was captured by "old miser Moggs" who intended to turn him into a pie, but he was rescued by Bill, a young boy who had witnessed Moggs' actions. The pair became inseparable friends and continued to share a strip through the entire run of Wow!, the first two Wow! Annuals (1984 and 1985) and first three Holiday Specials (1983, 84 and 85).
---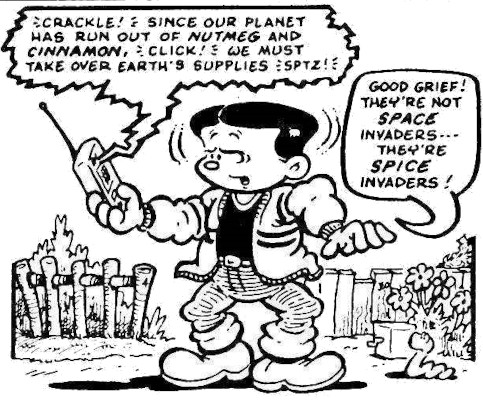 Wow! Competition Story, as the name suggests, were pages devoted to competitions that also told a short story. All of the competitions ran for four weeks, and prospective entrants to the contest had to spot the clues given in each week's entry and then send in their entry with all four answers after the final part was released.
Space Invaders, drawn by Jack Edward Oliver, was the first strip; it ran in Wow!#1-4, and featured protagonist Yu Pho (right) taking on the titular aliens. The prize for this competition was an Atari Video Computer TV Game.
---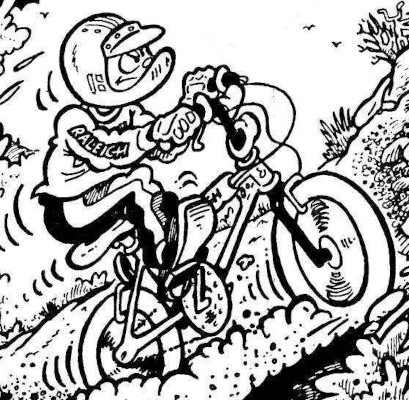 Wow! Competition Story: Willie Wheelie's Treasure Trail by Jack Edward Oliver saw biker Willie Wheelie hunting for Captain Hood's treasure, while readers competed to win Raleigh Burner Bikes. It ran in #5 through 8.
---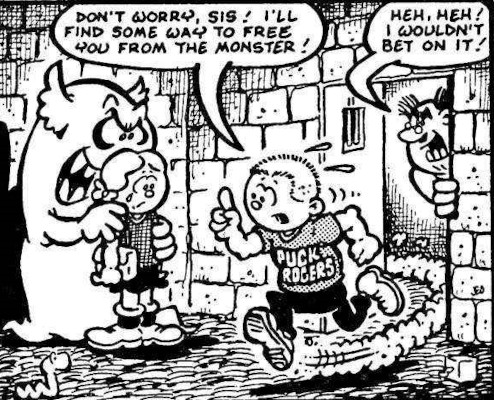 Wow! Competition Story: Maze Monsters by Jack Edward Oliver ran in Wow!#10-13. While in the strip young Puck Rogers ventured into the Old Haunted Castle to discover mazes full of monsters, readers were competing to win Puck Monster computer games.
---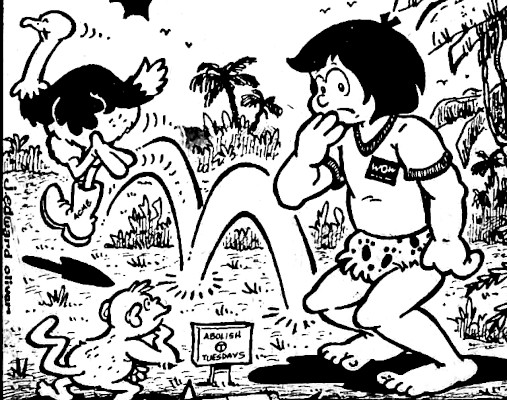 Wow! Competition Story: Tommy T-Shirt: Wild Boy of the Jungle by Jack Edward Oliver ran in Wow!#15-18. It featured a lad who as an infant had accidentally fallen out of an airplane over the jungle, along with a large box of t-shirts, and had been raised by the animals. While he tried to stop a hunter from hurting his animal friends, readers were competing to win Wow!-branded T-shirts.
---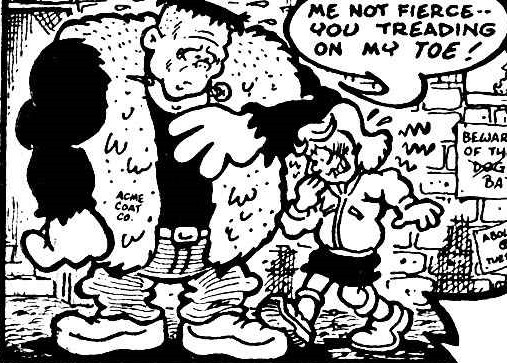 Molly's Monster by Jack Edward Oliver was the final Competition Story and appeared in Wow!#19-22. In the strip young Molly befriended the monster made by her Uncle Frankenswine, while the readers could win a £20 National Savings Gift Tokens. The prizes being so unexciting might explain why this competition kept what was up for grabs secret until the third episode.
---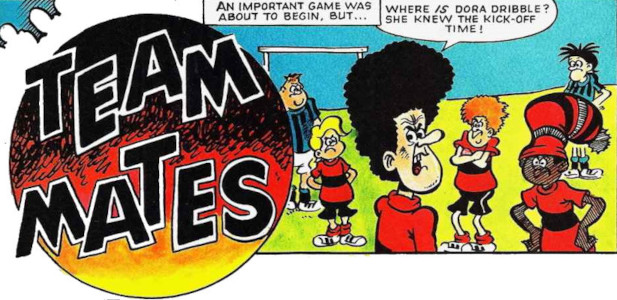 Team Mates was created by Tom Paterson and recounted the misadventures of Glenn Doddle's team of inept football players. After being thrown out of his original local team, young Glenn recruited his own players to make a new team, choosing individuals who definitely had some skill, but not the ability to work well enough as a team to win matches most of the time. The series appeared in every issue of Wow!, including all three annuals and all five specials, and survived the transition to Whoopee; it skipped the occasional issue in that new home, but still made it to the final issue.
Apart from team captain Glenn Doddle (a play on then-star Glenn Hoddle), the first issue named goalkeeper Clemence Ray (named for real goalie Ray Clemence), header specialist Kenny Dogleash (a nod to Kenny Dalgleish), the body-swerving Cyril Breeches and the team's only female member, Dora Dribble. They remained the stars of most of the subsequent tales, with the other six players only rarely, and in some cases never, being the focus of any stories. Sunny, the team's Indian member, got namechecked early on, while the team's nerdy member got named as Quentin Creampuff by a text note in Wow!, but was Soppy Cedric in the single tale that focused on him, which was during the Whoopee run; that revealed that he was on the team despite being a terrible player because he did everyone else's homework, freeing them up to play. The Scottish member was called Little Mac in one Whoopee issue, but Hamish a few issues later in his sole starring role story; he was also called Hamish in passing in one of the Wow! specials.

As for the other three? #3 on the key was shown to be the grotty team member, sometimes surrounded by flies; #7 did a paper round; and #8 was the large, somewhat overweight one, but that was about as far as their character development went, and as far as I can tell they never even got names.
---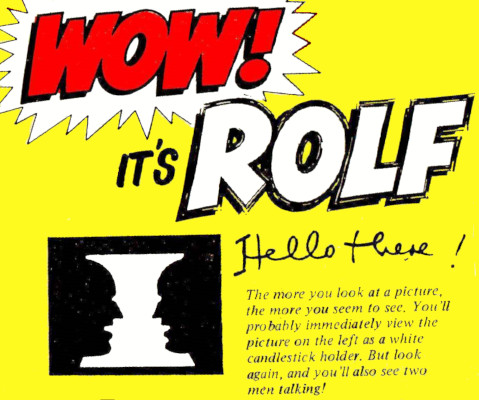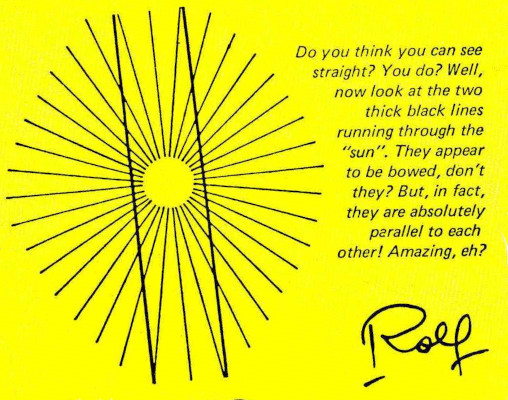 Wow! It's Rolf was a section originally in the centre pages of the comic that was themed round then-popular entertainer Rolf Harris, known mostly for his art and for some comedy songs. To get the elephant in the room out of the way, yes, years later he was accused and found guilty of some extremely horrible actions related to children, resulting in his imprisonment and destroying his legacy. At the time that Wow! was being published however, none of this was known. Though presumably licensed by him and authorised to use his name and image, It's Rolf's features weren't drawn by him, and his actual involvement seemed to be limited to a single paragraph per issue where he introduced the pages (assuming that he actually wrote it), set the readers an art challenge to try and draw, and showed readers some sort of optical illusion.
Wow! It's Rolf ran for the first 26 issues of the comic, though not all the components listed below were in every one of those issues.
---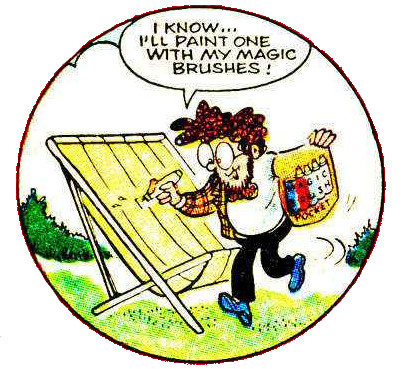 It's Rolf took over the colour centre pages of the issues, and apart from the introduction it consisted of several smaller strips and features, all apparently drawn by Paul Ailey.
Rolf's Magic Brushes was a strip that showed a comics version of the artist using his magic brushes to draw things that became real objects upon completion. The strip also promoted chances to win the real world versions of the brushes. The strip appeared in Wow!#1-12, 15-26.
---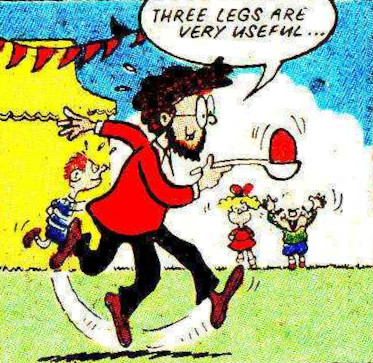 Jake the Peg was inspired by a comedy song the artist sometimes performed about "Jake the Peg with his Extra Leg" and featured the titular three-legged Jake in various humorous scenarios. This strip appeared in Wow!#1-9, 1-16.
---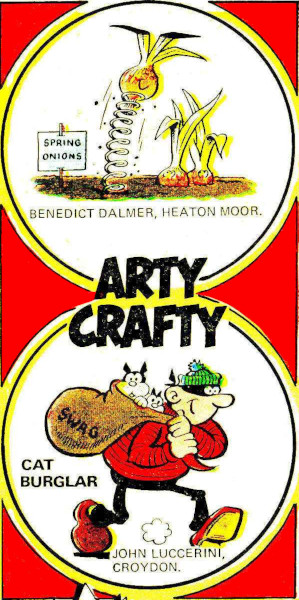 Arty Crafty featured images initially provided by Wow! artists and later sent in by readers of "artists misunderstanding instructions." This feature appeared in Wow!#1, 3, 5-8, 10-26.
---

When He Was Young was a strip by Nigel Edwards that purported to tell the biography of various individuals when they were youths. The title varied slightly depending on the individual. It appeared in Wow!#1-14, skipped #15 and then returned for #16 through 31. It also showed up in all three annuals and all the summer specials bar 1986. A list below, with variations from "he" noted:
#1 Dracula (when "I" was young)
#2 King Kong ("I")
#3 Long John Silver ("when 'e wuz young")
#4 Baron Frankenstein
#5 Invisible Man
#6 Ugly Sisters ("they")
#7 Merlin the Magician
#8 A Teacher
#9 The Tooth Fairy ("she")
#10 Sherlock Holmes
#11 Samson
#12 Christopher Columbus
#13 The First Circus Clown
#14 The First TV Weather Man
#16 When You Are Young...and What You Become!
#17 A Million Pound Footballer
#18 A Bank Manager
#19 A Lollipop Man
#20 A Dustman
#21 A Waiter
#22 A Mastermind
#23 A Farmer
#24 A Hairdresser ("she")
#25 A Mountaineer
#26 A Garage Mechanic
#27 An Impressionist
#28 A Cartoonist
#29 A Judge
#30 Santa Claus
#31 Father Time
Annual 1984: All-Round Athlete
Annual 1985: A Doll Repairer
Annual 1986: A Stunt-Man
Special 1983: A Seaside Landlady ("she")
Special 1984: A Holiday Camp Entertainer
Special 1985: A Gossip Columnist
Special 1987: The Tooth Fairy ("she") - a reprint from Wow!#9
---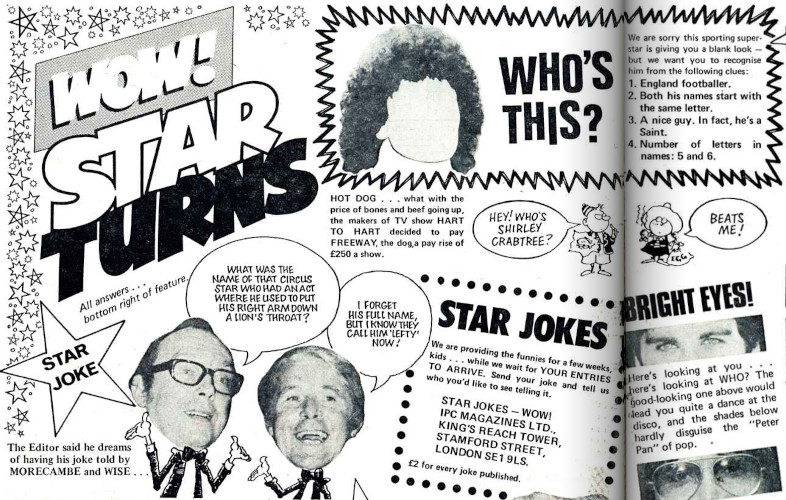 Wow! Star Turns was a feature page that drew on celebrities of the day, depicting them telling readers' jokes, featuring them in quizzes, etc. Despite being frankly one of the least interesting aspects of the comic, it lasted the entire run of Wow!, skipping only #9, and even making it into the first two annuals and the 1983, 86 and 87 Holiday Specials - I assume surviving that long because it was a cheap way of filling a couple of pages.
---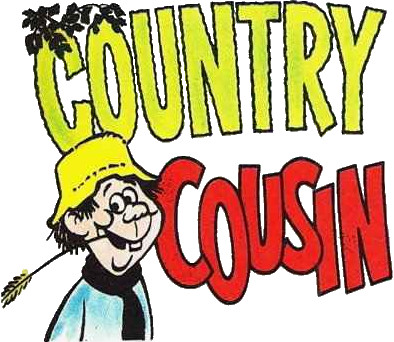 Country Cousin by Doug Goodwin told of the misadventures of a naive farmer boy who came to live with his city-dwelling cousin's family. Lacking any understanding of modern technology or city-life, "Cuzz" was constantly getting into fixes due to his misunderstandings, only for his unique rural-born solutions to somehow get him out on top of the situation...most of the time. In that respect he was very reminiscent of similar "rural fishes out of water" strips like Whoopee's Bumpkin Billionaires.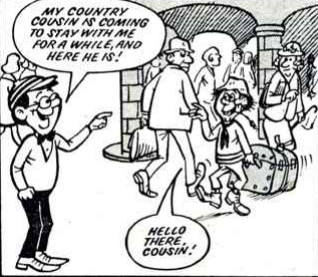 Country Cousin appeared in all 56 issues of Wow!, as well as all three annuals and all five Holiday Specials, but he didn't make the jump to Whoopee, possibly because it already had the aforementioned Bumpkin Billionaires strip. As far as I am aware, he and his cousin never had their given names revealed.
---

Spare-Part Kit was created by Graham Exton, and was initially illustrated by Vic Neill before Robert Exton and Trevor Metcalfe took up the artistic chores. It featured Kit Katz, a boy whose father invented "Spare Parts," bionic limb coverings which granted the wearer superhuman powers, and the spies from the Katz' native Zoblobnia who constantly sought to steal them so that Zoblobnia could use them to cheat at the Olympics.
Spare-Part Kit ran in every issue of Wow! bar #10 (where the character appeared to apologise for not appearing, claiming the Zoblobnians had delayed his pages on their way from Scotland), as well as all three annuals and five Holiday Specials. He survived the merger with Whoopee and his story continued there with a few skipped issues for the next sixty or so issues, before reaching a conclusion because the 1984 Olympics had come and gone in the real world.
---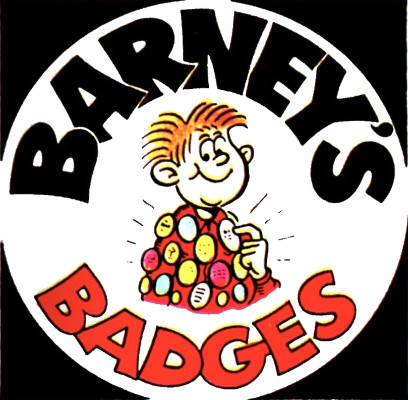 Barney's Badges by Terry Bave featured a young lad who became the owner of hundreds of magical badges that he was given at a jumble sale by a mysterious old woman (who, as you can see from the segment of his origin shown below literally vanished into thin air thereafter). As he soon discovered, each badge possessed different powers connected to whatever words were printed on them, which would manifest whenever they were removed from his jacket. Thus "heavy rock" was extremely heavy to lift for anyone other than Barney, while "time flies" transported him through time. It was even possible to change the badges' magical powers through judiciously altering the message; by scratching out the R in First Aid, Barney made that badge manifest a giant punching fist.
For a time from Wow!#18 on Barney's Badges took over the comic's back page, a coveted slot because it meant his strip appeared in colour. Barney's Badges appeared in every issue of Wow!, as well as the first two annuals and all the Holiday Specials bar the 1986 one. However, despite this, and having once been voted the third most popular strip in the comic by boys and girls alike (see above), he didn't survive the merger with Whoopee.

---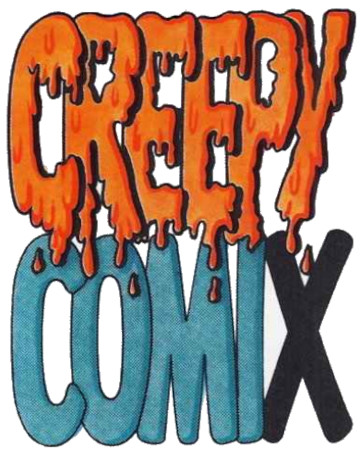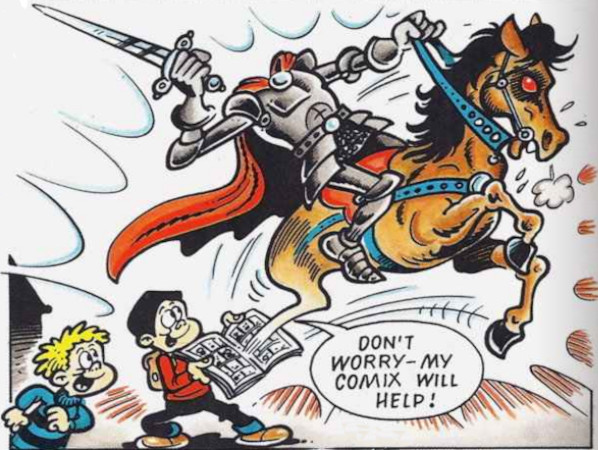 Creepy Comix by Reg Parlett began with young Davey Doom (presumably no relation) getting lost in fog while trying to find his way to the newsagents intending to purchase some now horror comics. When he stumbled across an eerie paper shop he'd never seen before, the sinister-looking proprietor offered him the entire 13 issue run of Creepy Comix for just £1. As Danny swiftly learned, the monstrous creatures inside the comics could emerge whenever he needed their assistance.
Creepy Comix ran in every issue of Wow!, as well as all three annuals and all five Holiday Specials. Additionally, it not only survived the merger with Whoopee, but was one of the series that survived Whoopee's subsequent absorption into Whizzer and Chips.
---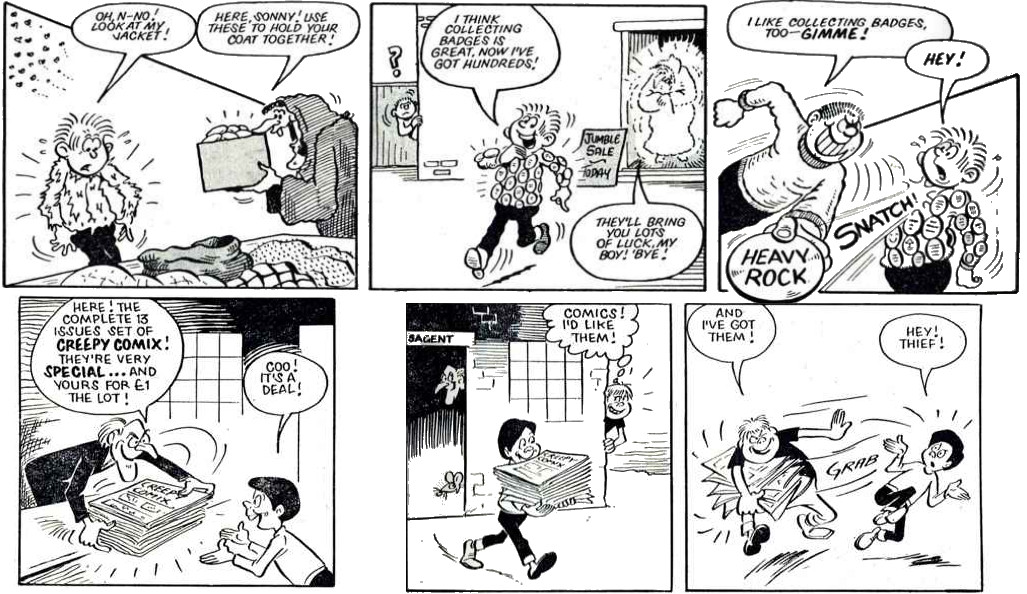 Appearing on adjacent pages in Wow!#1 it's amusing to note just how similar in basic premise Barney's Badges and Creepy Comix were. Granted, the medium for the magical items each lad gained were quite different - Barney got a set of badges, while Danny got comics - but both could give their owner access to any ability the writer wanted, and the origins of how each got their items is (presumably unintentionally and this somewhat hilariously similar). Both encounter someone sinister looking who gives them their magical items (a hooded old woman for Barney, a sinister shopkeep for Danny), and both discover the items have power because, as soon as they walk outside, another kid tries to steal their items only for the items to manifest their powers to thwart the thief.
---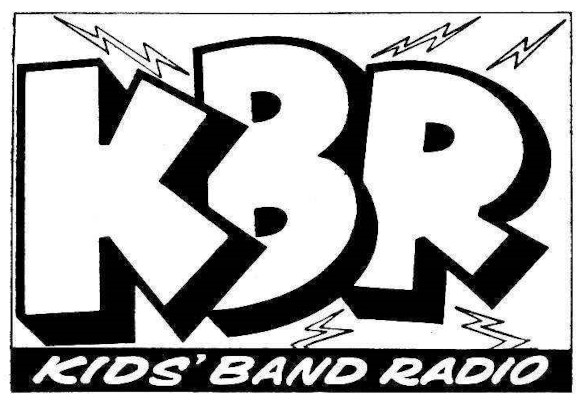 KBR by David Moslyn featured a gang of friends who stayed in touch with each other over hand-held radios. Clearly inspired by the craze for CB Radios, the characters spoke in their own version of CB jargon, and each issue also included a Yak Yak CBR section that translated some of the phrases used in said code back into plain English.
Despite readers considering it one of their least favourite strips (see above) KBR not only continued its run through every issue of Wow!, but also survived the merger with Whoopee, where it seems to have survived until the 3rd December 1983 issue, some 23 weeks after Wow! ended. KBR also appeared in the first two Wow! Annuals and first two Holiday Specials.
---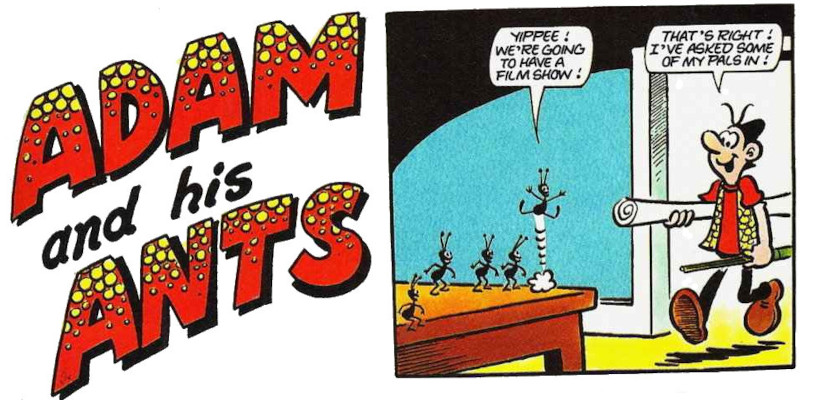 Adam and his Ants was the last of the strips to debut in Wow!#1. Though illustrated by Mike Atwell, it had been created by Terry Bave, as it was a redrawn version of Bave's earlier Cor!!! strip Andy's Ants, and the initial story was identical bar Wow! adding in two introductory panels confirming Adam was a fan of the pop star Adam Ant. I'm not certain how many of Adam's other stories were also reworked Andy strips - Wikipedia claims two, but without comparing both series for myself I'm not comfortable taking that as gospel, especially as Andy had a four year run in Cor!!!, leaving plenty of strips to choose from. Adam didn't fare quite as well, though he did make it through every issue of Wow!, as well as appearing in the first annual and Holiday Special.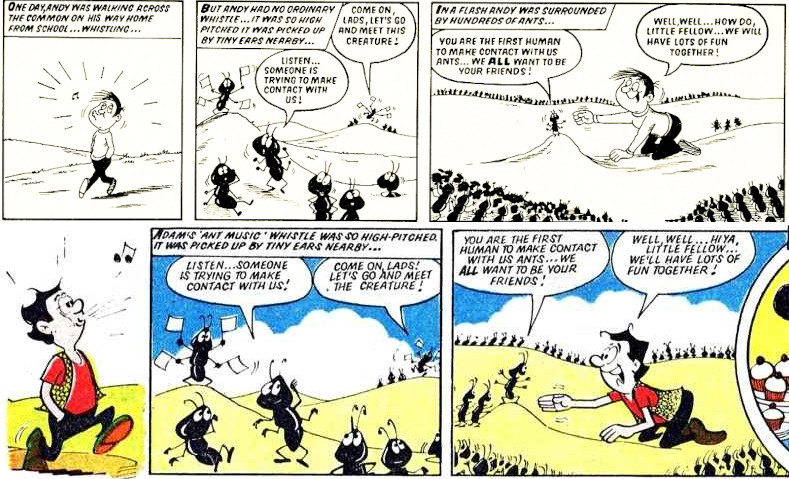 ---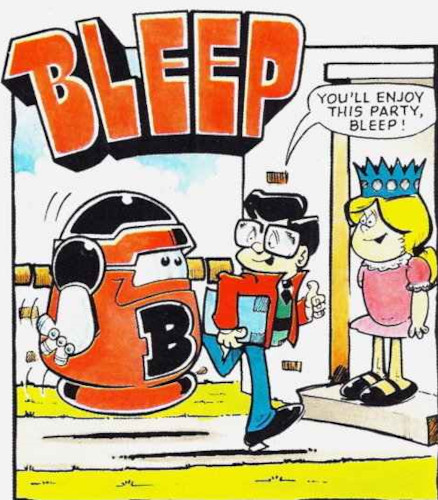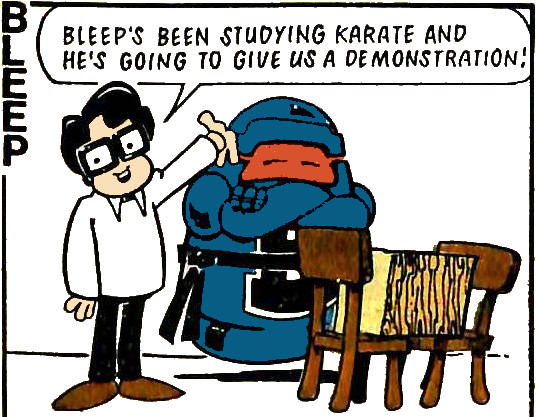 Bleep by Jim Barker started in Wow!#4 (26th June 1982). A robot, he'd been built by his bespectacled friend Brian and Brian's father, and his usually single row strip (between 3 to 5 panels mostly) normally appeared on the contents page, which it shared with Ossie. He did make it to the cover of #21, where he was coloured blue, while in Wow! Annual 1986 he was red. As ever, consistency on the occasions normally black and white strips got coloured in wasn't a high priority.
Following his debut Bleep continued to appear for the rest of Wow!'s run, and also made it into all three annuals and the first two Holiday Specials. When Wow! was merged into Whoopee, Bleep survived the transition and continued in his new home right up until that title's final issue.
---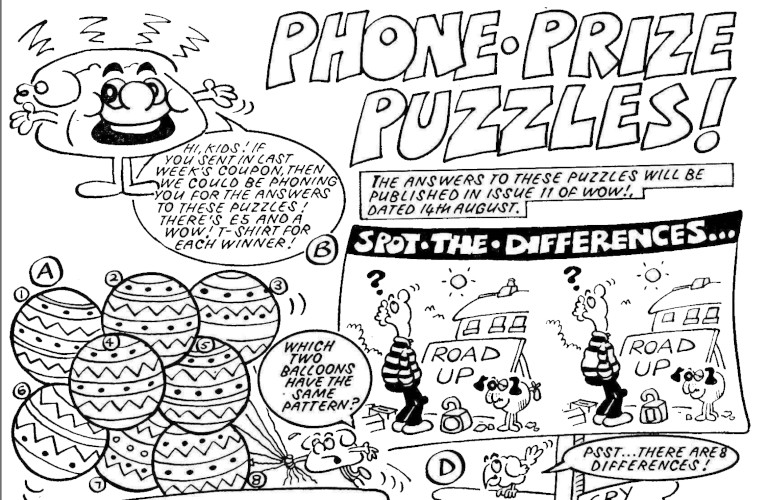 Starting in Wow!#8, Phone Prize Puzzles replaced Beat the Bell. Readers were encouraged to send in their phone numbers, and those that did might then be randomly picked for a call asking them for the answers to the puzzles, with a £5 prize and t-shirt to be won. It ran until Wow#20.
---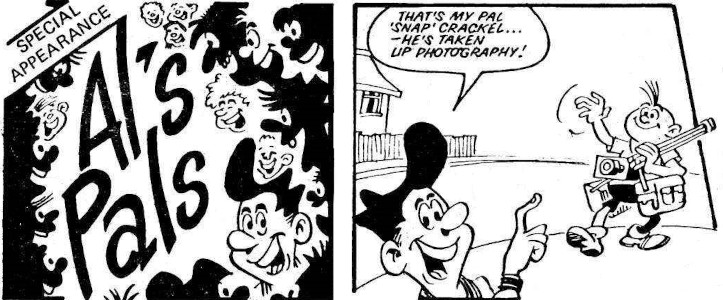 Wow!#9 carried three new strips that only appeared in that issue, each listed in the contents page as "Special Appearance." My suspicion is that each clearly filler strip originally appeared in some earlier IPC title, though as yet I've been unable to confirm that or place them.
Al's Pals featured Al, who apparently had friends into any number of hobbies and past-times, though since we only saw a single strip the only one we actually met was his photographer friend "Snap" Crackel.
---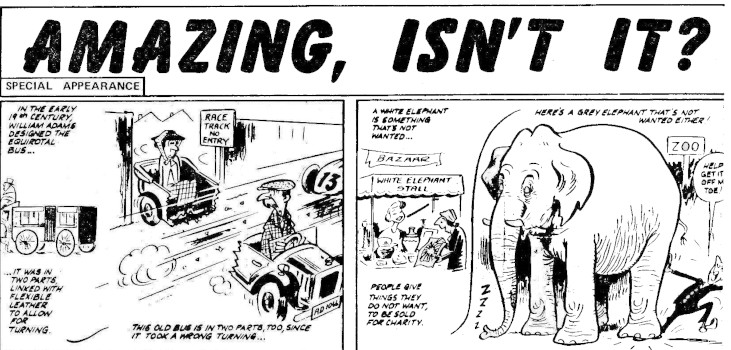 Amazing, Isn't It? was a page consisting of single panel facts recounted in what was presumably intended to be a humorous manner.
---

The Young Ones was a half pager with art reminiscent of The Perishers but characters evoking (to me at least) Charlie Brown, Snoopy and Lucy.
---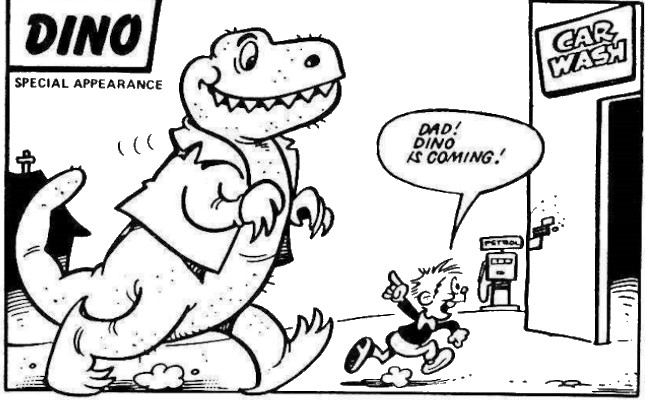 Dino was another one-shot "Special Appearance," this time in Wow!#10, and featured an amicable T-Rex (or similar).
---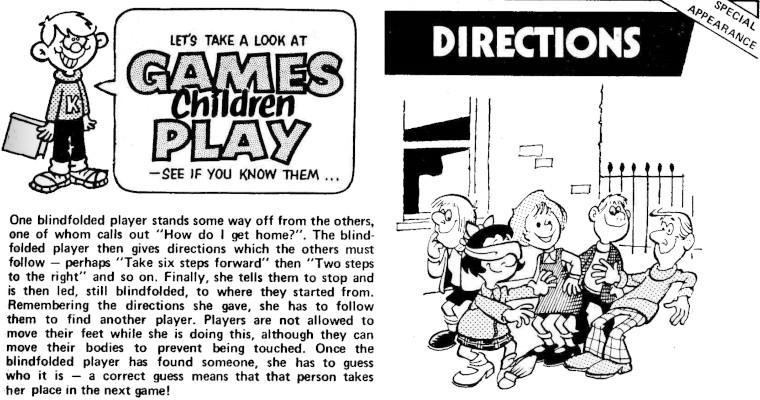 Games Children Play was yet another "Special Appearance" one-shot in Wow!#10, this featuring instructions for three party games, each with a single panel illustration.
---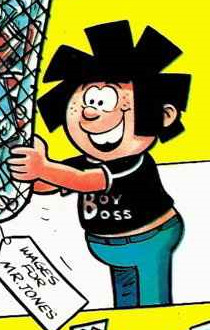 Boy Boss by Frank McDiarmid was a more notable addition to Wow!#10, marking the start of another long-running strip. When Hirem, the founder of The Company, passed away the Chief Accountant Jasper Ferret and other board members had hopes of taking over, but these were dashed by the revelation that Hirem had a single living relative, his nephew the young Boy Boss. Thus began a power struggle that lasted through the rest of the issues of Wow!, as well as all three annuals and all five specials, as Jasper schemed to usurp control of The Company from the lad. Boy Boss survived the merger with Whoopee and continued in that title until its final issue.
As well as Jasper the other main recurring character was Boy Boss' secretary, Miss Bluss, who was deliberately drawn in a far less cartoony style than the rest of the cast.
---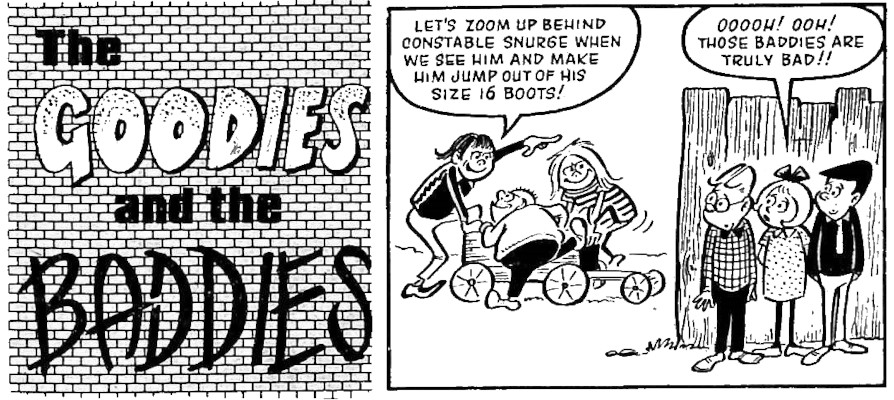 The Goodies and the Baddies by Reg Parlett began in Wow!#15 (11th September 1982), and used yet another common basis for British humour strips, that of constant competition between two naturally opposing groups, in this case a trio of "Goodies," well meaning children who never break any rules, and "Baddies," a trio of ne'er-do-wells who are always out to create mischief. Despite the latter team clearly being in the wrong in every episode (as their very name implies), who won out each week was not a foregone conclusion, with the Baddies coming out on top nearly as often as the Goodies.
The strip appeared more intermittently than other strips, turning up in Wow!#15-17, 20-33, 35, 39, 44 and 49, with no stories in the annuals or specials. Though I've seen it claimed to be a reprint of Knockout's Toffs 'n Toughs, I don't think that's the case, though it bears some similarities and might have used some suitably modified scripts from same. Notably the Goodies, who would have presumably been the Toffs if this strip had been a reprint, are always well-meaning, and show no signs of inordinate wealth, neither of which could be said of the Toffs, who were always the villains of their strip.
---
Wow! Presents a Creepy Comix Page was a new feature that began in Wow!#17 and continued with only a handful of skipped issues until the title came to an end. The conceit of the series was that these were pages from young Davey Doom's actual comics. Some of these pages were actually reprints of other horror humour strips from earlier IPC titles, but most were brand new tales, and several of them returned to enjoy multiple installments; indeed, from Wow!#37 all the Creepy Comix Pages were returning tales.
Reprint strips included:
#17 - Hire a Horror from Cor!!!
#19 - Harry's Haunted House from Whizzer & Chips
#21 - Rent-a-Ghost from Buster
#22 - Tom Thumbscrew from Monster Fun
#24 - Spectre Inspector from Cor!!!
The new strips included:
---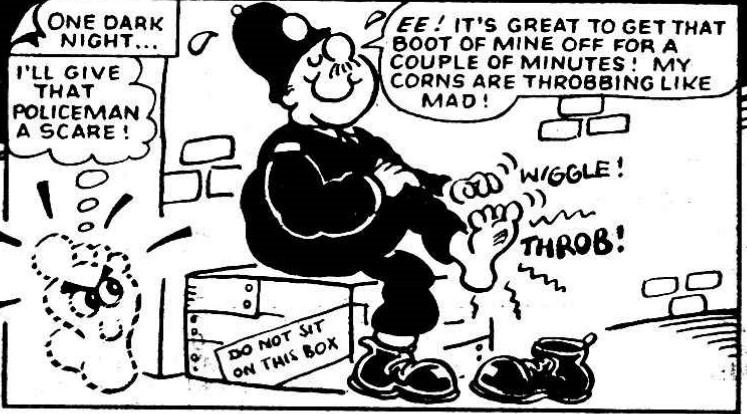 Phantom Foot, which appeared in Wow!#18, 39, 46 and 54, and featured a disembodied ghostly foot that wanted to scare people and generally be malevolent, but which wasn't very good at it.
---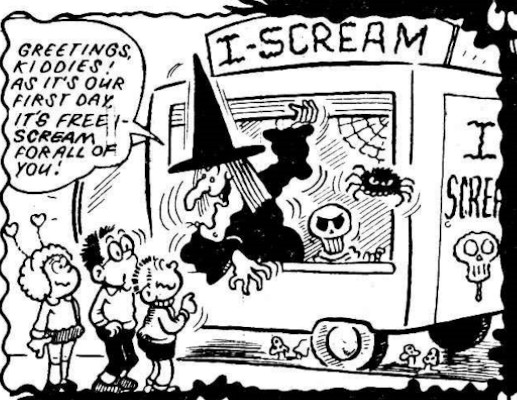 The I-Scream Van, appearing in Wow!#20, 42, 45, 51 and 55, featured a witch who drove round in an "I-Scream" van looking to find children to scare.
---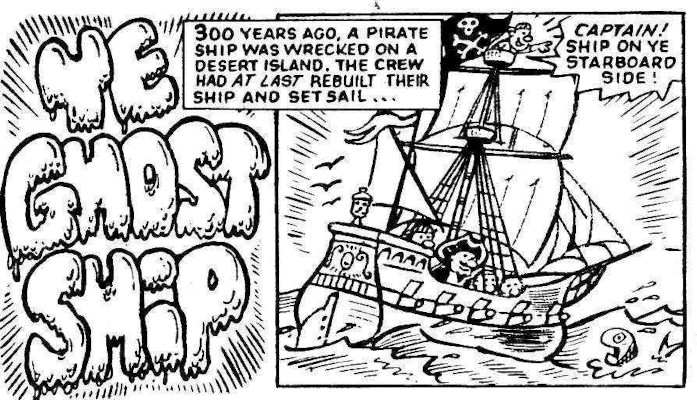 Ye Ghost Ship appeared in Wow!#23, 40, 49 and 56, and featured inept spectral buccaneers roaming the seas trying to continue their piratical ways.
---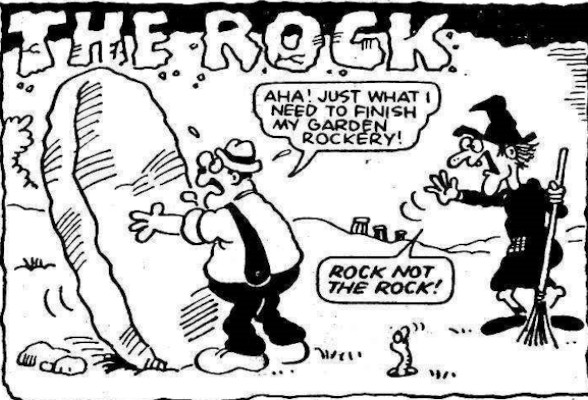 The Rock appeared in Wow!#25, 41, 47 and 52, and starred a standing stone that would pursue and torment anyone foolish enough to disturb it.
---

The Homeless Horrors featured in Wow!#26, 28, 37, 44, 50 and 53, and later returned in Whoopee#522's Creepy Comix booklet. They were a trio of ghosts - a skeleton, mummy and murdered man - whose original home was demolished, so they set out to find a new place to haunt.
---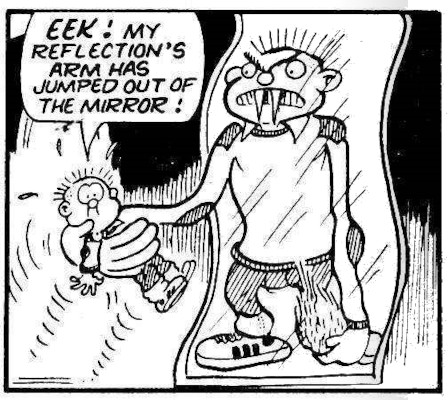 The Monster Maze appeared in Wow!#27, 43 and 48. It was a funhouse hall of mirrors where the monstrously distorted reflections could come to life, swap places with the original person and emerge from the mirror. Despite their terrifying appearances, the creatures released didn't seem to be malevolent, instead tending to do the person they were reflected from a good deed before swapping places once more to free their human source.
---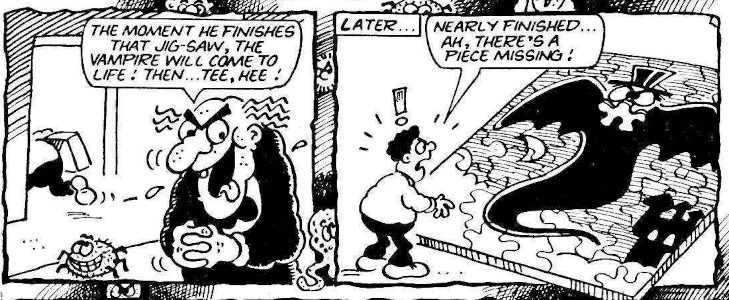 The Vampire Jig-Saw appeared in Wow!#29
---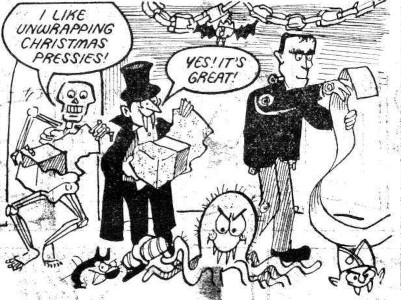 The Monsters' Christmas Party appeared in Wow!#30
---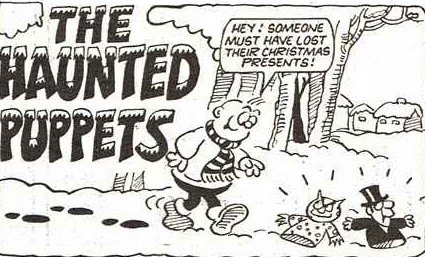 The Haunted Puppets appeared in Wow!#31
---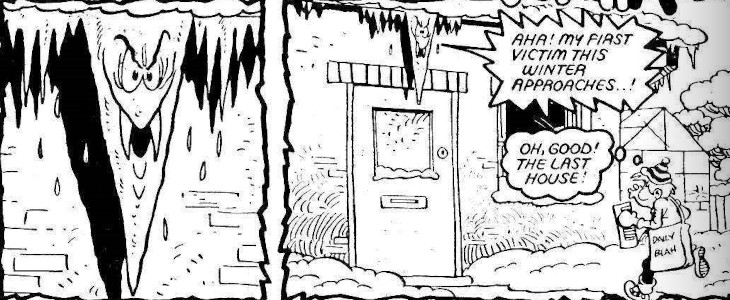 The Dreaded Icicle appeared in Wow!#32
---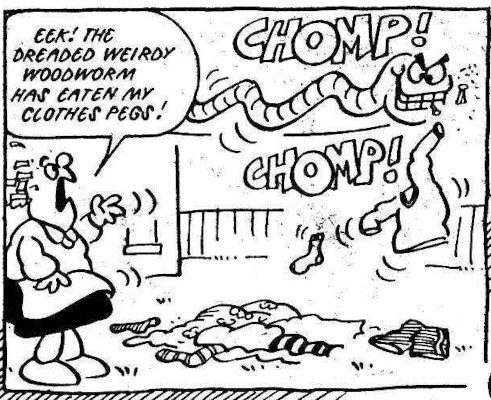 The Weirdy Woodworm appeared in Wow!#33
---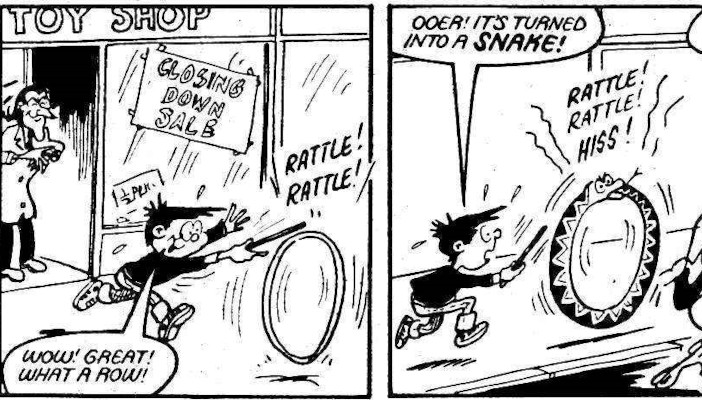 The Horror Hoop appeared in Wow!#35
---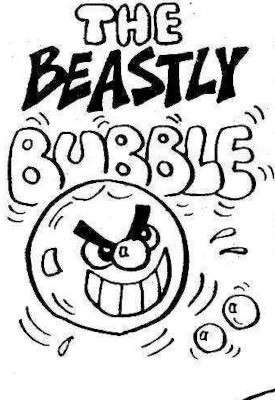 The Beastly Bubble appeared in Wow!#36, and was the last new Creepy Comix strip, after which all subsequent episodes were returning strips covered above.
---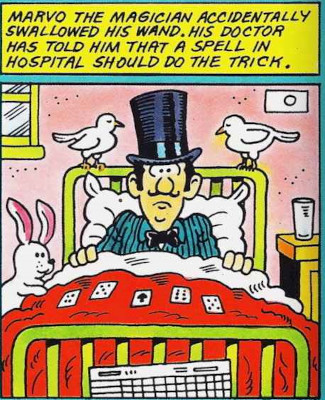 Here is the News began in Wow!#19 and appeared in every subsequent issue until the comic merged with Whoopee; it also showed up in all three annuals and the first three Holiday Specials. Effectively a joke page, each installment was dressed up as news stories being read by Angela Rippem (a play on then major newsreader Angela Rippon), and each panel was effectively a self-contained play on words joke.
It was successful enough to carry over into Whoopee, where it ran, albeit ultimately reduced to a three panel format, until the final issue of that title.
---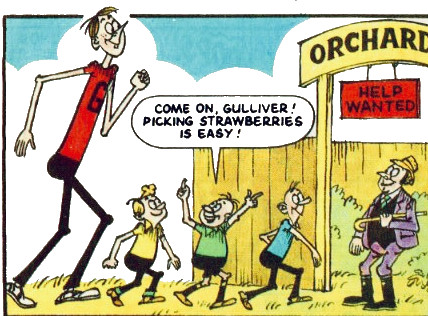 Gulliver's Troubles by Norman Mansbridge was added to Wow!'s line-up starting with #25, and ran through to the end of the title, also appearing in the first annual and the first three specials. As his first story depicted, Gulliver Short was born to normal-looking parents but grew so fast that he was already larger than either of them before the end of his first day. By the time he was a year old he was twice as tall and twice as wide as his parents, but luckily rather than growing too much taller than that he instead thinned out, turning into a human beanpole.
---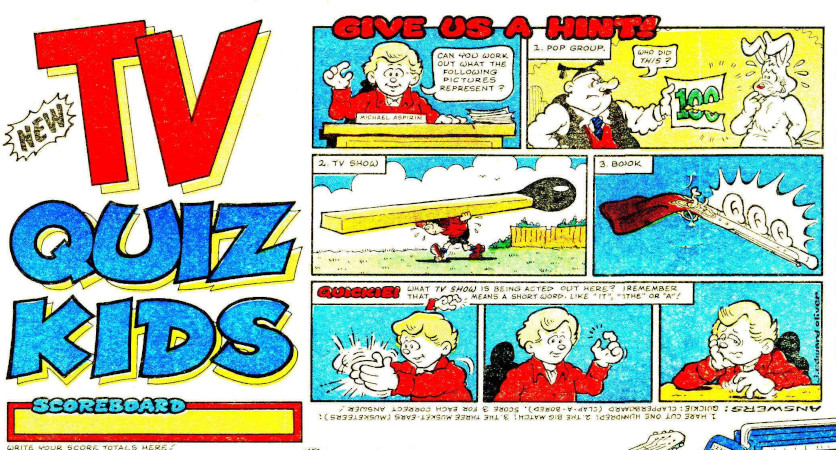 TV Quiz Kids was created by Jack Edward Oliver, and introduced in Wow!#26 (4th December 1982) to replace his prior Competition Stories. Each installment featured short quizzes with names inspired by famous quiz shows of the day. Thus Give Us a Clue became Give Us a Hint, Call My Bluff became Call My Fluff, etc. Despite this uninspiring set-up, TV Quiz Kids proved popular enough to continue an unbroken run to the end of Wow!'s run, appear in the first two annuals and specials, and make the leap over to Whoopee, where it continued to run until the final issue of that title!
---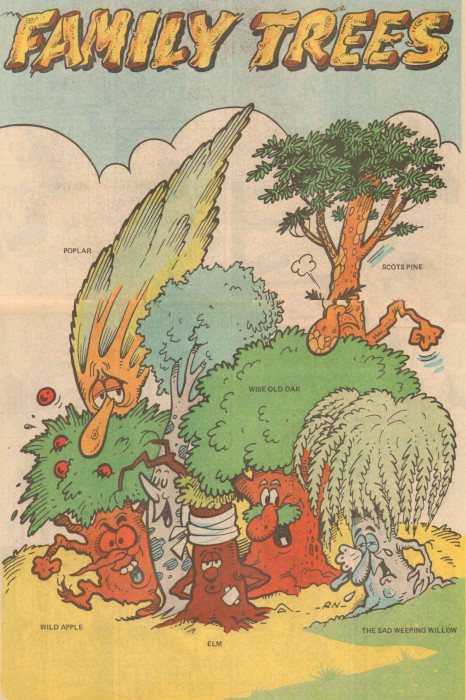 Family Trees by Robert Nixon debuted in Wow!#32, and featured a group of sentient trees that uprooted themselves and went hunting for a new home when they discovered that there were plans to cut them down so their original location could be turned into a building site. Most episodes saw them finding what they hoped might be a suitable location but then learning of some reason why it wouldn't work for them.
Their strip ran through to the end of Wow!'s seekly run, and also appeared in all three annuals and five specials. Transferring to Whoopee, they took over the central pages there and remained a mainstay until that title was also cancelled. Unlike most humour strips they got a proper conclusion, with them finding a new home in their final episode.
---

The Upper Crust and Lazy Loafers by Reg Parlett had originally appeared in Whoopee back in 1974. Wow! reprinted their escapades in Wow!#32-50, 53, Holiday Special 1983 and Annual 1984.
---
Wow! Top Ten was a feature page put together by the editorial team calling ten readers and surveying them on a given topic to assemble a top ten list. It ran every few weeks from Wow!#32 on. The surveys and the results were:
#32 Top ten sweets: Mars Bar, Twix, Bounty, Fruit Pastilles, Polo, Crunchie, Rolo, Treets, Fruit Gums, Smarties
#34 Top ten TV programmes: Grange Hill, Kenny Everett Video Show, Game for a Laugh, Saturday Superstore, Metal Mickey, The Paul Daniels Magic Show, Blue Peter, Tales of the Gold Monkey, Top of the Pops, The Late Late Breakfast Show
#36 Top ten school lessons: Maths, P.E, Art, Music, English, History, Geography, Science, Languages, Crafts
#38 Top ten pop stars: Adam Ant, Madness, Bad Manners, Bucks Fizz, Human League, Shakin' Stevens, Culture Club, Cliff Richard, Duran Duran, Toyah
#41 Top ten sports personalities: Ian Botham, Sebastian Coe, Kevin Keegan, Kenny Dalgleish, Steve Davis, Duncan Goodhew, Daley Thompson, Allan Wells, Pat Jennings, Barry Sheene
#43 Top ten comedy shows: Kenny Everett Video Show, Three of a Kind, Hi-De-Hi, Two Ronnies, Benny Hill Show, Open All Hours, Young Ones, Russ Abbott's Saturday Madhouse, The Good Life, Only Fools and Horses
#46 Top ten favourite hobbies: Girls: Reading, swimming, playing a musical instrument, cycling, dancing, drawing/painting, cooking, pop music, roller skating, stamp collecting;
Boys: Reading, swimming, football, cycling, stamp collecting, drawing/painting, snooker, watching TV, pop music, camping
#51 Top ten favourite outings: Cinema, swimming, zoo, museum, funfare, picnic, river trip, football match, visiting London, stately home
Towards the end of Wow!'s run, in #54 and 55 specifically, guest strips were featured to encourage readers to check out the Wow! Holiday Special 1983. All the annuals and specials included filler strips that never appeared in the weekly version of Wow!, many, perhaps all, cribbed from past IPC titles.
All images and characters depicted on this site are copyright their respective holders, and are used for informational purposes only. No infringement is intended and copyrights remain at source.