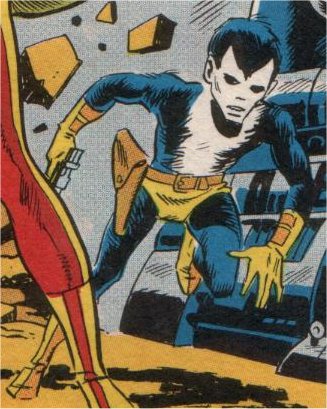 Real Name: Shag
Identity/Class: Extra-terrestrial
Occupation: Agent of U.S. government
Affiliations: member of the Misfits, worked for U.S. government
Enemies: Unit One
Known Relatives: None
Aliases: None
Base of Operations: Project Misfit
First Appearance: Heroes, Inc Presents #1 (CPL Gang, 1975)
Powers/Abilities: Enhanced senses. Telepath.
History: When an alien ship from a distant solar system from a distant solar system was damaged by meteorites, it crashlanded on Earth. The sole survivor, Shag, was held prisoner at Project Misfit while the authorities tried to figure out what to do with him, hampered by an inability to communicate as Shag could not speak; though easily able to get out of his cell, Shag chose to stay put initially, waiting for the right moment. When the telepathic human Mystra was subsequently imprisoned in an adjoining cell, Shag made contact, and when another prisoner, the mutant Glomb, went on a rampage, the pair tried to escape, only to run into Glomb. Mystra calmed the mutant, but they were recaptured by guards pursuing Glomb. However, when another alien seized control of the world's minds, Shag joined his fellow prisoners in opposing the invader, ultimately striking the fatal blow that slew the attacker. Informed by Mystra that many more of the alien's kind were on their way, Shag and the others formed the Misfits to protect Earth.
Comments:Created by Wally Wood.