Remo Williams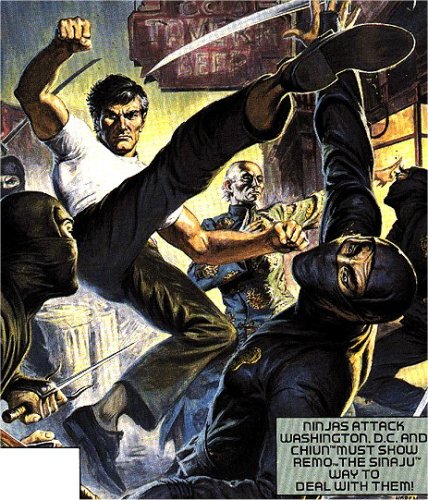 Real Name: Remo Williams
Identity/Class: "Normal" human
Occupation: Assassin
formerly soldier, formerly cop
Affiliations: C.U.R.E.; Chiun (sensei); Harold Smith (boss in CURE); Conn McCleary (fellow agent, recruiter)
Enemies: Nuihc; The Dutchman, Wu Ming Shi (a.k.a. Fu Manchu), Sagwa (a.k.a. Bruce, former student of Chiun turned movie star and servant of Wu Ming Shi), Elizu Roote
Known Relatives: Winston Smith (the Extinguisher, son), Bill Roam (father), Dawn Starr Roam (mother, deceased), Freya (Kali, daughter)
Aliases: The Destroyer, Master Remo the Pale, Remo Cabell, Donald McCann, Remo Pelham, Remo Barry, Shiva, the Bear
Base of Operations: CURE HQ, Folcroft Sanitarium, Rye, New York
Powers/Abilities: As a student of Sinanju, Remo can dodge bullets (by spotting subtle signs telling him when the shooter is about to fire, and then predicting the trajectory); he can perform incredible feats of acrobatics. He is capable of killing or incapacitating people with the slightest touch, and can throw objects with marksman's accuracy and missile like force. He can run on sand without leaving a trace, and even run on semi-liquid surfaces (e.g. wet cement) without sinking in.
First Appearance: Created: The Destroyer (Destroyer #1, 1971)
History: When Remo Williams served in Viet Nam he gained a reputation for being the man you sent in to clean out the enemy single handedly. He was a stone killer, cold and ruthless as he needed to be when the occasion called for it. After finishing his tour of duty, he became a police officer, where he served with distinction...until he apparently murdered a drug dealer. The trial seemed wrong somehow - a good cop kills a known criminal lowlife. Maybe he should have done time, but there was no way he should have got the death sentence, nor had his appeals squashed so swiftly. In mere months, with ridiculous haste in a system where it normally takes years before sentence is carried out, Remo was sent to the chair.
Remo awoke after his execution to find himself the unwilling recruit of the U.S. government's most secretive organisation, CURE. It was their job to deal with the kind of threats posed by people with influence, money and power, the types of enemies of the state who normally could wriggle out of any trouble because of their connections. CURE needed an enforcement arm, and because of his Nam record, Remo was it. Remo Williams was going to be the Eleventh Commandment: thou shall not get away with it. He had been framed, and his death faked, to provide CURE with a man without a past; and if he refused to co-operate, then he would be a man without a future either. Far from happy with this turn of affairs, Remo agreed to work for them.
He was put into the capable hands of the Korean master assassin Chiun, who trained him in the ways of Sinanju, the "sun source" art from which all other fighting skills were derived, and which was far deadlier than any of them. After a while he and Chiun formed an almost familial bond, with Remo referring to his mentor as "Little Father". Chiun for his part came to believe that Remo was the fulfillment of an ancient prophecy (or else he would not have trained him in Sinanju), and that he was the living incarnation of Shiva, the Destroyer God of Hindu mythology.
Comments: Created by Richard Sapir and Warren Murphy.
Originally created and written by Richard Sapir and Warren Murphy. The Destroyer series is one of the most enduring series of novels, with regular publication of new novels from the series debut in 1971 through to the current day. Sapir and Murphy often co-authored the early Destroyer books with one alternatively beginning the novel with the other one concluding it. However in the late 1970s, the two men had a falling out with Sapir leaving the series. Murphy continued to write the Destroyer series himself up until the early 1980s when he begin hiring ghostwriters to assist him, including Will Murray, Ric Meyers, Robert Randisi, William Joy, Molly Cochran, Ed Hunsburger, and Jim Mullaney. Ultimately, Sapir would return in the mid 1980s and would primarily collaborate and co-write with Will Murray until his untimely death in 1987. Warren Murphy retired from writing and Murray assumed the role of the primary author for a number of the Destroyer novels, eventually being credited with penning approximately 40 of them. In 1997, Murray relinquished his writing duties and the series faltered over the next several novels, passing through the hands of several undistinguished writers until one of the former ghostwriters, Jim Mullaney assumed authorship and eventually handed over his duties to Tim Somheil.
In 2006, the Destroyer series moved publishing houses and Warren Murphy and Jim Mullaney have returned to scribing the new adventures of Remo Williams. As a consequence of this move, the series has been subtly altered as the "New Destroyer" and is now renumbered.
The Destroyer novel series:
Created, The Destroyer

Death Check

Chinese Puzzle

Mafia Fix

Dr. Quake

Death Therapy

Union Bust

Summit Chase

Murder's Shield

Terror Squad

Kill Or CURE

Slave Safari

Acid Rock

Judgment Day

Murder Ward

Oil Slick

Last War Dance

Funny Money

Holy Terror

Assassin's Play-Off

Deadly Seeds

Brain Drain

Child's Play

King's Curse

Sweet Dreams

In Enemy Hands

The Last Temple

Ship Of Death

The Final Death

Mugger Blood

The Head Men

Killer Chromosomes

Voodoo Die

Chained Reaction

Last Call

Power Play

Bottom Line

Bay City Blast

Missing Link

Dangerous Games

Firing Line

Timber Line

Midnight Man

Balance Of Power

Spoils Of War

Next Of Kin

Dying Space

Profit Motive

Skin Deep

Killing Time

Shock Value

Fool's Gold

Time Trial

Last Drop

Master's Challenge

Encounter Group

Date With Death

Total Recall

The Arms Of Kali

The End of the Game

Lords Of The Earth

The Seventh Stone

The Sky Is Falling

The Last Alchemist

Lost Yesterday

Sue Me

Look Into My Eyes

An Old-Fashioned War

Blood Ties

The Eleventh Hour

Return Engagement

Sole Survivor

Line Of Succession

Walking Wounded

Rain of Terror

The Final Crusade

Coin of the Realm

Blue Smoke And Mirrors

Shooting Schedule

Death Sentence

Hostile Takeover

Survival Course

Skull Duggery

Ground Zero

Blood Lust

Arabian Nightmare

Mob Psychology

The Ultimate Death

Dark Horse

Ghost In The Machine

Cold Warrior

The Last Dragon

Terminal Transmission

Feeding Frenzy

High Priestess

Infernal Revenue

Identity Crisis

Target Of Opportunity

The Color Of Fear

Last Rites

Bidding War

Unite And Conquer

Engines Of Destruction

Angry White Mailmen

Scorched Earth

White Water

Feast or Famine

Bamboo Dragon

American Obsession

Never Say Die

Prophet Of Doom

Brain Storm

The Empire Dreams

Failing Marks

Misfortune Teller

The Final Reel

Deadly Genes

Killer Watts

Fade To Black

The Last Monarch

A Pound of Prevention

Syndication Rites

Disloyal Opposition

By Eminent Domain

The Wrong Stuff

Air Raid

Market Force

The End of the Beginning

Father to Son

Waste Not, Want Not

Unnatural Selection

Wolf's Bane

Troubled Waters

Bloody Tourists

Political Pressure

Unpopular Science

Industrial Evolution

No Contest

Dream Thing

Dark Ages

Frightening Strikes

Mindblower

Bad Dog

Holy Mother

Dragon Bones
(Under TOR Imprint)
The New Destroyer #1: Guardian Angel

The New Destroyer #2: Choke Hold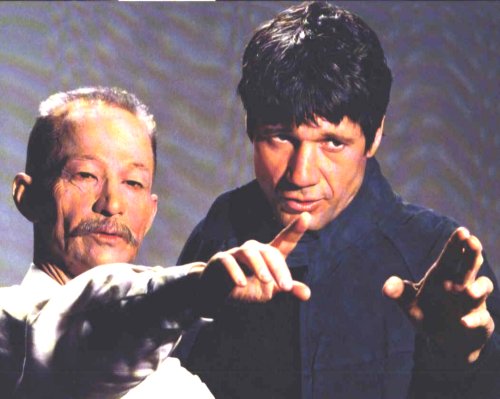 In addition to the above, there was a guide to the series released, in 1983, under the title The Assassin's Handbook, which included a brand new Remo novella, The Day Remo Died. The book was re-released in 1985 as Inside Sinanju with some new material covering the forthcoming Destroyer movie. There was also a novelisation of the movie released around the same time, written by series creators Sapir and Murphy.
The movie in question featured Fred Ward in the title role, with a slightly amended origin for Remo. Instead of having been framed, his death was faked to make it look like he had been murdered in the line of duty. In the U.S. the movie was released in 1985 under the title Remo Williams: The Adventure Begins, while overseas it was known as Remo: Unarmed and Dangerous.
Although the movie wasn't a roaring success by any measure, it did garner a sequel of sorts, in the form of a TV movie / series pilot in 1989. This time Remo was played by Jeffrey Meek, and the movie's plot was roughly based on the aforementioned novella The Day Remo Died.
In the early 1990's Marvel Comics published nine issues of a Destroyer Magazine, a special compiling colourised stories from the first four issues, then a four issue comic mini-series and a one-shot comic special.
Thanks to Michael Higuchi for additional information.
CLARIFICATIONS: Remo Williams, the Destroyer, should not be confused with
Destroyer, giant monster from the Godzilla movies

Destroyer, Asgardian engine of destruction from Marvel Comics

Destroyer, a Golden Age Marvel character

Destroyer Duck, enemy of Godcorp
Any Additions/Corrections? Please let me know.
All images and characters depicted on this site are copyright their respective holders, and are used for informational purposes only. No infringement is intended and copyrights remain at source.