Pippi Långstrump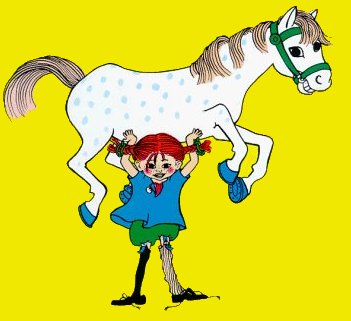 Real Name: Pippilotta Viktualia Rullgardina Krusmynta Efraimsdotter Långstrump
Identity/Class: Human Mutant
Occupation: Pretty much whatever she feels like. She wants to be a pirate when she grows up.
Affiliations: Fridolf and the crew of her fathers ship, the Hoppetossa (Hoptoad); Tommy and Annika (her next door neighbors and best friends); the horse Lilla Gubben and monkey Herr Nilsson; most of the kids in the small Swedish village wherein she resides.
Enemies: Kling and Klang, two policemen who try to send her to a "children's home"; Miss Prysselius, the town gossip and busybody; Dunder-Karlsson and Blom, two crooks who keep trying to steal her gold.
Known Relatives: Efraim Långstrump (father), unnamed mother (deceased)
Aliases: Pippi Longstocking (English translation of her name)
Base of Operations: Villa Villekulla, a big, ramshackle house at the edge of a small village just off the coast of Sweden.
First Appearance: "Pippi Långstrump" by Astrid Lindgrin. 1944
Powers/Abilities: Super strength, super speed, invulnerability, superhuman breath, and the power of flight.
History: Pippi was born the daughter of Efraim Långstrump, a sea captain, and an unnamed mother, who died when Pippi was very young. She spent the first nine years of her life sailing around the world with her father on his ship, until one day a terrible storm blew him overboard. Pippi would never believe her father had drowned. With all his fat, she believed he had simply floated to a nearby island, where he had immediately been crowned king by native cannibals. She believed he would soon build himself a raft to get back to civilization, so she went to wait for him at Villa Villekulla, a big house Captain Langstrumpf had purchased to live in when he got too old to sail the seas any more.
Soon after moving in, she met her neighbors, Tommy and Annika, and the three soon became fast friends. The three would have many adventures together, using Pippi's gold, strength, and wild imagination. Pippi dealt with crooks and bullies in her own unique way, acted to rescue some kids trapped in a skyscraper, got shipwrecked, joined the circus for a one time only performance and outdid Mighty Adolf, a local strongman! Tommy and Annika would even meet Pippi's father, travel to his island in the South Seas, fight a band of roving pirates (well actually, Pippi would fight the band of roving pirates), and rescue Pippi's father. Pippi and Tommy and Annika would continue to have adventures like this forever, since they had taken special pills given to Pippi by a witch doctor to keep them from ever growing up.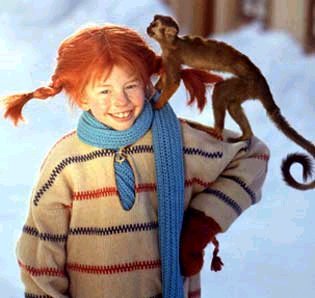 Comments: Pippi was created by Astrid Lindgren to amuse her daughter, who was sick in bed. Miss Lindgrin would later publish the stories in a series of books, which would make Pippi world famous. Pippi's adventures have been seen in a live action television series, which was later edited and translated into four movies (all starring Ingir Nilsson), an American made live action movie, an animated movie, and an animated television series.
She's had many variations on her name, depending on what country she appears in, including "Pipi Langkous" (Afrikaans), "Pipi Çorapegjata" (Albanian), "Pipi Duga C(arapa" (Bosnian), "Changwazi Pipi" (Chinese), "Pipi Duga C(arapa" (Croatian), "Pipi Dlouhá Punc(ocha" (Czech), "Pippi Langstrømpe" (Danish), "Pippi Langkous" (Dutch), "Pipi Pikksukk" (Estonian), "Peppi Pitkätossu" (Finnish), "Fifi Brindacier" (French), "Pepi Magalitsinda" (Georgian), "Pippi Langstrumpf" (German), "Pipe Phakidomyte" (Greek), "Bilbi Bat-Gerev" (Hebrew), "Harisnyás Pippi" (Hungarian), "Lína Langsokkur" (Icelandic), "Pippi Si Kaus Kaki Panjang" (Indonesian), "Pippi Calzelunghe" (Italian), "Nagakutsushita no Pippi" (Japanese), "Malgwallyang'i Sonyo (Pippi)" (Korean), "Pippi-Ya Goredirey" (Kurdish), "Pepija Garzek,e" (Latvian), "Pepe. Ilgakojine." (Lithuanian), "Pipi dolgiot corap" (Macedonian), "Pippi Langstrømpe" (Norwegian), "Pipi Joorab-Bolandeh" (Persian), "Pippi Pon'czoszanka" w Polsce znana tez. jako "Fizia Pon'czoszanka" (Polish), "Bibi Meialonga" (Brazil/Portugeuse), "Pipi das Meias Altas" (Portugal/Portugeuse), "Pippi S,oset,ica" (Romanian), "Pippi Dlinniychulok" or "Peppi Dlinniychulok" (Russian), "Pipi Duga C(arapa" (Serbian), "Pipi Dlhá Panc(ucha" (Slovak), "Pika Nogavic(ka" (Slovenian), "Pipi Calzaslargas" (Spanish), "Pippi Thung-Taow Yaow" (Thai), "Pippi Uzunçorap" (Turkish), "Pippi Tat Dai" (Vietnamese)
Thanks to "Supergeek" for the above profile. Thanks to Amanda Hugoson, Bjørn L. Drengsgaard, Bror Hellman, Magnus Grenvall, Per Enström, and Theodoor Westerhof for corrections.
CLARIFICATIONS: None.
Any Additions/Corrections? Please let me know.
All images and characters depicted on this site are copyright their respective holders, and are used for informational purposes only. No infringement is intended and copyrights remain at source.