Kamen Rider (Masked Rider)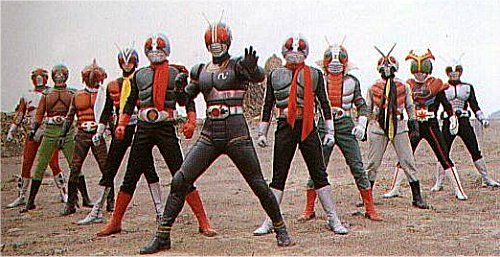 Membership: G-3, Kamen Rider Agito, Kamen Rider Amazon, Kamen Rider Black, Kamen Rider Blade, Kamen Rider Chalice, Kamen Rider 555, Kamen Rider Fuam, Kamen Rider Gai, Kamen Rider Garren, Kamen Rider Gills, Kamen Rider Impre, Kamen Rider J, Kamen Rider Knight, Kamen Rider Kuuga, Kamen Rider 913, Kamen Rider Oden, Kamen Rider Ohja, Kamen Rider 1, Kamen Rider Raia, Kamen Rider Ryuga, Kamen Rider Ryuki, Kamen Rider Scissors, Kamen Rider Stronger, Kamen Rider Super 1, Kamen Rider 315, Kamen Rider 333, Kamen Rider Tiger, Kamen Rider 2, Kamen Rider Verde, Kamen Rider V3, Kamen Rider X, Kamen Rider 000, Kamen Rider Zo, Kamen Rider Zolda, Kamen Rider ZX, Masked Rider, Riderman, Shin Kamen Rider, Skyrider
Purpose: To protect humanity from a variety of threats.
Affiliations: Each other
Enemies: see individual entries
Base of Operations: Japan mostly, but some active worldwide
First Appearance: Kamen Rider (live-action TV, April 4th, 1971)
History: Starting with the original Kamen Rider, a motorbike riding cyborg, the Kamen Riders have been a series of heroes who have defended Japan and the world against a variety of mutants and evil organisations.
Comments: Created by Shohtaroh Ishinomori.
Kamen Rider was the first henshin tokusatsu, where the hero morphed from his normal identity to his superhuman one.
Following the success of adapting a string of Sentai shows to America as the Power Rangers, the Saban TV company tried to do the same with Kamen Rider. Using some of the footage of Kamen Rider Black RX (sequel to Kamen Rider Black), they created Masked Rider.
At some point I intend to start to do entries for each individual Kamen Rider, but given the sheer scale of that task, don't hold your breath waiting for it.
CLARIFICATIONS: Not to be confused with
Tuxedo Kamen, from Sailor Moon

Ramen Rider, a hero from Antarctic Press' Ninja High School who was inspired by these heroes
Any Additions/Corrections? Please let me know.
Back to Japanese heroes main page
All images and characters depicted on this site are copyright their respective holders, and are used for informational purposes only. No infringement is intended and copyrights remain at source.