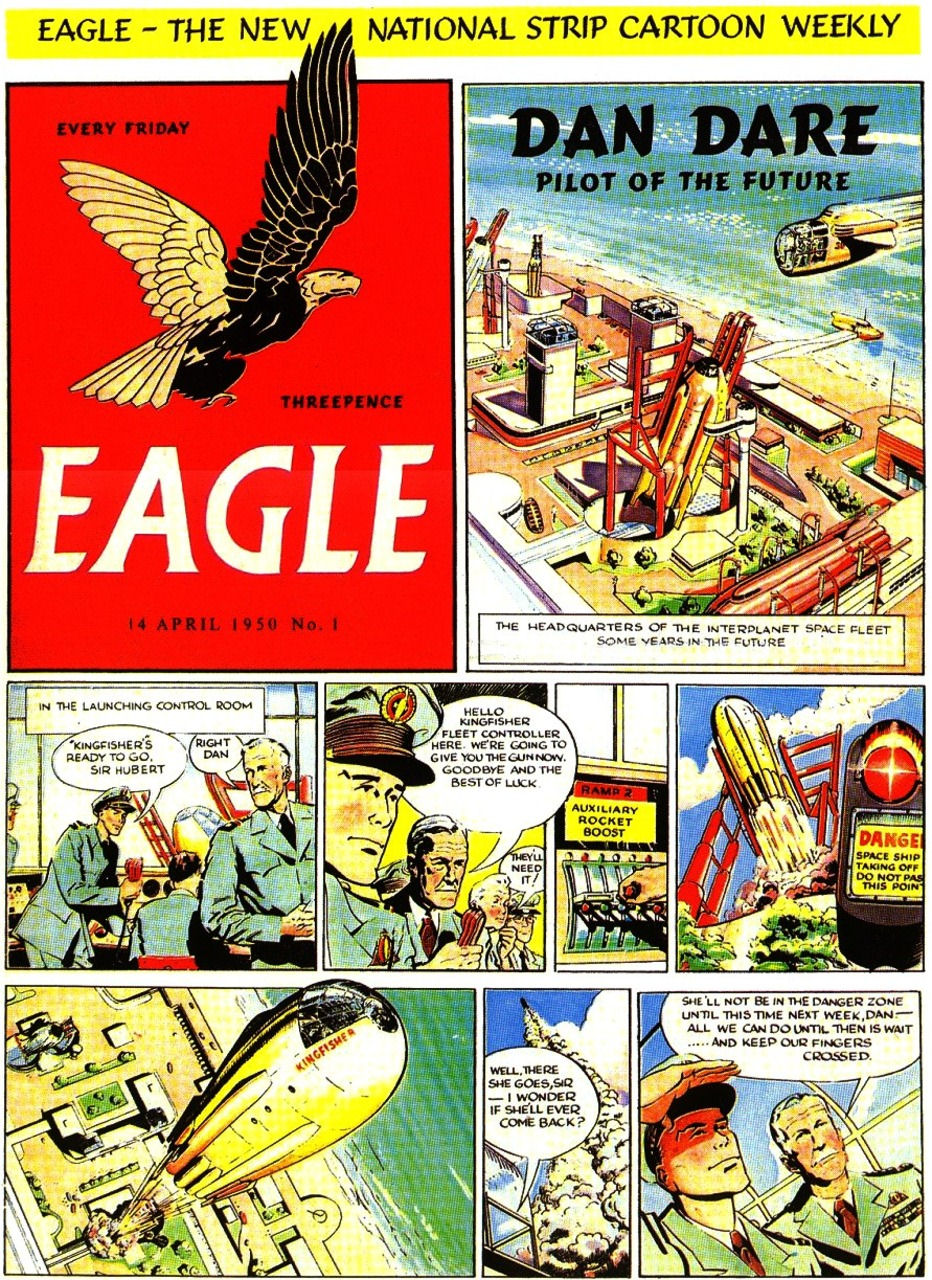 Eagle (1960s)
a.k.a.: Eagle and Swift; Eagle and Boy's World
Publisher: Hulton Press; later Longacre, then Odhams, finally I.P.C.
Format: Weekly anthology comic
First Issue: 14th April 1950
Last Issue: 26th April 1969 (#991 or Vol.20, #17)
Absorbed: Merry Go-Round (as of Vol.1, #1 - 14th April 1950), Swift (as of Vol.14, #10 - 9th March 1963), Boys' World (as of Vol.15, #41 - 10th October 1964)
Absorbed into: Lion (3rd May 1969)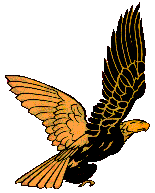 Strips: Because its creator, Reverend Marcus Morris, wanted Eagle to be more educational than other comics, many Eagle strips, especially in its early days, were educational or instructional. Several of these early strips were also only a page or half page, so that the earliest issues are jam-packed with a surprising number of strips covering the widest range of topics. The first issue alone has twenty different stories and strips squeezed into only 20 pages of comic.
Strips below are listed as close to debut order as I can figure out, and with a list of issues they appeared in, again as far as I have been able to piece it together.
Dan Dare, Pilot of the Future, Eagle's lead strip (Vol.1 #1-52)

P.C. 49 - adapted from a successful radio series, following the crime-solving adventures of Police Constable Archibald Berkeley-Willoughby, P.C. 49. (Vol.1 #1-52, Vol.2. #1-52, Vol.3 #1-52, Vol.4 #1-38; Vol.5 #1-52; Vol.6 #1-52; Vol.7 #1-52; Vol.8 #1-9 (or maybe 10, 11 or 12))

Plot Against the World - boy's own adventure style text series (Vol.1 #1-17)

Captain Pugwash - misadventures of a comedic pirate, who would go on to much greater fame when later turned into a partially animated children's TV series (Vol.1 #1-19)

Spies - text series of real life spy stories, with slightly varying titles (The Spies Who Saved London; School for Spies; The Spy Catchers; Codes and Ciphers; etc.), all by Bernard Newman (Vol.1 #1, 3, 5, 8, 12, 16, 18, 20)

Cricket Coaching by Learie Constantine - short strip with real life player giving cricketing instructions; his name is misspelled Leary in some installments (Vol.1 #1-15)

| | |
| --- | --- |
| | Professor Brittain Explains - educational strip where Professor Brittain (sic) explained a variety of scientific principles, with topics chosen by the readers (Vol.1 #1, 3, 5, 10, 14, 18, 20, 22, 24, 31, 36, 42, 46, 52) |

| | |
| --- | --- |
| | Seth and Shorty: Cowboys - the adventures of two Texan cowboys circa 1890 (Vol.1 #1-16) |

| | |
| --- | --- |
| | Skippy the Kangaroo - an apparently Belgian humour strip (reprint?) about an exceptionally smart kangaroo. The early installments star the hunter Sir Marlborough Mouseworthy, and Skippy doesn't turn up until issue #9. (Vol.1 #1-52) |

Heroes of the Clouds - comic strip depicting real life aviators (Vol.1 #1-10)

Discovering the Countryside by John Dyke - strip discussing British wildlife and flora (Vol.1 #1-29)

Real Life Mysteries - another half page educational strip, this one discussing (as the name suggests) real life mysteries (Vol.1 #1-7, 9, 11-38)

Making Your Own Model Car - instructional strip about constructing a model car (Vol.1 #1, 3, 5, 7, 9, 11, 13, 15, 17)

Sporting Personalities - feature on various sporting stars of the day (Vol.1 #1, 3, 5, 13, 16, 17, 18, 20, 22, 24, 28, 32, 37, 47, 49)

| | |
| --- | --- |
| | Chicko - the misadventures of a small boy (Vol.1 #1-6, 20-52) |

| | |
| --- | --- |
| | Lash Lonergan's Quest - prose tale about a rodeo rider (Vol.1 #1-14) |

| | |
| --- | --- |
| | Trick Time with Rowntree Gumsters - advert for Rowntree Fruit Gums starring the dapper Ronnie the Gumster. Normally I wouldn't include characters from advert strips, but Tommy Walls (below) sets a precedent, plus each Ronnie strip is a different story. (Vol.1 #1, 5, 9) |

| | |
| --- | --- |
| | Rob Conway - the adventures of an Air Training Corps cadet (Vol.1 #1-15) |

Tommy Walls - boy who gains superhuman power by eating Wall's Ice Cream and then making a "magical" W sign with his fingers. (Vol.1 #1-52)
The Great Adventurer - biblical tale depicting how Saul of Tarsus became St. Paul (Vol.1 #1 - Vol.2 #6)

| | |
| --- | --- |
| | The Sharp Boy - small advertising strip for Sharps' toffee (Vol.1 #2, 4, 6, 8, 10) |

Try It For Yourself - half page strip offering suggestions of small DIY projects readers could attempt. (Vol.1 #3, 17-20, 22, 24-25)

| | |
| --- | --- |
| | Grandpa - humour strip about an elderly gentleman (Vol.1 #3, 5) |

Harris Tweed, Extra Special Agent (Vol.1 #16 on)
Cortez, Conqueror of Mexico - recounting the tale of the real life Spanish explorer (Vol.1 #16-36)
A Model Plane to Make and Fly - instructional strip, following on from the similar "make a car" series (Vol.1 #18-21)
The Secret of the Mine - text adventure series (Vol.1 #18-32)
Improve Your Swimming with Roy Romaine - following on from the improve your cricket strip, advice on becoming a better swimmer (Vol.1 #18-24)
Running a Model Railway - replacing making a model plane with working with model trains (Vol.1 #22-33)
Learn Boxing with Freddie Mills - following on from cricket and swimming, another celebrity advises how to pursue their chosen sport (Vol.1 #25-35)
Curious Creatures - after looking at the countryside, a new strip showing off unusual creatures from around the world (Vol.1 #31-52)
Thunder Reef - another text adventure series (Vol.1 #33-49)
Football Hints by Billy Wright - another celebrity provides suggestions of how to improve the reader's sporting skills (Vol.1 #37-48)

| | |
| --- | --- |
| | Riders of the Range - following the success of P.C.49, Eagle adapted another radio series, this time Chris Chilton's BBC western Riders of the Range. The strip, starring cowboy Jeff Arnold, ended up not only one of Eagle's longest running and fondly remembered, outlasting the radio series that spawned it, but also had a number of Eagle Annuals specifically devoted to it. It was one of four series graced with a collection by Hawk Comics in the 1990s. (Vol.1 #37 on) |

The First Man To... - factual series with self-explanatory title (Vol.1 #39 on)
Advice on Your Pets - another factual series with a self-explanatory title (Vol.1 #48 on)
Ju-jitsu for Self Defence - following on from several celebrity sporting advice strips, yet another sporting pursuit (Vol.1 #50 on)
The Scarlet Snuffbox - text adventure strip (Vol.1 #50 on)
Eagle Eye, Nature Detective - series about the wonders of nature, sponsored by Rowntree's (Vol.1 #52 on)

| | |
| --- | --- |
| | The Legend of the Lincoln Imp - humour strip about the Mayor of Lincoln's efforts to rid his town of a mischievous imp, based on the real life legend (Vol2 #3 on) |

Patrick, Fighter for Truth - the tale of St. Patrick (Vol.2 #7 on)
It Couldn't Happen, But It Did - "factual" strip relating seemingly unlikely events that nevertheless happened (Vol.2)
North Wind - text adventure strip (Vol.2)
The Adventure Club - text strip (1952-1953)
Luck of the Legion (1952-1961)
The Baden-Powell Story - biographical strip about the founder of the Scouts (1954)
Lincoln of America - biographical strip about the life of the American president (1955)
Jack O' Lantern (Vol 6 No 4 - Vol 10 No 40)
The Great Sailor - biographical strip about Horatio Nelson (1957)

The Happy Warrior - Sir Winston Churchill's life story, told by Frank Bellamy from 4 October 1957 until 6 September 1958 (8:40 - 9:36)

The entire series was released as a collected volume in 2014.

The Shepherd King (Vol.9)

| | |
| --- | --- |
| | Cavendish Brown M.S. - adventure strip starring a brilliant surgeon turned detective (Vol.9) |

David, the Shepherd King - artist Frank Bellamy's interpretation of the story of King David, famous slayer of Goliath, running from 13 September 1958 to 11 April 1959 (9:37 - 10:15)

Marco Polo - recounting the life story of the famous explorer (started 10:16)

| | |
| --- | --- |
| | The Adventures of Billy the Bell-Boy - an advertising strip promoting Anglo-American's Bell Boy Bubble Gum, featuring a crime solving hotel bell boy named Billy. (1959) |

Knights Of The Road (1960-1962)

| | |
| --- | --- |
| | Fraser of Africa, about a European hunter's exploits in Africa, fondly remembered for its stunning artwork by Frank Bellamy (1960-1961) |

The Golden Man - biographical strip about Sir Walter Raleigh (1961)

Montgomery of Alamein - biographical strip (1962)

| | |
| --- | --- |
| | The Beast In Loch Craggon (1962-1964) |

Heros The Spartan (1962-1964)

Danger Unlimited (1962-1963)

Blackbow the Cheyenne (1963)

Billy Binns (1964)

The Iron Man (1964-1969)

The Guinea Pig (1965)

U.F.O. Agent

Smokeman (1966-1967)

Nick Hazard (1967)

The Waxer (1969)

Alfred the Great - biographical strip about the early English monarch

Biggles - prose adventures of the famous WWI flying ace

Blunderbirds

Can You Catch A Crook? - illustrated by Victor de la Fuente, Paul Trevillion

Castle Sinister

Circus Wanderers

Cornelius Dimworthy

The Day The World Forgot

The Devil's Henchmen

Dimworthy and Co.

Edison Brain - The Boy Inventor

Fidosaurus

For Bravery

The Gladiators

Home Of The Wanderers

Johnny Frog

Lt Horatio Hornblower R.N. - adapting the novel of the same name

Last of the Saxon Kings

The Lost World - adapting the novel of the same name

Mann Of Battle

Mark, The Youngest Disciple - biblical adaptation

Mark Question

Marvel Of M.I.5.

Montgomery Of Alamein

Only The Brave

Pedro The Pirate

Professor Puff And His Dog Wuff

The Road Of Courage - biblical adaptation of the life of Christ

Sergeant Bruce C.I.D.

The Shepherd King - adapting the biblical tales of King David

Sir Percy Vere

Sky Buccaneers

Speed Mann in H-Bomb Attack

Storm Nelson - Sea Adventurer

Tales of Asgard - reprints of Marvel's Thor back-up strips.

That Chap, Just Johnny

They Showed The Way

The Three J's - prose adventure strip

Tintin - reprinting the Belgian teen journalist's adventure King Ottokar's Sceptre

The Travels of Marco Polo - biographical strip

The True Story of St. Vincent de Paul - biographical strip

Vengeance Trail

Vic Venture

Waldorf and Cecil

What's His Name?

Wild of the West!

XYZ Cars
Comments: Created by Reverend Marcus Morris, who sought to create more wholesome fare for British youths than the American comics that were coming across the Atlantic. Thus Eagle featured not only adventure and humour strips, like many British comics of the era, but also bible tales, historical and biographical dramas, educational strips on science, sport, and nature, model-making advice, and in the centre pages an ongoing series of impressive cutaway drawings of vehicles and machinery, one of the magazine's longest running and most memorable features. The unquestionable star of the comic was interplanetary pilot Dan Dare, created by Frank Hampson. Dare was Eagle's cover star for the majority of its 19 year run, and his eventual departure from the front page was arguably the first sign of the once-great comic's decline.

A mock-up for the first issue shows that Dare was initially conceived of as being a space chaplain; of the other strips showcased on the cover, only The Great Adventurer made it to the final, published version of the comic.
Issue numbers reset each year, so after the first 52 issues the next issue was Vol.2, #1. Because Eagle had launched in April, for the first three volumes April was the month where the numbering changed; however, Vol. 4 only had 38 issues, so that Vol. 5 could start with the first issue of January 1954.
| | | |
| --- | --- | --- |
| Volume 4 No.1, cover dated 10th April 1953; up to this point, prior volumes, including vol.3 ended with No.52 in early April | The last issue of Vol.4, No. 38, ending with the year 1953 and the 24th December | The first issue of Vol.5, the first volume whose first issue also coincided with the new year's start. |
Unusual for most British comics, Eagle also enjoyed a number of tie-in novels related to various series (the only other British comic I know to have done this is 2000AD).
Ironically Eagle is the only U.K. title which can be considered to have incorporated itself - Eagle was absorbed into Lion in 1969. In 1974, Lion in turn became part of Valiant, which was itself absorbed into Battle in 1976. In 1988 Battle breathed its last, and was in turn absorbed into the new version of Eagle, effectively coming home.
After Egmont Fleetway and IPC were split into separate companies and similarly split their ownership of their comic characters in the mid-1990s, many of the Eagle (old and new) characters became the property of the Dan Dare Corporation. The exceptions, who belonged to Egmont and have now, as of August 2016, been sold to Rebellion, appear to be those strips that began in other titles which subsequently merged with Eagle - so, for example, The Thirteenth Floor, which originated in Scream.
Superhuman Characters
Back to UK Superheroes Main Page.
All images and characters depicted are copyright their respective holders, and are used above for informational purposes only. No infringement is intended and copyrights remain at source.