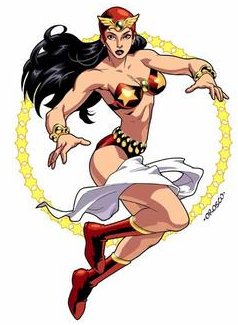 Real Name: Narda
Identity/Class: Transformed human / extra-terrestrial meld
Occupation: School girl
Affiliations: Captain Barbell; Lastikman, Dyesebel
the 2005 Darna TV series adds Adran (Queen of Marte), Aio ( Adran's right hand person), Adranika (The Race on Planet Marte, led by Queen Adran), Adarna Warriors.
Enemies: Valentina ("goddess of the snakes"); Armida the Hawk Woman, Babaing Impakta (The conjoined Evil Twins), Babaing Tuod (Lucifera the Tree Monster), Babaing Linta (Garda the Leech Woman), Isputnik., Giants, Ms. Luna (Manananggal), Braguda (Queen of Darkness) & her Anomalka Warriors, Mambabarang (Warlock King of Insects), Sulfura, Molecula (Shape-shifter), Nosforamus (Grim Reaper & right hand man of Braguda), Dr. Zombie (Re-Animator of corpses), Black Darna
Known Relatives: Ding (brother), Isabel (grandmother);
in the 2005 Darna TV series Valentina (cousin), Tatay Mulong (Nosforamus, father, deceased and resurrected), Nanay Ising (mother, deceased), Prospera (aunt), Iking (adopted brother)
Aliases: Daria (alternate mortal guise), Varga (kind of - see comments)
Base of Operations: The Philippines
First Appearance: "Darna", Pilipino Komiks #77 (Pilipino Comics, May 13th 1950) - but see Comments for her predecessor.
Powers/Abilities: Possesses the "allure of Venus, the glory of Apollo and the strength of Samson". Flight, super strength, super speed and indestructible to all man made weapons. She can switch between forms by stating their names (Darna to become Darna, Narda to become Narda), though unlike others who similarly transform using trigger words, she must also want to transform when she utters the name; in other words, she can say the name of whichever form she is not using without automatically changing.
The White Stone of the Adranika (a.k.a. Darna's Magic White Stone) - properties as revealed in the latest tv series:
Contained within the magic white stone of the Adranika is the very essence of this noble race's power. When this mystic talisman is ingested by the Earth girl, Narda- she is able to channel the persona of DARNA by yelling this name. But ingesting the stone and yelling the name is not enough in channeling the "spirit of the stone".

She must have a pure heart with a selfless dedication to protecting the innocent and vanquishing evil. Narda cannot become Darna if her motivations are fueled by hatred and/ or vengeance. The power of Darna cannot be harnessed properly by a person easily allow themselves to be overcome by their emotions and/or selfish desire. Discipline and training is essential. This is why it is forbidden for the host to fall in love or to be selfish. More importantly, the Darna persona (which is the very embodiment of Adranikan power) cannot be channeled by just anyone. Only a person chosen by the magic stone itself can become DARNA and that is Narda, also known as "the chosen one".

The white stone may be the only one of its kind but it does have an opposite- the Black Stone of the Anomalka which is under the possession of Braguda- the Queen of Darkness and ruler of the Anomalkas (Planet Marte's Evil underground dwelling race). Braguda has long sought the Adranikan stone because anyone who possesses both the black stone od the Anomalka and white stone of the Adranika will have the power necessary to conquer and dominate any planet. Although Braguda cannot channel the persona of "Darna" should she manage to acquire it, she can utilize the stone's energy to boost her own and be a threat to the universe. This is why the magic white stone must never be allowed to fall into the hands of Braguda.
In the recent tv series, Darna released all her pent-up negative emotions, which took on a form of their own, Black Darna.
History: When young Narda witnessed a falling star late one night and went to investigate where it landed, she found a strange little stone (revealed to be from the planet Marte, and containing the mystical essence of the Andranika inhabitants of same) with the word Darna written on it. Hearing others approaching, she popped it in her mouth and in a moment of impetuousness, swallowed it. Instantly she was overtaken by a sensation of travelling through space, and collapsed. She was found by her guardian, her grandmother, who took her home and put her to bed. Later she asked Narda what had happened, and the young girl recounted the story of her find. But when she said the word that had been inscribed on the stone, she was instantly transformed in a flash of lightning into a tall, Amazonian woman. This was Darna, a mighty warrior of Marte, named after the mythological Adarna bird. Narda was channeling the alien woman. Luckily Darna meant no harm and by saying Narda, she was able to change back.
Since then Darna has been a constant protector of the innocent and helpless from a variety of threats and villains.
| | | | |
| --- | --- | --- | --- |
| | | | |
| Narda... | witnesses the star fall... | swallows the stone... | and trips out! |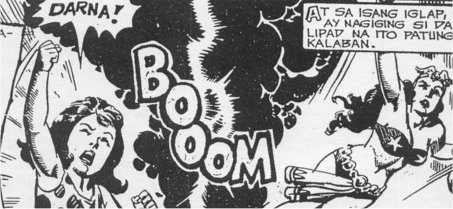 Comments: Created by Mars Ravelo. Check out the official Darna website.
An excellent English translation of her origin story can be viewed online here, and her second adventure (and first encounter with Valentina, her arch foe) here.
Darna has been around since 1950, celebrating her 55rd birthday this year. According to the Manila Times "Darna is a cultural icon born at a time when the Philippines was struggling to come out of the devastation of World War II. She served as a salve to a country looking for champion." She has appeared in films, played by Rosa del Rosario (Darna, 1951, plus Darna at ang Babaeng Lawin, 1952), Liza Moreno (Si Darna at ang babaeng impakta, 1963, plus Isputnik vs. Darna, 1963), Eva Montes (Darna at ang babaeng tuod, 1964), Gina Pareño (Si Darna at ang Planetman, 1969); Vilma Santos (Lipad, Darna, lipad!, 1973, plus Darna at Ding, 1980); Brenda del Rio (Darna Kuno, 1979); and Nanette Medved (Darna, 1991). She was also the star of a 1977 TV series by Lorna Tolentino, a 1986 cartoon series by GMA 7, and a stage production by Ballet Manila which starred Liza Macuja. On April 4, 2005 the Pilot Episode of "Darna:The TV Series" aired on GMA-7 in both the Philippines and Japan. Starring Angel Locsin as Darna, the series is the highest rated Filipino Prime-Time TV Series.
In 1947 writer Mars Ravelo and artist Nestor Redondo created a female superhero for Bulaklak comics - Varga. Ravelo's daughter, Rita R.de la Cruz, says her father based her on images of Superman he saw in comics brought to the Phillipines by U.S. soldiers. When Ravelo left Bulaklak two years later after a falling out with the editor, he couldn't take his creation with him, as she belonged to the company. So instead he took the concept and image, and renamed her Darna, after the Adarna bird of Philippine mythology. Over the years she appeared in Kenkoy, Liwayway, Kampeon and Atlas Comics; this last company published her in English and in colour, but apparently of the storylines were of "low quality" (according to Ruta de la Cruz), which offset these attempts to widen her sales appeal. She is currently being published by Mango Comics, who hope to bring her adventures not only to another generation of Filipinos, but also to a broader, worldwide, audience too. This new incarnation, created with major input from Ravelo's family, sees Narda some ten years after she first became Darna, now grown up and attending university.
Raffy, a major contributor to the Philippines section of this site, sent me the following excellent information about the differences between the Golden Age Darna and the Silver Age one.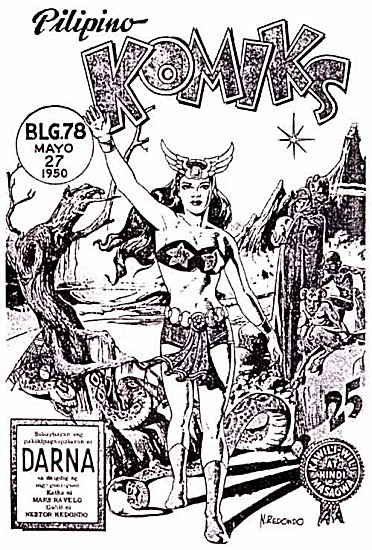 Golden Age DARNA
(From the 1950 comicbook original and the faithful 1951 movie adaptation starring Filipina-American actress- Rosa Del Rosario)
Narda sees a falling star that lands close to her as she is out playing hide and seek with neighborhood children. She picks up the object and discovers it's a beautiful white pebble with a word - "Darna" Her friends begin to look for her and call for her. Afraid that her newfound object might be taken away from her, she puts the pebble in her mouth. It comes alive and goes down her throat. She gets dizzy and sees stars and faints.
When she wakes up, her grandmother and younger brother "Ding" are relieved that she's alright. They ask her what happened and she says she fainted after accidentally swallowing the beautiful white pebble. Her grandmother says that it might be an "agimat" (a talisman) and Narda says it has an inscription. Grandma says what did it say? Narda says "DARNA!"
There is a "boom" and when the mist clears, in her place is the warrior woman- "Darna" of the Planet Marte. She states her mission to be a force for good on Earth. The Grandma and Ding are more concerned as to where their little girl- "Narda" is. Darna says "she will be returned to you once I call her name - NARDA"
Suddenly, after a "boom", the smoke clears and Narda is back. The Legend Begins!!! (goes off to fight "Valentina"-the Gorgon" and "Armida"-The Hawkwoman (Babaing Lawin)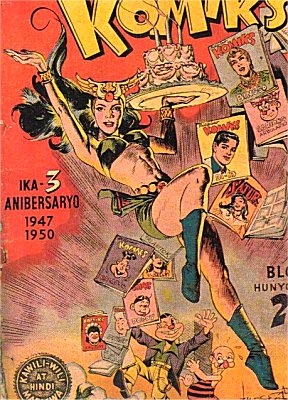 Note: In the Original version, NARDA is a separate entity from DARNA. Once Narda swallowed the stone that first time, she never removes it anymore and it is already absorbed into her being like a pill.
--------------------------------------------------------
Silver Age DARNA (1973)
Narda (in her late teens) discovers the magic stone after the "falling star" lands close to her home one night. She discovers that the magic pebble can give Narda superpowers and become DARNA. She and brother Ding are the only ones who know the secret. Their grandma doesn't know her secret in this version. Also-In this version, Narda herself becomes DARNA. They are not 2 separate entities and Darna is NOT from the Planet Marte but is just a champion warrior of the forces of light.
Note: In the "Silver Age" version- Everytime Darna turns back to "Narda", the magic stone reappears in her mouth and she takes it out and hides it until she needs it again. When an emergency arises again, she has to swallow the pebble again and say Darna to transform.
Most people nowadays remember this 1974 "Silver age" re-invented version by legendary actress, Vilma Santos. Vilma Santos played both "Darna" and "Narda". This practice continued in every movie version that followed after. Although Vilma didn't possess Rosa Del Rosario's goddess-like physique in the 1951 original, she made up for it in characterization and acting chops. Vilma Santos' version became the template and few people remember the original where the part of Narda was played by a young girl actress, and the beautiful Rosa played the grown-up DARNA.
--------------------------------------------------------
Modern Age Darna (2003)
The version that ultimately would be the definitive "Modern Age version of DARNA" began with the release of Mango Comics' 3 part mini-series "Darna". This version was what GMA Network ultimately used for the highly rated "Darna:The TV Series" starring Angel Locsin. This is the first live-action adaptation of Darna that faithfully adapted Mars Ravelo's first story - that Darna is from the planet Marte. As the origin goes, the planet Marte is under attack by the Evil Queen Braguda and her evil race, the Anomalka. Caught by surprise, Adran realizes that Braguda is desperate to possess the power of the Adranika and that she will stop at nothing to acquire it. Adran entrusts the mystic white stone to the care of Aio who is given the task of finding a worthy being who will inherit it. Braguda destroys the planet Marte but not before Aio is able to make her escape- towards the planet Earth. But her escape does not come unnoticed and soon Braguda herself is in hot pursuit of Aio. As Aio reaches the earth's atmosphere, her ship is disabled by Braguda and crashes as the magic stone falls out of the ship where it is later discovered by young Narda. She soon meets Aio who tells her to keep the stone because she is worthy of this gift and that when the right time comes, she will receive "the call". 8 years pass and after helping an old woman beggar (secretly Aio), Narda finally receives her call- a telepathic message. The voice says that Narda is the sole inheritor of Adranika's mystic power and that she has been chosen to be the World's protector. The word "Darna" magically appears on the white stone and she is instructed to swallow it and speak the word afterwards. Narda follows. She yells "DARNA!!!" and the rest is history.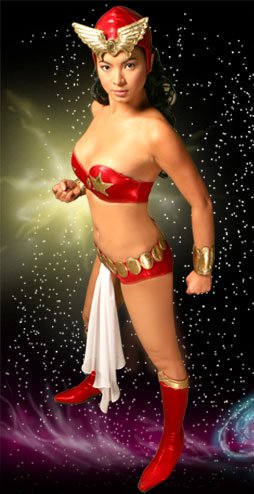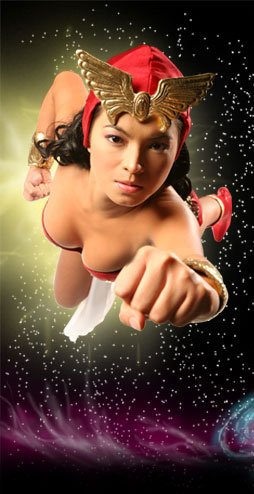 ---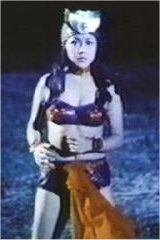 Regarding Vilma Santos, Raffy provided a detailed breakdown of "Action Hero" career, although he notes that "of course, she's accomplished many things since then and has done more serious dramatic roles and won international acting awards". I've split that career breakdown between the relevant characters:
1973- Vilma Santos Stars in "Lipad, Darna, Lipad" (Trans. "Fly, Darna, Fly"), a Trilogy of stories in one movie.
*Chapter 1 -Darna fights "Manananggal" (A Vampire like creature that flies with only upper half it's body and sprouts batwings)
*Chapter 2- Darna Vs. Valentina (The Snake Goddess)
*Chapter 3- Darna Vs. the Hawk-Woman
Next she played Dyesebel. Then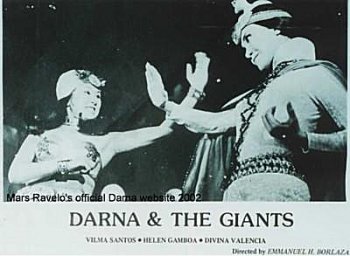 1973- Vilma Santos Stars in "Darna and the Giants" - Darna fights Alien Invaders and battles "X3X", an intergalactic Warrior-Queen whose science performs genetic engineering on earthlings and turns them into Giants to bring the Planet Earth to it's knees. Until Darna eventually kicks the crap out of her and the Giants.
Then in 1974 she played Wonder Vi, a sort of female Tarzan, followed by Phantom Lady, similar to a Philippine Lone Ranger. Then it was back to Darna for 1975- "Darna and the Planet Women" - Darna Vs. Space Amazons. Following this, she played Vivian Volta, an "Emma Peel" kind of character, before returning to Darna in 1980 - Darna at Ding (Trans. "Darna and Ding")-The final Darna movie from Vilma.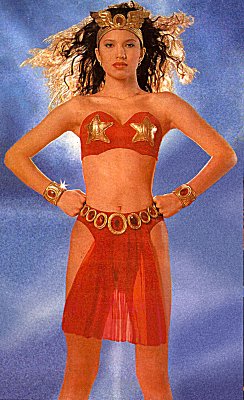 With the retirement of Vilma from the role she had made her own, it was a few years before anyone else ventured to make a Darna movie. However in 1992 Viva Films cast Nanette Medved in the lead role for the movie simply titled "Darna". The new film from Viva was a hit and was followed by a sequel in 1994 called Darna, ang Pagbabalik (Darna Returns), this time with Filipina-American Beauty Queen turned Actress- Anjanette Abayari in the lead role.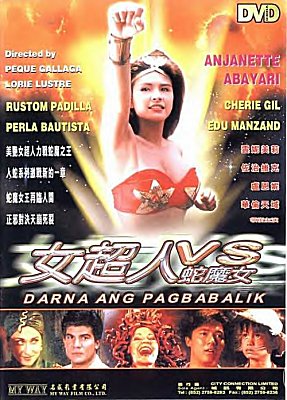 The DVD was released in Hong Kong and the rest of Asia and has English subtitles as well as Chinese Subtitles, making it one of the most accessible of the Darna movies (dialogue is still in the original Filipino).
The 1992 movie was also responsible for finally naming Narda's grandmother. Raffy notes "The grandmother wasn't named in the old stories but when the movie in 1992 was made, Narda referred to her Granny as "Lola Isabel" (Grandmother Isabel) and it is part of her continuity now.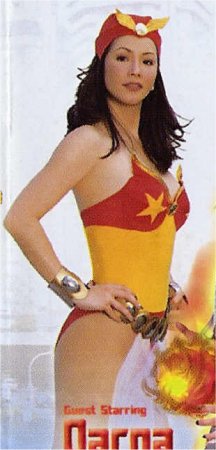 Darna also guest starred in the 2003 "Captain Barbel" movie starring Bong Revilla, where she turned up in a dream sequence. This time round she was played by Philippine Pop Diva Regine Velasquez. The singer subsequently visited the U.S. as part of a concert tour ("The Songbird and the Songwriter"), with one of the performance numbers had her wearing a 2-piece DARNA costume while singing the songs from the "Captain Barbell" movie. Ogie Alcasid, who played Barbell's alter ego Enteng, accompanied her on the tour, and wore the Captain Barbell costume during this song number.
Late in 2004, Hugo Yonzon (head of Mango Comics, and current license holder of "Darna") and executives from the Philippines GMA 7 Network signed an agreement licensing a Darna TV series. Angel Locsin is portraying the heroine in the latest version. There is an official website for the series. Three actresses who previously played Darna are involved in this TV series.
Gina Pareño (played Darna in Si Darna at ang Planetman, 1969); she plays the grandmother

Lorna Tolentino (played Darna in the 1977 TV series); she played Adran, the Marte warrior who safekeeps the stone.

Regine Velasquez (played Darna in the 2003 Captain Barbel); she sang the theme song Di Ka Nag-iisa.
They have introduced a number of changes (or previously unknown revelations, depending on your p.o.v) to the Darna mythos with this incarnation. This version is the first which acknowledged the origins of the stone as coming from the planet Marte, instead of simply hinting it was a "gift from God" or something an Angel gave Narda. Valentina is revealed as Narda's cousin; Ding has been killed. A new, other-dimensional world has been introduced - "Kanlungan Adran" (Adran's Cradle) . This is a mystical world in another dimension created by the Adranika race of Marte and known only to a very few.
Braguda recently revealed to Valentina the origins of the two stones and the prophecy. The Anomalkans originally owned the two stones which came from 2 powerful planets that were destroyed because of a collision; thus, the two stones are the essence of the two planets. The first Anomalikan Queen obtained these two stones during her quest. The stones became the light of planet Marte. During those times, the Anomalikans and the Adranikans lived peacefully, and Braguda and Adran were friends. Braguda became the next keeper of the two stones; using them, she showed Adran the planet Earth. Adran was captivated by a beautiful animal, an eagle and chose the wings as a symbol of the Adranikans, while Braguda chose the snake as the symbol of Anomalkans (which is why Braguda made Valentina into a snake-woman). Braguda revealed to Adran that she planned to conquer Earth. Adran objected and quarreled with Braguda, prompting Adran to take the white stone from Braguda. Braguda attacked Adran using the black stone but Adran was able to defend herself using the white stone. The Anomalkan declared war against the Adranikans, a conflict which lasted for many years. Braguda also revealed to Valentina that there was a prophecy that when the planets are aligned, a being will be born coming from the Anomalkan race, will kill/defeat Braguda. Braguda ordered the execution of all newborn Anomalkans during that time of the alignment
Raffy, always a source of excellent Darna information, provided this copy of the theme song lyrics (with translation from Tagalog)
"Di Na Nagiisa" (Darna TV Series theme song from "DARNA - OST" GMA Records)
Composer: Mr. Jay Durias of Southborder
Vocals: Ms. Regine Velasquez
Kapag ako'y nag-iisa,

mayro'ng gumugulo

sa aking isipan.

Alam kong tayo'y nagmamahalan.

Ngunit bakit ganito?

Di maipaliwanag.

Hawakan mong aking mga kamay,

bigyan ng kulay ang aking buhay.

Mahal ayoko pang lumisan.

Dito lamang ako,

dito sa tabi mo.

Ngunit kailangan kong gawin 'to.

Di dahil nais ko,

Sana'y unawain mo.

Hawakan mong aking mga kamay,

bigyan ng kulay ang aking buhay.

At wag kang bibitaw.

Huwag kang hihiwalay.

Ika'y aking lakas.

Pagibig na ito'y sadyang wagas.

Ano kaya itong pagsubok na dapat kong dalhin?

At dapat kong tanggapin?

Mahal sa'king paglalakbay,

Ako'y nalulumbay.

Kailangan bang mawalay?

Hawakan mong aking mga kamay,

bigyan ng kulay ang aking buhay.

Habang pasan ko ang daigdig

pagibig mo'y nananaig.

At balang araw tayong dalawa'y

magsasama.

(di na mag-iisa)

(di na mag-iisa)

Ika'y kapiling na...

Di na nag-iisa...

Di na nag-iisa.

Everytime I'm by myself

many things trouble me

in my mind

I know we love each other

But why is it this way?

I just cannot explain

Hold on to my hands

Give color to my life

My Love, I still don't want to leave

I'd rather just be here

Here by your side

But I must do this

Not because I want to

I hope you'll understand

Hold on to my hands

Give color to my life

And don't ever let go

Don't you separate

You are my strength

This love is surely forever

What is this test that I am made to bear?

and must accept?

My Love in all my travels

I am lonely

Do we have to part ways?

Hold on to my hands

Give color to my life

While I bear the weight of the world

Your love conquers all

And one day we'll be together

magsasama

(no longer alone)

(no longer alone)

You are with me

no longer alone

no longer alone
Angel Locsin's Narrative:
"Ako ang napili. Pero may dahilan kung bakit sa akin ibinigay ang mahiwagang bato at 'yon ay upang gampanan ang napakahalagang misyon. Simula ngayon, si Narda at Darna ay iisa. Ako si Darna. Kalaban ng kasamaan at tagapagligtas ng sangkatauhan."
Translation: "I have been chosen. But there is a reason for my having been given the magic stone, and that is to undertake a mission of great significance. From this day forth, Narda and Darna are one. I am Darna, foe of all that is Evil, and saviour of humanity."
---
A new article (September, 2004) has revealed that in addition to the TV series, GMA's Film division plans to produce a Darna movie as well. Wilma Galvez of GMA-7 wants a different actress for the movie version and has reportedly offered the role to Pop Diva & Box Office Queen -Regine Velasquez.
As well as comics and movies, Darna has also been the subject of a series of national stamps released in the Philippines.
Thanks to Raffy for most of the above information and images, and Chris Fabian for additional trivia from the new TV version.
CLARIFICATIONS: Not to be confused with
Wonder Woman, D.C.'s hero with a similar look

ZsaZsa, an affectionate take on a version of Darna

Captain Marvel, the first hero to transform with a magic word
Any Additions/Corrections? Please let me know.
All images and characters depicted on this site are copyright their respective holders, and are used for informational purposes only. No infringement is intended and copyrights remain at source.