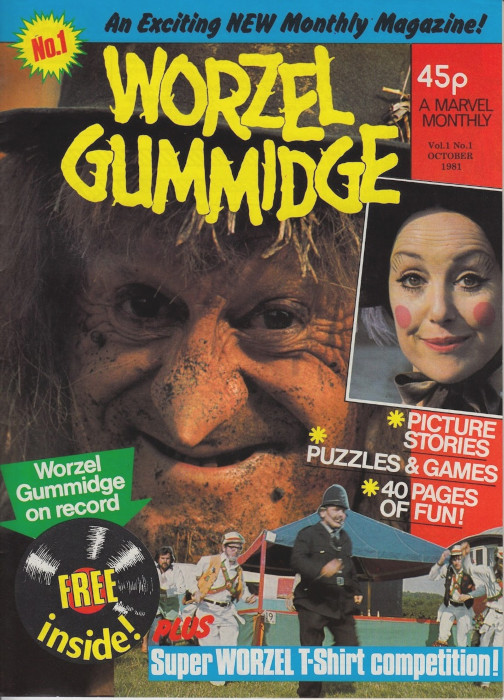 Worzel Gummidge
a.k.a.:
Publisher: Marvel U.K.
Format: (first volume) Monthly single story magazine; (second volume) weekly anthology
First Issue (volume 1): Worzel Gummidge #1 (October 1981)
Last Issue (volume 1): Various sites report the last issue to be Worzel Gummidge #15 (December 1982); I can only confirm up to Worzel Gummidge #10 (July 1992)
First Issue (volume 2): Worzel Gummidge #1 (9th March 1993)
Last Issue (volume 2): Worzel Gummidge #23 (10th August 1993)
Absorbed: None
Absorbed into: (volume 2) Rupert Weekly
Strips: Worzel Gummidge, Wind in the Willows
Comments: After winning the license to publish a Worzel Gummidge strip away from IPC's Look-In, Marvel UK launched a monthly Worzel Gummidge magazine in 1982. Stylistically, it was in a similar vein to Doctor Who Magazine, perhaps because Marvel UK creators believed that since actor Jon Pertwee, who played Worzel, had also played the third Doctor, they could entice the same readership to pick up their new title. Low sales indicated they had misjudged their target audience, and Worzel Gummidge was cancelled and replaced by a weekly Worzel Gummidge title aimed at a slightly younger readership. That only lasted 23 issues before it too was cancelled, and merged into the similarly licensed Rupert Weekly.
Back to General UK Comic Book Heroes.
Back to UK Superheroes Main Page.
All images and characters depicted on this site are copyright their respective holders, and are used for informational purposes only. No infringement is intended and copyrights remain at source.