Urbanus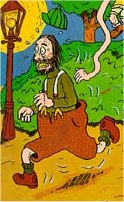 Real Name: Urbanus Van Anus (Urbain From Ass)
Identity/Class: Varies - see comments.
Occupation: His main job is surving his marginal circumstances. His father is an alcoholic and lives on social security. Urbanus' goal in life is to survive on his own - he feels some affinity with his family but none for the rest of the world.
Affiliations: Cesar and Eufrasie (mother and father), Amedee (his fly), Nabuko Donosor (his Hittentit but he pretend it's a dog), Fillemon (Urbanus' millionaire uncle who is dying but has nonetheless survived for more than 100 episodes)
Enemies: Stef, Staf and Stillo (criminals), Jef Patat (Jeff Potato, a guy who lives under a bridge and stinks)
Known Relatives: King Bouwdewijn (ex-king of Belgium, godfather)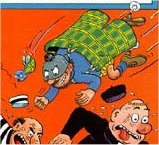 Aliases: Nul-Op-Zijn-Rapport-Man; Diesel-Man; Robin-Zeep (Robin Soap),Urbanalalala
Base of Operations: Tollenbeek, Belgium
First Appearance: Het fritkotmysterie. (The mistery of the fries (potato) bar)", Stille Getuige (10th August 1983)
Powers/Abilities: Unknown
History: Urbanus is a Belgian man who engages in bizarre adventures, and has, on occasion, become a superhero, such as when he called himself Diesel-Man.
Comments: Thanks to Theodoor Westerhof for informing me about this character and providing information on him.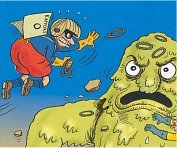 Theodoor notes that "Urbanus is a pretty unique comic, in that the leading character is one of the writers… Add to this that the original writer and artist is one who caught a real life comic character rather than to invent one himself, that this couple tells they are fuelled by beer and that as the original writer is the artist, it can become a little confusing well, it's a large series, it seems that four pages have been published in English in a tribute to Alan Moore. The comic was intended to be a more "mature" version of the Flemish "traditional" comic, and is a great success as such."
Jimmy I.E. Hendrickx writes to say that "the real person Urbanus" was already well known in Belgium and the Netherlands since 1974, when "he made several movies and tons of surrealistic short movies", as well as "one cartoon movie (Het Lustige Kapoentje). He has a succesful career as a performer and he even has a statue in Belgium." Jimmy goes on to discuss whether or not Urbanus is a normal human or not: Generally speaking he is, but "each new adventure he comes into some surrealistic circumstances. He is super-stupid, for years re-doing the first year of his elementary school. He will never graduate. In fact the character lives in a quite messed-up, surrealistic, absurd, marginal, banal world that is based on the true life of Belgians. Examples - He goes to the planet Uranus (the planet that is actually named Urbanus but there is a navel on Uranus that suck up all the B's) with his home made rocket, made from the top of a church built on a gigantic back pack. In some adventures he dies but the fact that God hates him so he is allowed to return to Earth each time, rather than be allowed into Heaven. Urbanus lives in a world where he can buy copies of his own comic strips or jump from his own comic to another comic page. Urbanus is always in company from his superintelligent fly Amedee (who lives in his beart.) and his split dog called Nabuko-Donosor who is accually a Hittentit (Belgian surrealistic creatures - some look like Smurfs but are called the Slurfs, some look like telephones, etc). Nabukos upper part of his head can fly, his other part wears shoes. Nabuko-Donosor can talk but is as stupid as Urbanus."
Jimmy also provided tons of additional information used in the profile above.
The comic albums are drawn by Willy Linthout.
CLARIFICATIONS: None
Any Additions/Corrections? Please let me know.
All images and characters depicted on this site are copyright their respective holders, and are used for informational purposes only. No infringement is intended and copyrights remain at source.