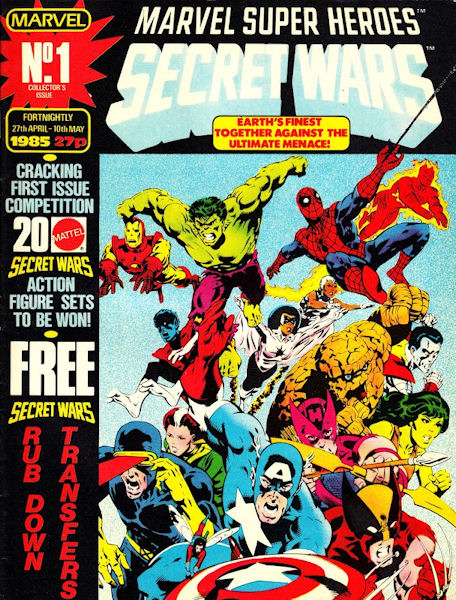 Secret Wars
a.k.a.: Marvel Super Heroes Secret Wars, Secret Wars: Featuring Zoids, Secret Wars II
Publisher: Marvel U.K.
Format: Weekly anthology
First Issue: Marvel Super Heroes Secret Wars #1 (27th April 1985)
Last Issue: Secret Wars II #80 (10th January 1987)
Absorbed: None
Absorbed into: Spider-Man and Zoids
Strips: Secret Wars, Secret Wars II, Spider-Man, Zoids, Alpha Flight, Macho Man, Secret Artist
Comments: Launched on 27th April 1985, Marve Super Heroes Secret Wars was a fortnightly Marvel UK title reprinting Marvel USA's Secret Wars as its lead feature; its title changed to simply Secret Wars with issue 10. Early back-up strips included reprints of Alpha Flight and the first Iceman mini-series, alongside humour strip Marvel's Secret Artist, but with issue #19 a new strip, Zoids, was introduced, and as of issue 20 the cover title changed to Secret Wars featuring Zoids for issues #20-26, after which the Zoids strip transferred to new title Spiderman and Zoids.
In issue #25 a new Spider-Man strip written by Jim Shooter exclusively for the UK was featured, and as of issue #32 the title changed to Secret Wars II as the title began reprinting that series and its tie-ins, often with modifications to fit the reprints to their new home or remove extraneous details (such as cutting out the references to Wraithworld appearing above Earth in the reprint of Fantastic Four #277, which was a link to the storyline then taking place in Rom).
Lew Stringer's comedy strip Macho Man began in issue #42, and thereafter appeared in #44, 51, 52, 53, 58, 63, 67, 69, 75 and 79
The series ended with issue #80, and a week later Spider-Man and Zoids began a five-part epilogue to the series, starting with its issue #46.
Back to General UK Comic Book Heroes.
Back to UK Superheroes Main Page.
All images and characters depicted on this site are copyright their respective holders, and are used for informational purposes only. No infringement is intended and copyrights remain at source.