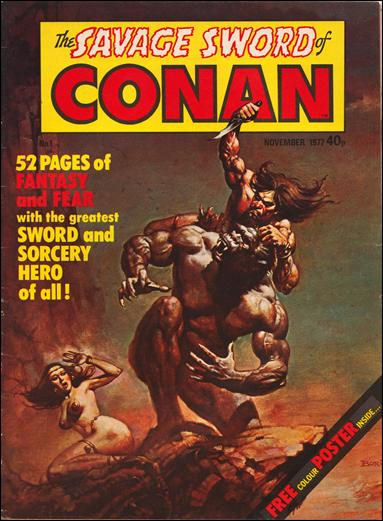 Savage Sword of Conan
a.k.a.: Savage Sword of Conan the Barbarian featuring the Mighty World of Marvel
Publisher: Marvel U.K.
Format: Monthly anthology
First Issue: Savage Sword of Conan #1 (November 1977)
Last Issue: Savage Sword of Conan the Barbarian #93 (July 1985)
Absorbed: Mighty World of Marvel
Absorbed into: None
Strips: Conan the Barbarian, Magik, Night Raven, Red Sonja, Solomon Kane, King Kull
Comments: A couple of years after the cancellation of the weekly Savage Sword of Conan, Marvel UK tried again with the Cimmerian barbarian, reviving his title as a monthly reprinting the somewhat more mature strips from the US magazine of the same name, and intermittently featuring Red Sonja, Solomon Kane and King Kull too. The first issue was released in November 1977, and this time round the title proved to be much more successful, running for several years. With #85 it absorbed the failing Mighty World of Marvel monthly, picking up the reprints of Magik that had just begun in that title, as well as the Night Raven text strip, both of which sat somewhat at odds with the rest of the magazine. A few months later Savage Sword of Conan also came to an end in July 1985 with #93.
Back to General UK Comic Book Heroes.
Back to UK Superheroes Main Page.
All images and characters depicted on this site are copyright their respective holders, and are used for informational purposes only. No infringement is intended and copyrights remain at source.