Rocambole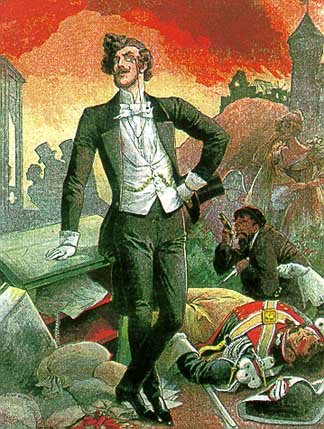 Real Name: Unknown
Identity/Class: Human
Occupation: Adventurer
Affiliations: Sir Williams, Zampa,Blanche de Chamery, The Knights of Moonlight, Milon, Vanda, Marmouset, Nadir, Rajah Osmany
Enemies: Baccarat, Karle de Morlux, Countess Wasilika Wasserenoff, Wreckers, Thugee, Ali-Remjeh, Milady, Sir Edward Linton
Known Relatives: Maman Fipart (adopted mother), Edward (grandson), Ellen Palmure (wife)
Aliases: Viscount of Cambohl, Marquis Albert de Chamery, Convict No. 117, Major Avatar, Mr.Portal
Base of Operations: Paris
First Appearance: "Les Drames de Paris", La Patrie newspaper (1857)
Powers/Abilities: Cunning mind.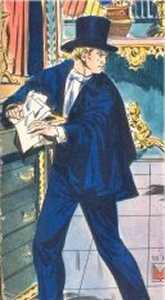 History: Rocambole was an adventurer who began on the wrong side of the law, but ended up doing good. He eventually gathered around him a group of dedicated assistants, selected from various slices of society, ready to drop everything to help their "Master." He often operated in the shadows, pulling strings from behind the scenes. Finally, he mastered the skills of the Orient and inherited the secrets of ancient Tibetan (or equally exotic) civilizations, becoming virtually superhuman in the process.
Rocambole had been an orphan, raised by Maman Fipart, a horrible, evil old woman who owned an inn where villains from the Parisian underworld gathered. In 1843 Rocambole was in his mid-teens, when he encountered "Sir Williams", secretly Andrea de Kergaz (Junior), a Frenchman active in the British underworld and in the midst of a power struggle with his half-brother, Armand. The youth made such an impression on the villainous Andrea that he virtually adopted Rocambole as his protege. However the mercenary Rocambole eventually switched sides in exchange for money, and helped Armand expose Andrea's schemes.
Five years later Andrea had convinced his half-brother that he was a reformed man, to the extent that Armand entrusted him with leading his private police to fight a gang of thieves known as the Jack of Hearts. But in reality, Andrea is as rotten as ever, and he is the secret leader of the Jack of Hearts, ably assisted by Rocambole, now posing as the Viscount of Cambohl. But Andrea's plans are again thwarted, and once more Rocambole betrayed him to Armand, in return for 200,000 francs. With Andrea brutally mutilated (blinded, disfigured and with his tongue cut out) and sent into exile in South America, Rocambole departed for London with his ill-gotten money and his former mentor's address book of criminal contacts.
He returned to Paris in 1851 after two years away, more villainous than ever, a ruthless, brilliant schemer, motivated purely by greed. He stole and murdered without remorse, his actions ameliorated only slightly by his sense of humour.This time, Rocambole's goal was to impersonate the Marquis Albert de Chamery and marry a wealthy Spanish heiress, Concepcion de Sallandrera. As luck would have it, he came across the disfigured Sir Williams who had returned to Europe from the New World under the alias of Walter Bright (a British sailor allegedly disfigured by the Indians), and took him under his wing. Sir Williams became Rocambole's evil mentor and advised him in his schemes. To cover his tracks, Rocambole did not hesitate to kill even his own adopted mother, Maman Fipart, whom he strangled with his own hands. Ultimately, Rocambole came to the conclusion that only one man remained who knows his true identity, Sir Williams himself, so he regretfully pushed him to his death. And yet, after the "savage's death" Rocambole became mortally afraid -- he remembers all too well his mentor's dying curse: "I am the genius who presided over your lucky star... When I am no more, your star will fall..."
Sure enough, only a year later, Sir Williams old nemesis Baccarat, now the Countess Arnoff, returned to in Paris, and pieced together the puzzle. She came to the conclusion that the Marquis de Chamery was none other than her old foe, Rocambole. She managed to enlist the help of Rocambole's henchman, Zampa, locates the real Albert (who was prisoner in Cadiz), marries him to Concepcion, and ultimately captured Rocambole in a castle in Cadiz in Spain. Baccarat's punishment was horrible: Rocambole's handsome face was burned with acid; he was then dispatched to the gallows of Cadiz (to take Albert's place), then to the hard-labour camp of Toulon.
Some time later, Albert's sister, Blanche de Chamery, a woman Rocambole loved as if she had been his true sister, now married to Fabien d'Asmolles, made a charitable visit to the labour camp. At first it seemed she failed to recognize Rocambole in the the bedraggled, disfigured convict he has become. "She did not recognize me," laments Rocambole. "All I have suffered until now was nothing. That is the true punishment!"
Ten years later, in 1865, the now-healed Rocambole (a.k.a. Convict No.117) finally escaped the camp, and experienced an epiphany. He decides to become a force for good, and has gathered around him a small cadre of associates who call him "Master": the repented hulkish convict Milon and the fiercely loyal Vanda.
Rocambole's first task was to protect two orphaned girls, first Antoinette, then her sister Madeleine, from the schemes of the evil Karle de Morlux and his partner-in-crime, the Russian she-devil, Countess Wasilika Wasserenoff. Rocambole's new secret identity was that of Major Avatar, a respected Russian nobleman. During the course of the adventure, his path again crossed that of Baccarat, a.k.a. the Countess Artoff, who eventually came to accept his redemption when she saw him deliberately let Madeleine (whom he dearly loved) marry Yvan Potenieff. Then and only then, Baccarat knew that Rocambole had exorcised the ghost of Sir Williams, and whispered in his ear a single word: "Redemption!"
Soon after, Rocambole, having put his affairs in order, wanted to kill himself -- even Milon and Vanda failed to persuade him otherwise. But then, Blanche de Chamery (whom he loved as a sister) came to tell him the Wasilika has kidnaped her son, and Rocambole was once again resurrected. Rocambole saves the child and killed Wasilika, but escaped apparently mortally wounded. Milon was sure his Master was dead, but Vanda refused to believe it.
Rocambole eventually returned and infiltrated a gang of thieves known as the Wreckers. During the course of a burglary, he came across Thugee from India via England, who sought to kidnap young virgins chosen to serve the goddess Kali. Rocambole travelled to London with Milon, Vanda and several reformed Wreckers (including young Marmouset) to fight the Thugee. Their target was Gipsy, a girl raised among gypsies whose real identity was Anna Blesingfort, and whose inheritance was stolen by her aunt nicknamed "Milady", the mistress of Ali-Remjeh, the Thugee's leader. Rocambole saved Gipsy; the British government lenthim a ship and he captured Ali-Remjeh and Milady. He pardoned the woman and delivered the Thugee to the British. He then went to India, leaving his friends behind.
While in India, Rocambole joined forces with Rajah Osmany. With the help of Nadir, leader of the good Sons of Shiva, he defeated Osmany's villainous minister Sir Edward Linton, but Linton escaped taking with him the Rajah's young son. He returned to Europe, with Rocambole hot on his trail. In Paris Rocambole found his old ally Marmouset in the middle of a struggle with the gypsy woman Roumia, but with more important things to deal with, Rocambole quickly sorted out that problem, convincing Roumia of the error of her ways, so he could concentrate on his main concern. He followed his prey to London, where Roumia helped Rocambole defeat Linton. However the villain had arranged for Rocambole to be arrested by the British police. Roumia, Marmouset, Milon and Vanda captured Linton, and got the Rajah's son and treasure back.
Rocambole was now a prisoner in Newgate. Miss Ellen went to Paris to enlist the help of Rocambole's old gang: Vanda, Milon, and Marmouset. But Lord Palmure and Peters Town (a.k.a. Patterson) had sworn revenge. Their henchman, James Wood, captured Ellen near a construction site but she was rescued by a young bricklayer dubbed the "Limousin" (so named because he comes from the part of France called Limousin). "Shocking" also comes to Paris to seek help for Rocambole. Eventually Wood was defeated and the gang got back together and travelled to London. Ellen was reconciled with his father, who regretted his evil ways. With Samuel's help the gang prepared to spring Rocambole, but ran afoul of a similar scheme by the Irish patriots. Things culminated in a huge explosion in the tunnels under Newgate.
Nonetheless, everyone escaped safe and sound from Newgate. While in jail, Rocambole had met a man, Tom, who was a servant working for the Pembertons and discovered a sinister plot by Evandale Pemberton who stole the fortune and title of the rightful heir, his half-brother, William. Tom killed Evandale, but William was now locked in Bedlam. Rocambole decided to help him but ran afoul of his old enemy, Peters Town (Patterson), now working for Sir Archibald, Evandale's father-in law. Marmouset sprang William out of Bedlam. Rocambole and Shocking captured Patterson. Vanda seduced Sir Archibald and took him to France... But Patterson's criminal organization was hot on the trail of the heroes...
Comments: Created by Pierre Alexis Ponson du Terrail.
There was a story written and set after Rocambole's stay in the prison camp which went down so badly with the readers that Ponsonwiped it from the canon, writing all subsequent tales as if it hadn't occurred, and later stating it was a "fictional account" of the character, rather than a "factual" one which he simply transcribed (as he explained all the others were). Instead of escaping the Toulon labour camp, this is how the tale went:
"But it transpired that she did recognise him, and through Fabien and Blanche's efforts he was eventually pardoned. His face remained scarred, and he now wore blue- or green-tinted glasses, and walked with a pronounced limp. Now financed by Armand de Kergaz and the Countess Artoff, Rocambole uses his talents for the cause of good, to make up for his evil past. He acted as a schemer, pulling strings behind the scenes to aid Les Chevaliers du Clair de Lune (The Knights of Moonlight), a group of four noble young men who were trying to aid a young woman in avenging her murdered parents and claiming her stolen inheritance."
The following installment of the saga was entitled Les Misères de Londres (The Miseries Of London) and again took place in England. In it, the name of Rocambole is never mentioned; he is merely known as the fearsome "Man in Grey"... His allies are Irish priest Samuel, and the beggar Barclay nicknamed "Shocking" (because it's his favorite expression). The stakes are to locate the last heir of a wealthy Irish family, Ralph, who's been raised in the gutters of London in a transparent Dickensian fashion. Rocambole's enemies are Lord Palmure and his daughter, the beautiful Miss Ellen, who stand to inherit, and their associate, the diabolical Reverend Peters Town. After many complicated plots, Rocambole finally outwits Miss Ellen, but is recaptured by the police. As he is taken away, Ellen realizes she was in love with him
As well as appearing in several books (some collections of his newspaper stories gathered into novels, some sequels written by other authors after the death of Ponson during the German invasion of France in 1871), Rocambole has appeared in a number of other media.
Films
Rocambole, a 1914 serial, starred Gaston Silvestre as the lead.

Rocambole, 1924, saw Maurice Thorèze in the role.

Rocambole, 1932, had Rocambole played by Rolla Norman

Rocambole, 1947, starred Pierre Brasseur

Rocambole, 1962, cast Channing Pollock as the rogue
Television
Rocambole (ORTF 2) lasted three seasons between 1964-65, each season comprising one story. There were twenty six episodes in total, with Pierre Vernier as Rocambole.
Radio
Rocambole (RDF, 4 episodes, 1943) saw Julien Bertheau in the part

Rocambole (France-Culture, 31 July 1991) was an excerpt from one of the novels, read by television Rocambole Pierre Vernier.
Much of the information on this page comes verbatim from Cool French Comics, used with permission. Likewise the images.
CLARIFICATIONS: None.
Any Additions/Corrections? Please let me know.
All images and characters depicted on this site are copyright their respective holders, and are used for informational purposes only. No infringement is intended and copyrights remain at source.