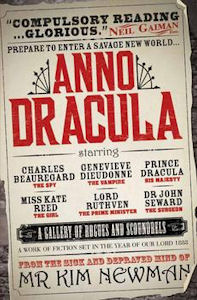 It is 1888 and Queen Victoria has remarried, taking as her new consort the Wallachian Prince infamously known as Count Dracula.
His polluted bloodline spreads through London as its citizens increasingly choose to become vampires.
In the grim backstreets of Whitechapel, a killer known as 'Silver Knife' is cutting down vampire girls. The eternally young vampire Geneviere Dieudonne and Charles Beauregard of the Diogenes Club are drawn together as they both hunt the sadistic killer, bringing them ever closer to England's most bloodthirsty ruler yet.
Anno Dracula's actually been out for a few decades now, but that doesn't make it any less worthy of a recommendation. Kim Newman poses the question "what would have happened if Van Helsing's hunters failed to stop Dracula?" The answer is that Queen Victoria became his third undead bride, and Britain opened its doors to the world's vampires. Now the Jack the Ripper murders are being carried out in a vampire-run Britain populated by famous fictional vampires from books, films and television living side by side with the heroes and villains of Victorian-era literature. If you like League of Extraordinary Gentlemen and its use of cameos of characters from popular fiction, then this is the vampire equivalent, but that might even be selling it short. Anno Dracula is the first in what has become a series of stories set in this world, each jumping forward in time to cast the vampiric mirror on real world events - for instance, book two is the First World War tale The Bloody Red Baron, which deals with Baron von Richthoffen's undead air squadron battling their vampire RAF counterparts. The entire series is well worth checking out.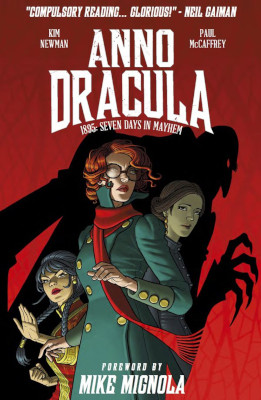 It is 1895. Prince Dracula has ruled Great Britain for ten years, spreading vampirism through every level of society.
On the eve of Dracula's Jubilee, radical forces gather to oppose the tyrant. Kate Reed, vampire journalist and free-thinker, takes a seat on the revolutionary Council of Seven Days, though she learns that the anarchist group harbours a traitor in its midst.
The Grey Men, Dracula's dreaded secret police, have been ordered to quash all resistance to the rule of the arch-vampire.
With intrigue on all sides, the scene is set for an explosive addition to the Anno Dracula series.
Anno Dracula ventures from prose novel into comic book territory with a tale set between the first and second novels. Written like the novels by Kim Newman, it is a joy to behold.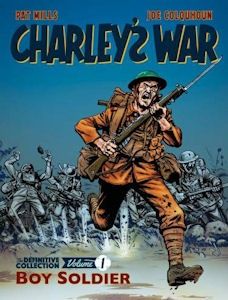 THE MOST RENOWNED WORK IN THE HISTORY OF BRITISH COMICS RETURNS FOR THE CENTENARY OF THE FIRST WORLD WAR.
Considered by many as the most important war story to appear in comics, Charley's War follows the working class Charley Bourne who eagerly signs up to fight on the Western front in 1916. The idealistic sixteen-year-old experiences a hellish world of trench warfare where every day is a bitter fight for survival. Charley and his friends soon realise they have been thrust into a conflict where ordinary people are expected to throw away their lives to serve the selfish interests of those in power!
I've only put up the cover for the first of Rebellion's three new Charley's Wars collections, but the two forthcoming volumes are also worth snatching up as soon as they become available. How good is Charley's War? Well, apart from the not unwarranted description identifying it as the most important war story to appear in comics, it's so good that I intend to pick up all three volumes despite already having the Titan collections that came out a few years ago. With so many comics on my wishlist, I normally wouldn't double dip and buy a story I already have again just because it's in a new collection, but Rebellion are doing it right, reprinting the pages that were originally in colour in colour (unlike Titan), and that alone is worth it to me.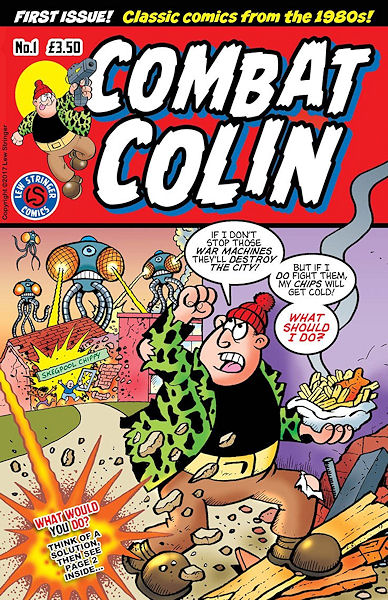 A six issue series of comics collecting the classic COMBAT COLIN strips that appeared in Marvel UK's ACTION FORCE and TRANSFORMERS comics in the late Eighties / early Nineties. You'll see the very first Combat Colin strips and its evolution into a full page serialised strip, with him (and his faithful assistant Semi-Automatic Steve) encountering their first villains Doctor Nasty and Aunt Arctic of the Antarctic! Adventures that take our heroes from the suburban back garden to Egypt and beyond.
Again, I've only put up the first cover, but the second issue is also out, and four more should be coming soon. Lew Stringer's got some other excellent titles worth picking up, such as Brickman and Derek the Troll, but Combat Colin remains one of his most enjoyable characters, and this new series promises to finally collect his entire old run of appearances that are otherwise scattered across dozens of comics, making them pricey to track down.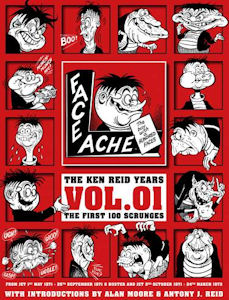 MEET BRITAIN'S GREATEST GURNING GROTESQUE!
Ken Reid is consistently name-checked by the greats of comics – from Alan Moore to Kevin O'Neill, John Wagner to Pat Mills – for his unique art that is matched only by his enduring sense of humour.
In a hardcover edition befitting his status as one of the all-too-forgotten greats of British comics, we present his timeless Faceache – the humorous adventures of Ricky Rubberneck, the boy with a "bendable bonce" whose skin stretches like rubber.
At will, he can scrunge his face into anything, whether it's mimicing others or turning into monstrous creatures – but always coming a cropper!
Rebellion's purchase of the Fleetway back catalogue in 2016 was exciting news, and the subsequent launch of their Treasury of British Comics has released a surprising mix of gems, all of which are worth considering purchasing. But given the nature of my interests, which naturally mirror what I cover on this site, it's no surprise that one of the highlights for me has been Faceache. Hilarious stuff, well worth adding to your bookshelves.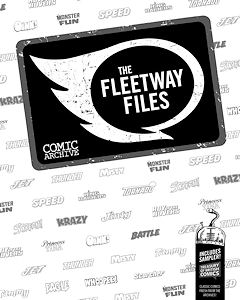 Hibernia Comic's most ambitious project, a 100 page plus archive of British comic content looking at IPC's output from 1969 onwards. Their previous archives (no longer readily available, sadly) were all excellent, so this should be one to check out when it comes out in May 2018. Their volume on Scream!, titled It's Ghastly, even included stories commissioned for Scream! that were left unpublished due to the titles' abrupt cancellation, so I'm excited to see what The Fleetway Files has uncovered.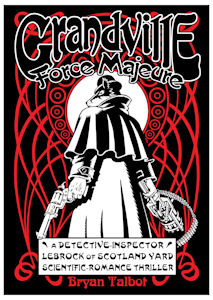 In the middle of a gang war, wanted for murder, truly alone and outside the law, Detective Inspector LeBrock is on the run from both the police and gangster assassins, the victim of a diabolical scheme to annihilate himself and everyone he holds dear, engineered by mastermind crime lord Tiberius Koenig, one of the most despicable villains in the history of detective fiction.
A fiendishly ingenious story of love, tenacity, treachery and tragedy, this fifth, final and longest stand-alone volume of the Eisner and Hugo Award-nominated Grandville series by master storyteller and graphic novel pioneer Bryan Talbot is a veritable rollercoaster of a detective thriller, featuring Grandville's trademark high-octane excitement, humour and deduction on a Holmesian scale as we finally meet LeBrock's mentor, Stamford Hawksmoor, and discover LeBrock's untold backstory. Fan-favourite characters Detective Sergeant Roderick Ratzi and LeBrock's vivacious fiancée, Parisian prostitute Billie are joined by a new badger in town! Enter Tasso, an Italian badger who's bigger, meaner and uglier than LeBrock – but is he a force for good or evil? A battle royale ensues as LeBrock fights against truly outrageous odds. How can he possibly survive?
I've only pictured the latest and last of the Grandville series, but the whole run of Bryan Talbot's anthropomorphic steampunk detective series is a joy. The artwork is sumptuous, the writing tight, and the sneaky cameos and art references hidden throughout the stories are a delight to uncover.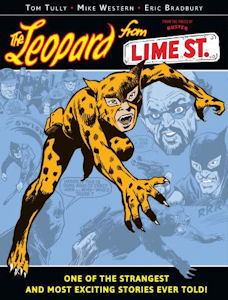 THE BIG CAT WHO PREYS ON CRIME!
After being scratched by a radioactive leopard, young Billy Farmer soon discovered that he had acquired the strength, agility and senses of the mighty jungle cat. Creating a costume to disguise his identity, Billy became the masked vigilante known as the 'Leopard-Man' – Selbridge's premier crime ?ghter.
Living with his aunt and mean uncle in a small house on Lime Street, Billy juggles his time between schoolwork and saving lives, earning some money on the side as a freelance photographer for the Selbridge Sun.
Another highlight from Rebellion's Treasury of British Comics, the Leopard from Lime Street was one of the best British superhero strips ever produced, so it's no wonder it was picked as one of the first series to be collected. I remember drawing a picture of the Leopard in the very same pose seen on this cover (and taken from an early Buster cover appearance) when I was a child - that's how big a fan I was back in the day.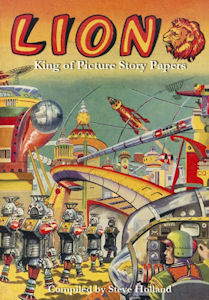 Lion King of Picture Story Papers is a massive, 262-page volume covering the story of one of the most popular titles released in the post-Second World War "silver age" of British comics. Launched in 1952, Lion was Amalgamated Press's answer to Eagle, featuring its own space hero, Captain Condor on its cover.
This was one of the company's first adventure story comics and its twenty-two-year history is the story of British adventure strips in the 1950s and 1960s. Over the years Lion starred some of the most popular characters in British comics, including Robot Archie, Paddy Payne, Karl the Viking, Zip Nolan, The Spider, The Spellbinder, Black Max and Adam Eterno. 290 authors and artists are identified in the index which also covers the Lion Annual, Lion Holiday Special and Lion and Valiant Special Extra.
Heavily illustrated throughout, Lion King of Picture Story Papers includes a lengthy historical introduction, an index to the weekly comic covering comics, text stories and features, contents listings for all 35 Lion Annuals and spin-off annuals, all 17 Lion Holiday Specials and Lion and Valiant Special Extras and includes a title index and creator's index.
Every Index compiled by Steve Holland's Bear Alley Books is brilliant and worth picking up if you are at all interested in British comics. I've chosen to focus on the Lion Index here as it's largest index covering the best known comic, but all are worth getting.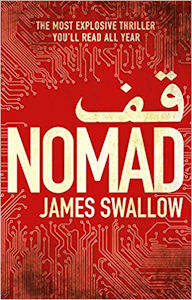 Marc Dane is a MI6 field agent at home behind a computer screen, one step away from the action. But when a brutal attack on his team leaves Marc as the only survivor - and with the shocking knowledge that there are traitors inside MI6 - he's forced into the front line.
However the evidence seems to point towards Marc as the perpetrator of the attack. Accused of betraying his country, he must race against time to clear his name.
With nowhere to turn to for help and no one left to trust, Marc is forced to rely on the elusive Rubicon group and their operative Lucy Keyes. Ex US Army, Lucy also knows what it's like to be an outsider, and she's got the skills that Marc is sorely lacking.
A terrorist attack is coming, one bigger and more deadly than has ever been seen before. With the eyes of the security establishment elsewhere, only Lucy and Marc can stop the attack before it's too late.
James Swallow has been an established science fiction author for many years, but his first venture into thriller fiction finally got his writing the wider recognition it deserved, putting him on the best seller lists. His second volume, Exile, came out last year, and his next is due later this year. If spy fiction or thrillers in general are your thing, then give Nomad a look.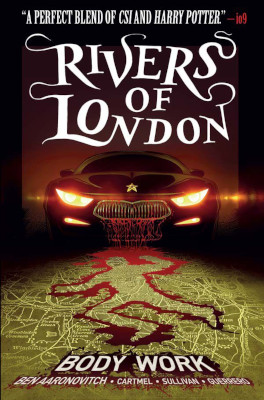 Peter Grant looks look your average London police officer, but he is actually a part-time wizard in a very elite branch of the Metropolitan Police. It's his job to investigate those crimes that regular cops don't like to talk about because they often involve vampires or strange things in Underground tunnels.
Peter's latest case features a self-driving killer automobile, a Serbian refugee, the Most Haunted Car in England, a handsome drug dealer with a nice paisley scarf and a seemingly harmless wooden bench with a dark past!
Supernatural detective fiction in modern day London. Rivers of London has been a successful novel series for a number of years now, and heartily recommended, but the title to the left is its shift into comics. It's hardly the only amalgam of crime thriller with the supernatural, but it is one of the best.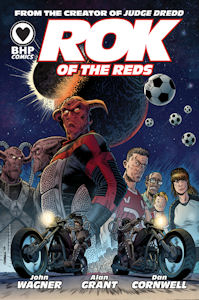 Dangerous intergalactic outlaws and an arrogant footballer collide when Rok of Arkadi, on the run after his home world is destroyed, needs a hiding place. And that hiding place happens to be the life of troubled football star Kyle Dixon.
British comics came up with some truly bizarre concepts thanks to the relentless need to think up new stories to fill weekly anthology titles, and football-themed titles were no different. How do you come up with seven strips that all have to feature football players, but all have to be distinct from one another? Well, alongside more mundane ideas such as the soap opera antics of a top player, the struggles of a team threatened by relegation, and the aspirations of skilled young hopefuls trying to rise up the ranks into the professionals, you get teams aided by ghosts (at least four I can think of), teams with bionic players or ones who are secretly robots (at least a couple of these), teams with players who were raised in the wild by animals so they gained incredible skills (hello Kangaroo Kid!), players who were just raised in harsh wilderness conditions that resulted in them developing superhuman abilities (Hotshot Hamish or Speed's Fastest Footballer on Earth).
A much more recent creation by Judge Dredd's founding writers, Rok of the Reds is nevetheless a spiritual descendent of this British weekly comic insanity. I've seen it summed up as Doomlord meets Roy of the Rovers, and it's utterly brilliant.
Thrud's axe has always done his talking - whether he's stomping a dragon, or accidentally laying waste to an entire town during a battle with his arch-nemesis, 'The Black Currant'.
In this first collected volume, Thrud faces down the necromancer To-Me Ku-Pa, protects his beer.
Since his debut in White Dwarf role-playing gaming magazine back in the 1980s I've been a fan of Carl Critchlow's Thrud, a barbarian so dense that spells designed to attack the mind can't find their target. Tougher than Conan, more violent than Rambo, dumber than mud, and very, very funny.