News, Reviews, Previews and Recommendations
Welcome to the reviews and previews section on International Hero.
Given that I'm British and my site began initially predominately covering British comics most of these are related to currently available British comic titles, especially as developments like Kickstarter have led to the debuts of some new British comics.
If you are a creator or publisher wanting your product publicised and/or reviewed, then please feel free to drop me a line. While my site's focus is largely aimed at superhero features, I am more than happy to review any comics regardless of genre, and movies or TV shows with action, SF, fantasy, spies or detective show backgrounds. As ever, comments below are my opinion only, and your feelings may differ stuff about the stuff I like or dislike.
British comics currently crowdfunding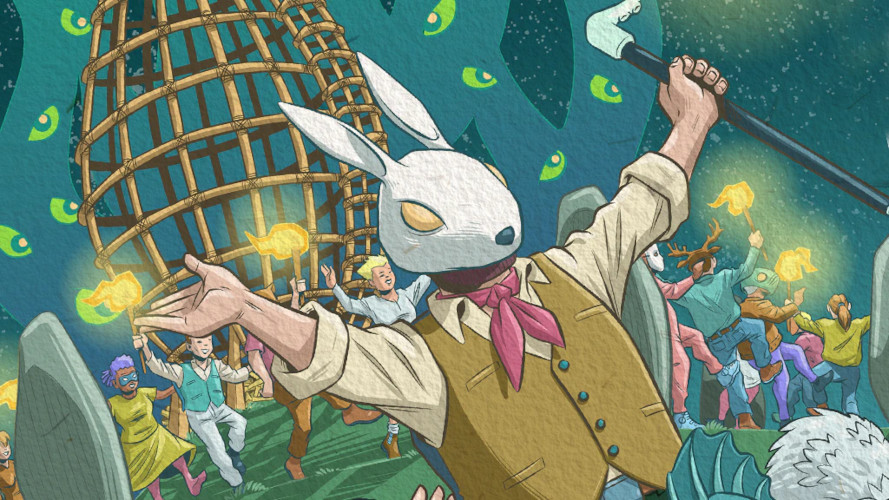 The Wicker Pasty
A full colour Cornish folk horror fantasia, featuring occult foods and folklore, baked goods and elder gods.
The Wicker Pasty is a 32 page colour comic book written, illustrated and set in the heart of Cornwall, riffing playfully on themes of folk horror and cultural identity. With a side order of Lovecraft and ritually baked goods, it takes its cues from a darkly whimsical Cornish storytelling tradition familiar to audiences of Footsbarn, Bedlam and Kneehigh Theatre.
Looking to be a fun and interesting comic with some very nice art, the Kickstarter for this title ends on the morning of June 7th.
Robin of Sherwood: The Hooded Men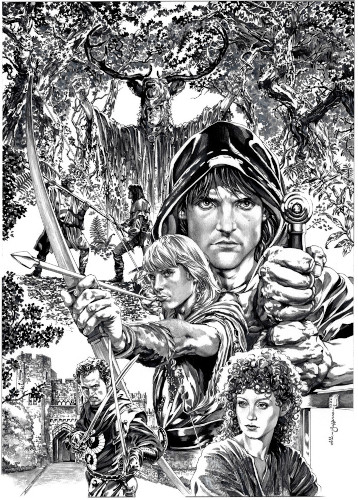 An official graphic novel. A brand-new adventure, based on the 1980's iconic television series.
Robin of Sherwood was probably the best adaptation of the Robin Hood legend ever done. Though it only lasted for three seasons, it still has a strong fan base today, and Chinbeard Books, who last year published a limited edition collection of the Robin of Sherwood strips from the U.K. title Look-In, are publishing a brand new story to tie in with the fortieth anniversary of the show's television debut. It's currently funding on Indiegogo, and will not be available anywhere else thereafter. The campaign ends on 17th June.
Gravestown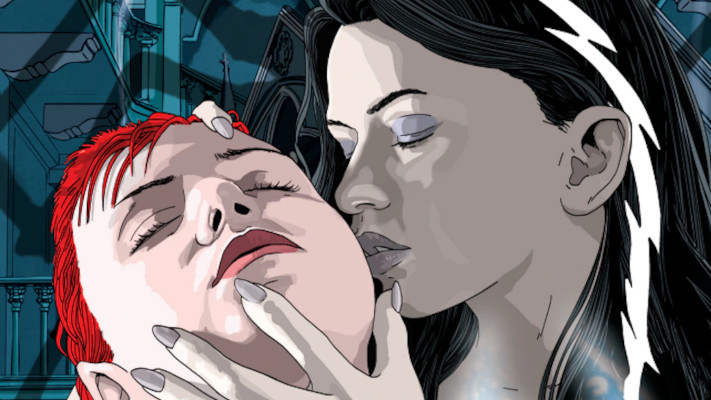 Gravestown is an ongoing urban fantasy series, now on its sixth issue (but don't worry if you've not read it before, as the earlier issues are available as add-ons, and there are plans for a collected edition of them.
The Kickstarter for Gravestown#6 ends on June 18th.
Ian Gibson's Lifeboat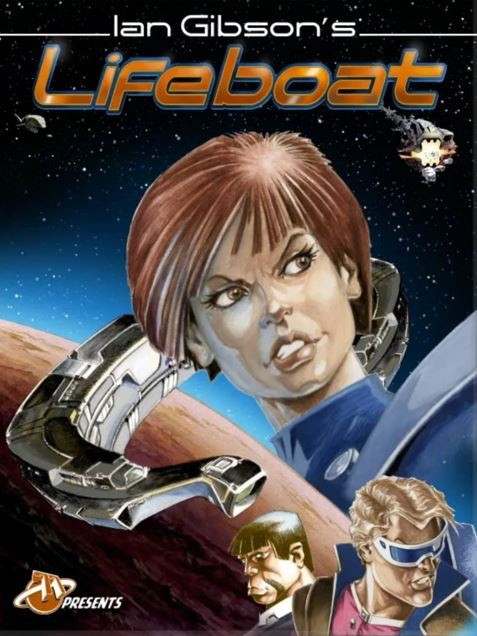 From the renowned artist who (among many, many other credits) co-created The Ballad of Halo Jones comes the SF graphic novel Lifeboat.
The Kickstarter for Lifeboat ends on June 18th.
The Bogie Man: The Incomplete Case Files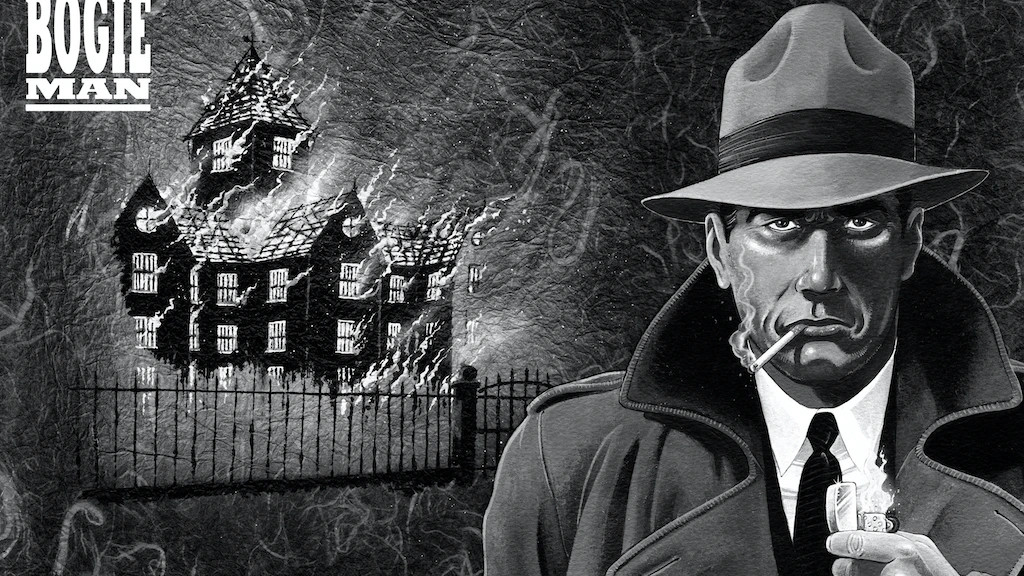 The long-awaited collection of the lunatic adventures of Scotland's favourite crackpot detective.
Originally published by Fatman Press in Glasgow, The Bogie Man appeared across a string of titles. Now his appearances are being collected for the first time. The Kickstarter for The Bogie Man: The Incomplete Case Files kickstarter ends on 9th July 2023.
Ongoing British titles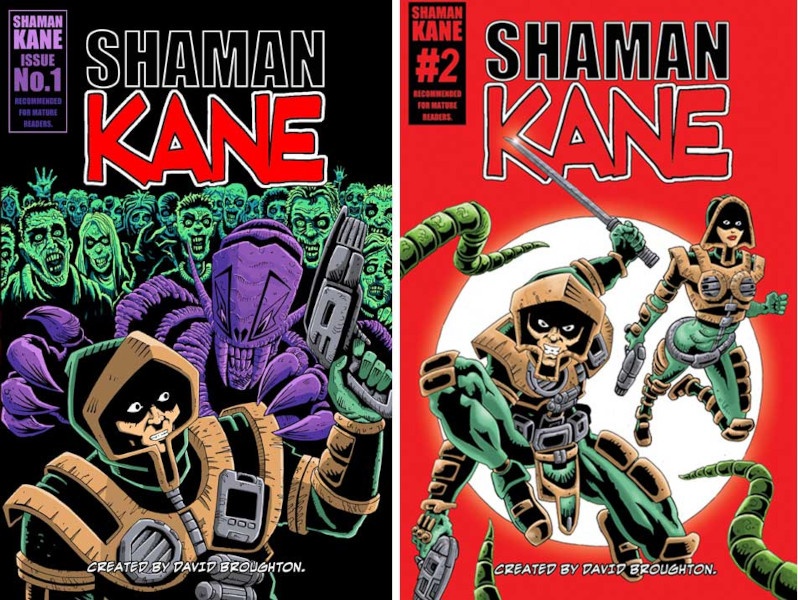 A fun SF action romp, Dave Broughton's "licensed occult operative" Shaman Kane is currently on its ninth issue and is highly recommended.
Beats of War is a Scottish SF superhero title, currently on its third issue, with two more having been successfully crowdfunded and due to be released later this year. All current issues can be purchased from the publisher's site.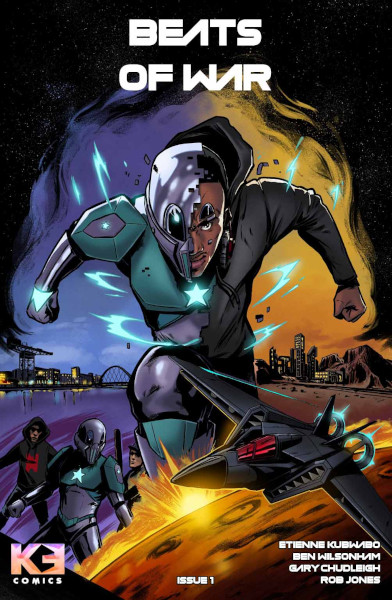 Quantum is a new monthly anthology title from Time Bomb Comics, and the first of their titles that can be bought in the high street.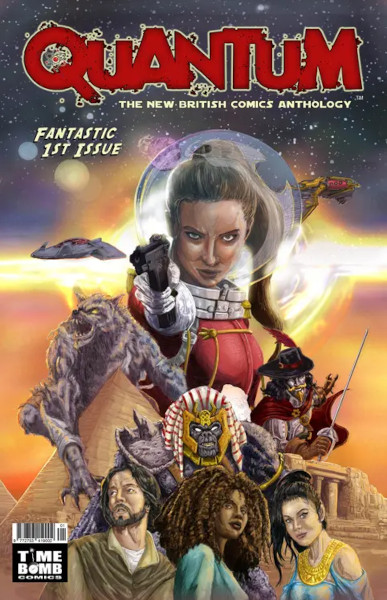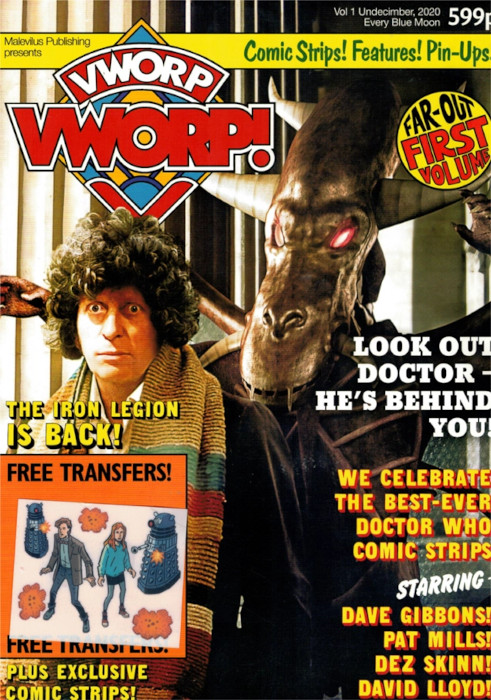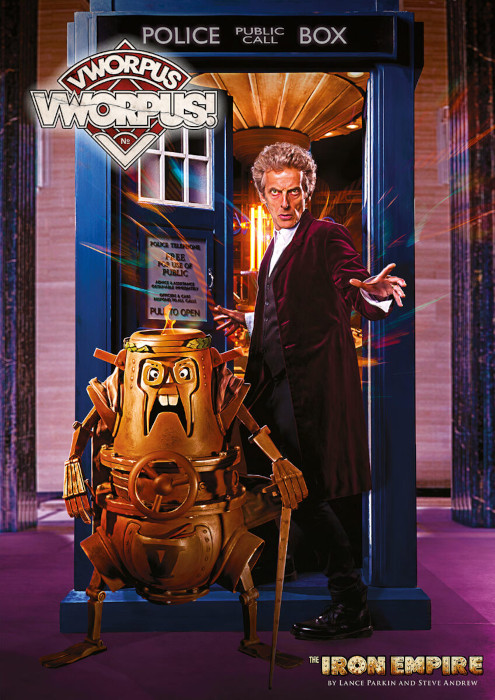 A love letter to Doctor Who comics of the past, complete with new strips of its own, Vworp Vworp is published very infrequently because of the level of detailed research each massive issue undertakes. Each issue has had multiple beautiful covers, and some stunning free gifts, such as brand new audio stories. Available from the Vworp Vworp site, I can't recommend this title enough to anyone who is a fan of the show.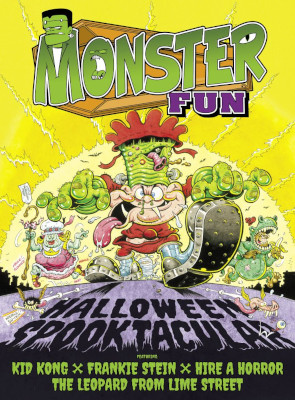 Rebellion's relaunch of Monster Fun has proved successful enough to be switched from coming out once every two months to a monthly schedule.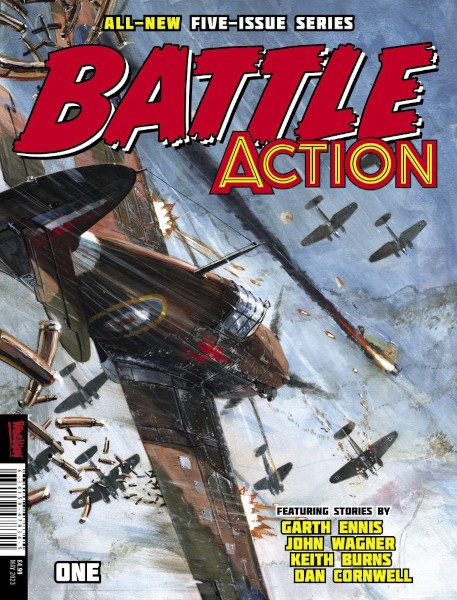 After the success of relaunching Monster Fun, Rebellion are releasing a series of Battle Action issues. At this moment this is intended to be a miniseries of five issues, but I'd imagine that if sales are good enough then Rebellion might continue the run. The issues should be available in high street stores in the U.K., but can also be bought on the Rebellion website, including a discounted option for the whole set.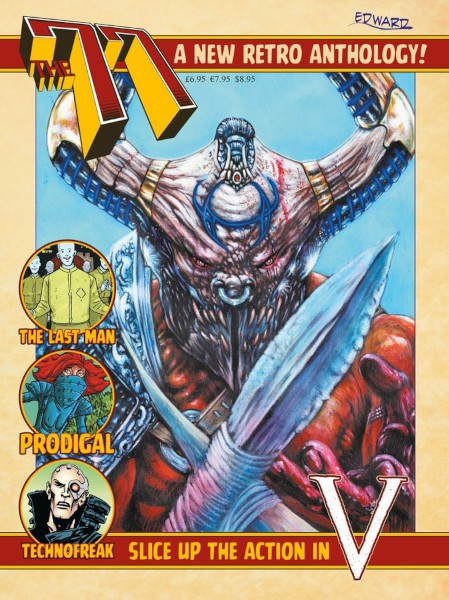 The 77 The 77 is yet another anthology doing a good job of trying to emulate the British comics of the past. It can be found in comic shops, or bought via their webstore.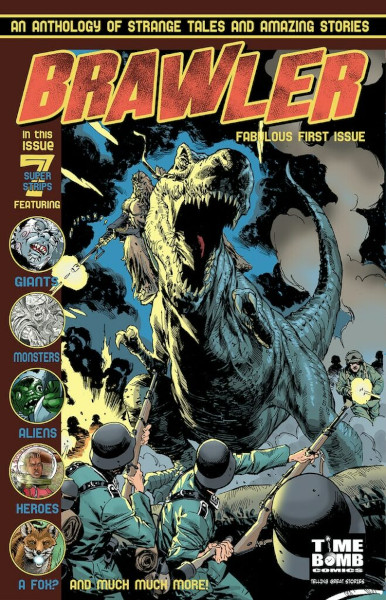 Another new anthology is Time Bomb's Brawler, one of a number of interesting titles from this relatively young British comics publisher.
Graphic novels and collections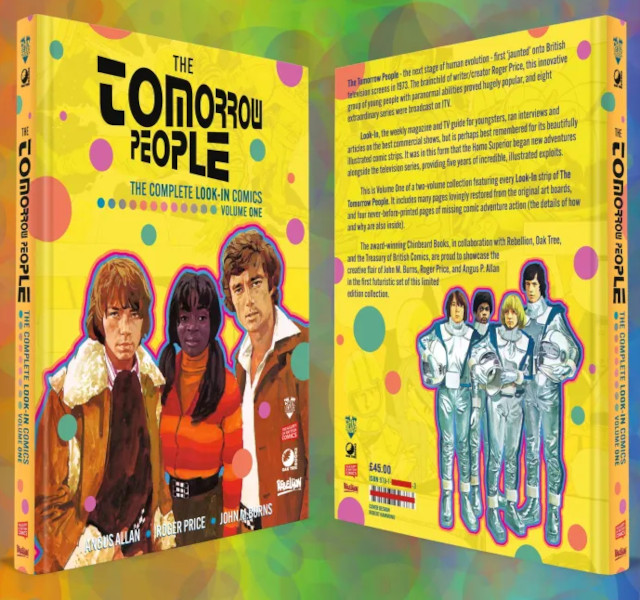 In the 1970s the Tomorrow People was ITV's answer to Doctor Who, a rival SF show featuring the next phase in human evolution. At the same time as their episodes were airing on television, Look-In Magazine carried their comic strip adventures. Now Chinbeard Books and Oak Tree Books, in collaboration with Rebellion and the Treasury of British Comics, have announced a two-volume set which collects the complete run of "The Tomorrow People" adventures from the pages of Look-In, along with a treasure trove of interviews and features from the magazine.
Volume One, due for release in August, is available to pre-order now, as a limited edition. There are only a set number of Volume One books available, and once they're gone there won't be another print run. The publisher's Robin of Sherwood collection sold out quickly last year, so anyone interested should order soon. Volume Two will be available later in the year.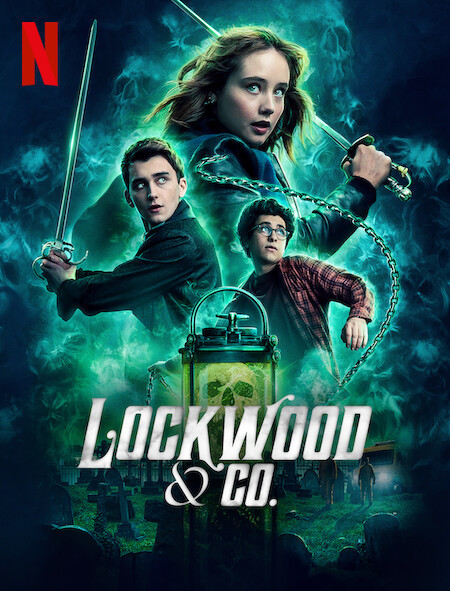 Lockwood and Co. was released on Netflix at the end of January, and has already been cancelled. Which is a shame, because it was a cracking little series and is well worth checking out. Based on Jonathan Stroud's book series of the same name, I'm assuming that anyone who was already a fan of the novels will have checked it out. However, if like me, you don't already know the books, that's no reason not to give it a try. The show is set in an alternate version of Earth almost identical to our own, except that ghosts are not only very much real, but a distinct problem, as they tend to be hostile, direct physical contact can be swiftly fatal, and to make matters worse, most people can't see them, making avoiding such lethal interactions very difficult. Thus dusk to dawn curfews are in effect, since ghosts don't manifest during daylight hours, and those few who can perceive ghosts have become valuable commodities, working the dangerous job of containing hauntings and destroying spectres. Unfortunately, since the ability to perceive the spirits fades with age and vanishes completely with the advent of adulthood, the ghost hunters have to be children, and many of the agencies who supervise them exploit their charges, raking in profits while their teenage staff take all the risks. Except for one agency, the only one run by a current ghost hunter, the titular Lockwood.
I liked the look of the trailers, but went in wary that since the lead cast all had to be young (their characters are teens, though the actors are, I believe, all early 20s or so), this might be pitched as a kids' show. And while that's not necessarily a deal breaker, it does carry different expectations as to what the show will deliver. However, my concerns were swiftly dispelled. While it's still family friendly, and safe enough for kids to watch if they don't mind the odd scare, the story was definitely not dumbed down. It's a decent, somewhat spooky, supernatural show with elements of world building and mystery thrown in.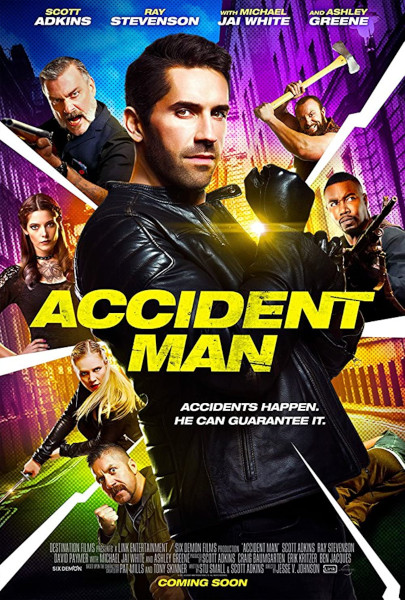 Based somewhat loosely on the comic character of the same name, Accident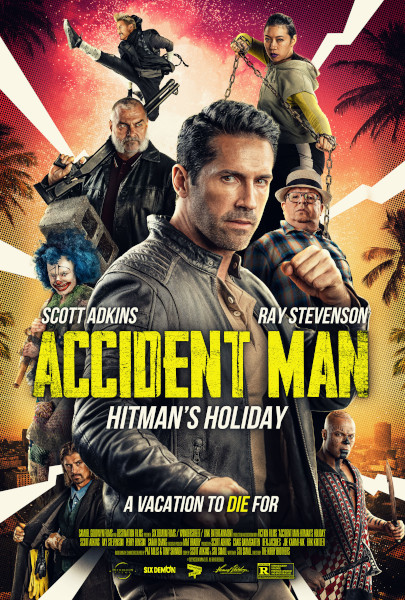 Man was adapted into a movie in 2018, with a sequel, Hitman's Holiday, released in 2022. Both films star martial artist Scott Adkins (recently seen, though unrecognisable due to heavy make-up, in John Wick Chapter 4, as the High Table's obese German representative Killa Harkan) and the late Ray Stevensen. There's also a plethora of other action movie actors in each movie, including Michael Jai White (who played the title role in the 1997 Spawn movie) and Ray Park (Darth Maul). Adkins plays Mike Fallon, an assassin known as Accident Man specialising in hits that appear to be random misfortune rather than contract killings. At first he works for an agency that finds hires out the services of both him and other killers, until he learns that his girlfriend has been slain by one of his compatriots and sets out to discover who and why. In the second movie Fallon is now living in Malta, when his past starts to catch up with him.
It's clear from the outset watching each movie that they don't have the Hollywood budgets, but despite that neither movie feels cheap, with both being fun, well acted and well choreographed action romps. Definitely worth checking out.
---
Any Additions/Corrections? Please let me know.
All images and characters depicted on this site are copyright their respective holders, and are used for informational purposes only. No infringement is intended and copyrights remain at source.