Men in Black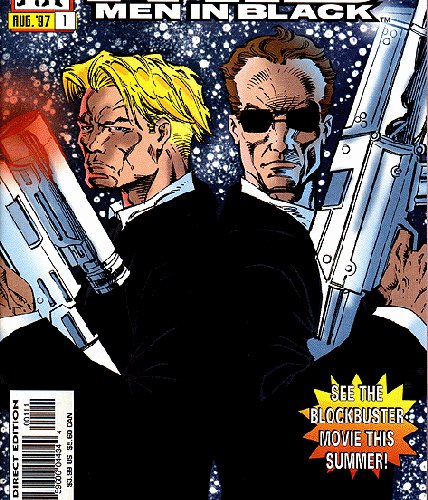 Membership: Agent J, Agent K
(movie version) Agents J, K, D, Z, T, L
Purpose: To protect the Earth against the scum of the Universe; to keep the rest of humanity ignorant about alien incursions to our planet.
Affiliations: (movie version) Harvey the Pug
Enemies: (movie version) "Edgar", Serleena, Scrad
Base of Operations: Active worldwide, but mainly in the U.S.
First Appearance: Men in Black #1 (Aircel Comics)
History: The Men in Black are an organisation that has been around since the early 1950's, when mankind first made contact with alien visitors to our planet. It is their job to police these aliens and to maintain disinformation about them so that the general populace never finds out about them. Often they hide genuine alien incursions in plain sight, masquerading them as film shoots (the finished products from which then help pay the bills), as was the case with "The Day the Earth Stood Still" - in reality this was a documentary.
Comments: Created by Lowell Cunningham.
In 1997 director Barry Sonnenfeld adapted the comic into a hit movie. In the film version, Agents K and J are played by Tommy Lee Jones and Will Smith respectively (although Chris O'Donnell was originally planned for the latter part). The success of the film inevitably spawned a sequel five years later in 2002.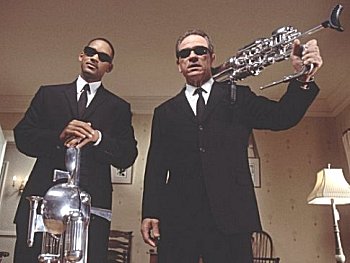 The movie also spawned a cartoon which ran for 53 episodes on the WB network, with the voice of K being supplied by Ed O'Ross (season 1 - the first 13 episodes) and Gregg Berger (remainder of the series), and the voice of J being Keith Diamond. The cartoon aired between 11th October 1997 and 30th June 2001.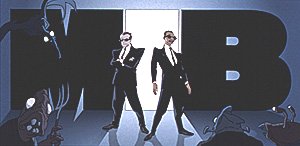 As is probably obvious from the above, like most people I know more about the movie incarnation than the other two. If you can supply additional breakdowns of issues of the comic or episodes of the cartoon, please get in touch.
CLARIFICATIONS: The Men in Black shoudl not be confused with
Agent's J and K should not be confused with
Any Additions/Corrections? Please let me know.
All images and characters depicted on this site are copyright their respective holders, and are used for informational purposes only. No infringement is intended and copyrights remain at source.