Marvel Team-Up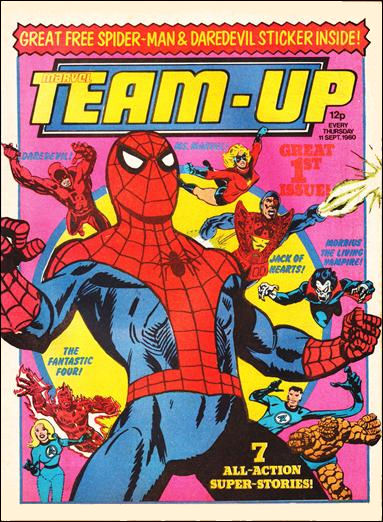 a.k.a.:
Publisher: Marvel U.K.
Format: Weekly anthology
First Issue: Marvel Team-Up #1 (11th September 1980)
Last Issue: Marvel Team-Up #25 (4th March 1981)
Absorbed: None
Absorbed into: Spider-Man and Hulk Weekly
Strips: Marvel Team-Up, Fantastic Four, Morbius the Living Vampire, Jack of Hearts, Ms. Marvel, What If?, Earth 331/3
Comments: Launched by Marvel UK on 11th September 1980, Marvel Team-Up included an eclectic mix of reprinted US series; one of Marvel UK's ongoing problems was that while Marvel US had a wide back catalogue of series, there were relatively few outright headliners, and once they were used in a couple of comics, it became a challenge to pick a mix of stories that could make up an ongoing title. For Marvel Team-Up the two headliner strips were the US Marvel Team-Up (and thus, through it, Spider-Man, the only character to sustain his own long-running UK title) and Fantastic Four, backed up by What If?, Ms. Marvel, Morbius the Living Vampire (from Adventure into Fear), Jack of Hearts (reprinting Marvel Premiere #44; other short run characters from Marvel Premiere and later Marvel Spotlight would replace him once that issue was fully reprinted), and Earth 331/3, an original, three panel humour strip by Tim Quinn and Dicky Howett. With this wide variety of characters, with the Marvel Premiere, What If? and Marvel Team-Up reprints in particular enabling a wider-than-normal range of characters who could be put on the cover, the comic promoted itself as "More Superheroes Than Ever Before!" However, despite this and the star power of Spider-Man, Marvel Team-Up couldn't sustain sales, and the axe fell after only 25 issues, on 4th March 1981. A week later it merged into Spider-Man and Hulk Weekly #418.
Back to General UK Comic Book Heroes.
Back to UK Superheroes Main Page.
All images and characters depicted on this site are copyright their respective holders, and are used for informational purposes only. No infringement is intended and copyrights remain at source.