Lucky Luke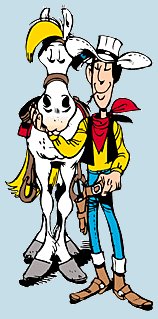 Real Name: Luke
Identity/Class: Normal (?) human
Occupation: Cowboy
Affiliations: Jolly Jumper (his horse); Ra_n_tanplan (the dumbest dog in the world, a spoof of Rin-Tin-Tin)
Enemies: The Daltons (Joe, Jack, William and Averell), Ma Dalton, Billy the Kid, Jesse James
Known Relatives: None known
Aliases: Kid Lucky (his nickname as a youth), Buck Bingo (name used when reprinted in UK's Giggle)
Base of Operations: The Wild West
First Appearance: "Arizona 1880," Le Journal de Spirou (7th December 1946)
Powers/Abilities: Luke is the world's greatest cowboy. He can outshoot his own shadow (see picture on right), he can lasso a whirlwind, he can outride (he once raced the Mississippi and won), outdraw and outshoot anyone. Jolly Jumper is also pretty unique, being able to play Luke at chess, arm-wrestle him and run while asleep.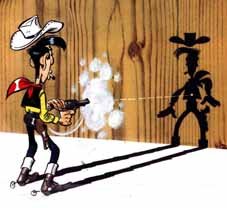 History: Lucky Luke is a cowboy in the Wild West who travels around delivering justice wherever he goes, accompanied by his faithful companion, Jolly Jumper, the smartest horse in the world. His main recurring foes are the dense but persistant Dalton cousins.
Comments: Created by Morris (a.k.a. Maurice De Bevere), who wrote the very first story - after that many of the early stories being written by the French co-creator of Asterix, Goscinny. Luke is still starring in new adventures to this day.
Thanks to Stuart Shankland for providing the following information about the Lucky Luke cartoons: "There was a cartoon series made in 1985 by Hanna Barbera Studios and a new series made in 1991 in France.
All 13 of the 1985 episodes were released as a box set in the USA. 23 of the 1991 episodes were released on video in the UK (which leaves me 3 more to find which is why at the bottom of the 1991 guide is 3 ? marks.)
Original Animated Movies
Lucky Luke in Daisy Town (1971) - Luke was voiced by Marcel Bozzuffi.

Lucky Luke in Ballad of the Daltons (1978)
1983 series - Luke voiced by Bill Galloway.
Ma Dalton

The Dalton's In The Blizzard

The Dalton's Revenge

Billy The Kid

The Stage Coach

Calamity Jane

The TenderFoot

Tales Of The Daltons

On The Mississippi River

The Rails Across The Prairie

Phil Defer

Doctor Doxey's Elixir

The Grand Duke
Second Season
A Shade Of Derricks

The Nest Egg Of Dalton

The Wrinkle White

On The Track of Dalton

The Excorte

The Rivals of Painful Gulch

Of Barbed Wires On The Meadow

The Wire Who Sings

Jesse James

The Black Hills

Dalton City

The Caravan

Rush On Oklahoma
1991 series - Luke was voiced by Terence Hill.
Ghost Town

The Judge

Dalton's Escape

20th Cavalry

Against Joss Jamon

Nitro-Glycerineer

Tortillas For The Daltons

The Pony Express

Bounty Hunter

Luke's Fiancee

Prima Donna

Traveling Salesman

Dare For Luke
Second Season
Apache Canyon

Rantanplan's Heritage

Daily Star

Dalton Cousins

Dalton's Still On The Run

Luke Against Pat Poker

Alibi

Blue Foot Warning

One Armed Bandit

Western Circus

Fingers

The Dangerous Passage

Battle Of Rice
The UK video releases of the 1991 series were:
LUCKY LUKE - DAISY TOWN

LUCKY LUKE - FINGERS/PRIMA DONNA

LUCKY LUKE - BALLAD OF THE DALTONS

LUCKY LUKE - THE ALIBI/ONE ARMED BANDIT

LUCKY LUKE - DALTONS ESCAPE/20TH CAVALRY

LUCKY LUKE - WESTERN CIRCUS/PONY EXPRESS

LUCKY LUKE - A DARE FOR LUKE/LUKE'S FIANCEE

LUCKY LUKE - NITRO-GLY-CERINE/BOUNTY HUNTER

LUCKY LUKE - APACHE CANYON/RANTANPLAN'S HERITAGE

LUCKY LUKE - DALTON COUSINS/LUKE AGAINST PAT POKER

LUCKY LUKE - THE BLACK HILLS/JESSE JAMES/DALTON CITY

LUCKY LUKE - BLUE FOOT WARNING/DALTONS STILL ON THE RUN

LUCKY LUKE - AGAINST JOSS JAMON/TORTILLAS FOR THE DALTONS
In 1999 France made a new series called The New Adventures of Lucky Luke, which lasted for 52 episodes." This latter series has been released on DVD in France, complete with an English language option - it's available from Amazon France, among other places.
Vesa Lehtinen sent me the following comments about this character: "Lucky Luke also meets fictional versions of historical persons like "judge" Roy Bean, Jesse James, Billy the Kid and Calamity Jane. Some of the stories in albums also have historical basis - like building the cross-US railway, white settlement of Oklahoma and the first oil drills. The Dalton gang (who are brothers) is also based on real historical outlaw gang and supposedly their "cousins". Daltons are always incarcerated in the same prison where they always eventually escape and Lucky Luke receives a telegram (wherever he is) about the escape so he has to hunt them down again. I also remember a short story where Lucky Luke meets a young boy who is somewhat his antithesis as far shooting goes. He is so a bad shot that his bullets fly to the opposite direction he is shooting at... Jolly Jumper can also cook and do laundry."
"Julie" adds "in the earlier comics, he always had a cigarette hanging from the corner of his mouth. The writer got criticised for promotion of tobacco, so at some point it changed to a bit of grass or hay."
Karl-Kristian Skreppvin adds "did you know that he also became a sober non-alcoholic for the same reason and quit drinking beer and whisky - and started ask for Coke instead? I don't know how many liters with Coke that Lucky Luke have been drinking through the series, but it ain't few! So, due to the oppinion, LL became both a non-smoker and a sober non-alcoholic (he could have a glass of whisky or beer before this, but he was never drunk." So it seems that Luke could beat most anyone but political correctness.
CLARIFICATIONS: None
Any Additions/Corrections? Please let me know.
All images and characters depicted on this site are copyright their respective holders, and are used for informational purposes only. No infringement is intended and copyrights remain at source.