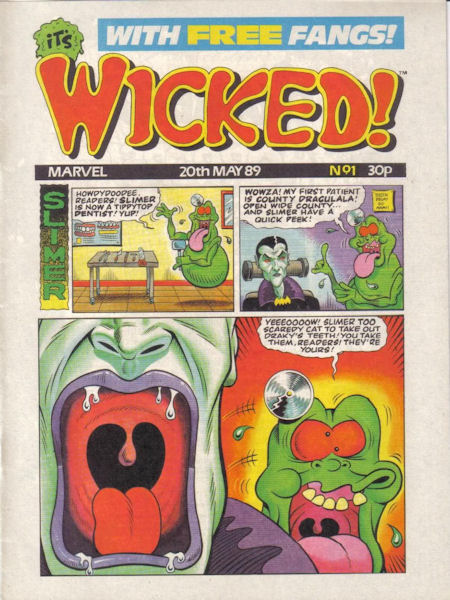 It's Wicked
a.k.a.: N.A.
Publisher: Marvel U.K.
Format: Weekly anthology comic
First Issue: It's Wicked #1 (20th May 1989)
Last Issue: It's Wicked #17 (9th September 1989)
Absorbed: None
Absorbed into: None
Strips: Slimer, Gordon Gremlin, Inspector Spectre, Ghostman Bat and his Black and White Rat, Clare Voyant, Best of Fiends, Toad in the Hole, Dunstable D. Dragon, Winnie the Witch Doctor, Mummy's Boy, Ghoul School, Ghosthunters, Nursery Nightmares, Billy Bones, The Daily Howl, The Living Ted, Grotty Lotto
Comments: Launched on 20th May 1989, It's Wicked! was Marvel UK's foray into producing a comic of supernaturally-themed humour strips, aimed at the market that was previously served by titles such as Monster Fun and Shiver and Shake. Unlike most non-reprint Marvel UK titles, it was neither set in the Marvel universe nor were most of the strips licensed properties. The cover star was Slimer from Ghostbusters. Only 17 issues were produced before the title was cancelled.
Back to General UK Comic Book Heroes.
Back to UK Superheroes Main Page.
All images and characters depicted on this site are copyright their respective holders, and are used for informational purposes only. No infringement is intended and copyrights remain at source.