Gary Hobson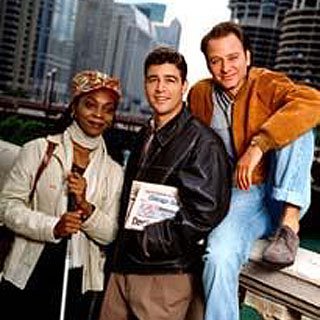 Real Name: Gary Hobson
Identity/Class: Normal human
Occupation: former stockbroker
Affiliations: Chuck Fishman, Marissa Clark, Erica Paget, Detective Marion Zeke Crumb, Sammo Law, Willie Dretler (first custodian of the New York paper), Joey Clams (second custodian of the New York paper)
Enemies: Phil Pritchard (ex-boss)
Known Relatives: Marcia (wife, divorced), Bernie (father), Lois (mother)
Aliases:
Base of Operations: Chicago
First Appearance: Early Edition #1 "Pilot" (CBS, 28th September 1996)
Powers/Abilities: Gary Hobson receives the next days paper early each morning, apparently delivered by a mysterious cat. Normally it arrives at the door of his apartment, but on occasions when he has been away from home, the cat and paper still manage to arrive on the doorstep of wherever he is. This gives Gary up to 24 hours notice of events happening, and Gary can and does make changes to what is written - the headlines change or disappear depending on his success - although things can also get worse by some miscalculation. A few times the power of the paper has been shown to be greater than this alone - in one case, it made Gary relive the same day over again until he got things right; in another case he travelled back in time to save one victim of the Valentine's Day Massacre. The role of custodian of the paper can apparently be passed on, though the method for doing this is uncertain - misuse of the paper seems to be one way of losing the "subscription".
History: Gary Hobson lived a fairly normal life as a stockbroker in Chicago until the day his wife threw him out and ended their marriage. Gary moved into a hotel room overnight, and the next morning, at 6.30 am sharp, someone delivered a cat and a copy of the Chicago Sun-Times to his door - tomorrow's edition of the Chicago Sun-Times. Gary soon lost his job, fired by his jerk of a boss, but he no longer cared. He had a new mission in life - to use the paper to change the bad headlines, saving lives and preventing disasters, with the help of his friends Chuck (a fellow stockbroker) and Marissa (his former secretary).
As time passed Gary learned a little more about the paper. He discovered that the cat and paper would follow him if he stayed overnight away from his apartment. He found out that the paper had used to go to Lucius Snow, a man who had once saved Gary's life when he was a child, a man who died the day before Gary started getting the paper. He also met both Willie Dretler, who had been receiving the next day's New York Daily Press since a couple of years before Gary started getting his paper, and Willie's successor Joey Clams, who had his "subscription" removed after he abused the privilege.
Comments: Created by Ian Abrams and Vik Rubenfeld. Played by Kyle Chandler.
Early Edition ran for four seasons and 90 episodes, the last airing on 27th May 2000.
Pilot

The Choice

Baby

The Paper

Thief Swipes Mayor's Dog

Hoops

After Midnight

Gun

His Girl Friday

The Wrong Man

Christmas

Frostbit

Mob Wife

The Wall (1)

The Wall (2)

Bat Masterson

The Jury

Psychic

The Cat

Phantom of the Opera

Faith

Dad

Love is Blind

Home (start of Season 2)

The Medal

The Wedding

Jenny Sloan

Downsized

Angels and Devils

Redfellas

March in Time

A Regular Joe

A Bris is Just a Bris

A Minor Miracle

Romancing the Throne

Walk, Don't Run

The Return of Crumb

Mum's the Word

Where or When

The Fourth Carpathian

The Quality of Mercy

Show Me the Monet

Don't Walk Away, Renee

Hot Time in the Old Town

Second Sight

Blackout (start of Season 3)

Collision

A Horse Is a Horse

Lt. Hobson, USN

Saint Nick

Halloween

Up Chuck

Deadline

In Gary We Trust

Nest Egg

Teen Angels

Slippity-Doo-Dah

The Last Untouchable

Just One of Those Things

Funny Valentine

Number One with a Bullet

Two to Tangle

Fate

Crumb Again

Pinch Hitters

Home Groan

Play It Again Sammo

Blowing Up is Hard to Do

The Out-of-Towner (start of Season 4)

Duck Day Afternoon

Take Me out to the Ballgame

The Iceman Taketh

Camera Shy

Wild Card

Fatal Edition (1)

Fatal Edition (2)

Weathergirl

Run, Gary, Run

Rose

Snow Angels

Gifted

Performance Anxiety

False Witness

The Play's the Thing

Blind Faith

Occasionally Amber

Mel Schwartz, Bounty Hunter

Time

Everybody Goes to Rick's

Luck o' the Irish
Thanks to Vesa Lehtinen for additional information.
CLARIFICATIONS: None.
Any Additions/Corrections? Please let me know.
All images and characters depicted on this site are copyright their respective holders, and are used for informational purposes only. No infringement is intended and copyrights remain at source.