Future Tense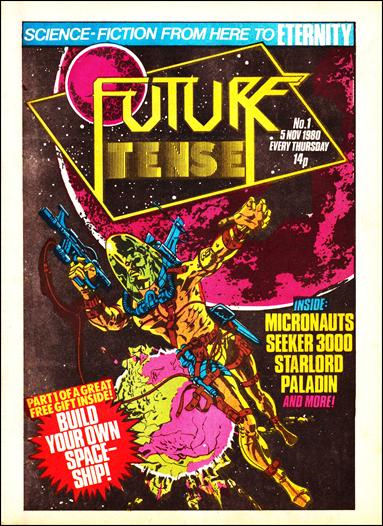 a.k.a.: Future Tense and Forces in Combat (for #13 only), Future Tense and Valour (from #20), Future Tense (from #36)
Publisher: Marvel U.K.
Format: Weekly strip comic, later monthly (from #36).
First Issue: 5th November 1980
Last Issue: January 1982 (42 issues)
Absorbed: Valour, Forces in Combat
Absorbed into: None
Strips: Micronauts, Rom, Star-Lord, Conan the Barbarian, Weirdworld, Seeker 3000, Captain Marvel, Warlock
Comments: On 5th November 1980 Marvel UK launched two "themed" weekly titles - Valour, whose strips all had a fantasy twist to them, and the science fiction-oriented Future Tense. The first issue used a suitably space-suited Nick Fury, though the Agent of SHIELD's tales were not being reprinted inside. Instead, the initial line-up was Micronauts, Paladin (from Marvel Premiere #43), Seeker 3000 (from Marvel Premiere #41) and Warlock (from Marvel Premiere #1); Micronauts would be a mainstay for Future Tense through to the final issue, but all the others would eventually be replaced by other strips. Star-Lord (from Marvel Spotlight #6) joined in #4 for a short run, while Marvel's Star Trek, beginning with the adaptation of the Motion Picture, replaced Seeker 3000 as of #6, to become the second strip destined to continue to the end of Future Tense. With #13 Future Tense absorbed failing sister title Forces in Combat, adding the latter's title to its byline for a single issue and taking up FiC's only SF strip, Rom, into its own line-up. The line-up remained stable for the next few issues, but with #20 Future Tense consumed another failing title, its "twin", Valour, whose two surviving strips, Weirdworld (a.k.a. Warriors of the Shadow Realm, initially from Marvel Comics Super Special #11) and Conan (from Conan the Barbarian) displaced Warlock. The revised line-up for Future Tense and Valour, a title it would retain through to #35, again stabilised for a time, with the only change being when Weirdworld ended (when the US strips ran out) and was replaced by Captain Marvel (from Marvel Spotlight #1) as of #28. Conan ended in #34, and with #36 Future Tense reinvented itself as a monthly title. Rom's final appearance was in #38, and in January 1982 Future Tense ended with its 41st issue.
Back to General UK Comic Book Heroes.
Back to UK Superheroes Main Page.
All images and characters depicted on this site are copyright their respective holders, and are used for informational purposes only. No infringement is intended and copyrights remain at source.