All-American Publications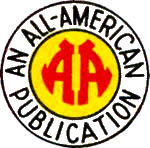 The history of All-American Publications is inextricably linked to the company it eventually merged with, National Periodical Publications. In 1938 Max Gaines had been working for McClure Syndicate, but had ambitions to produce his own line of comics; he approached Harry Donenfeld, one of National's owners, for funding. Donenfeld's partner (and accountant) in National, Jack Liebowitz, had apparently expressed disagreement with Donenfeld's belief that National producing four monthly titles was sufficient, and possibly as a means of keeping Liebowitz from leaving to set up a rival company, Donenfeld agreed to back Gaines' venture so long as Liebowitz was taken on as the lesser partner in the new company, which took its name from its first publication, All-American Comics. As with many comics of the era, it was largely composed of newspaper strip reprint material, but soon new material began to appear, including aviator Hop Harrigan and superheroes such as the Flash, Hawkman, Green Lantern and Wonder Woman.
Given their unusual business inter-relationship, All-American and National were closely tied from the off, promoting each other's titles and even publishing strips about characters belonging to the other (for instance, All-American's "All Star Comics" #1 hosted National's Sandman, Spectre and Hourman, and in #3 the three aforementioned were joined by National's Doctor Fate and All-American's Atom, Flash, Green Lantern and Hawkman to form the Justice Society of America).
Around 1944 Gaines bought Liebowitz out, and the two companies briefly parted ways; National's DC (Detective Comics) logo, which had previously appeared on many All-American titles, was replaced by an All-American logo of similar design, and the Justice Society line-up lost its last National Publications' members. Only two years later Gaines decided to get out of the superhero business, and sold all of All-American's characters and titles back to National, with the exception of his educational titles Picture Stories from the Bible and Picture Stories from World History, which would become the first titles in Gaines new company, E.C. (Entertaining Comics). All-American was absorbed wholly into National, which by this time had begun to be colloquially known as DC Comics.
| | | | | |
| --- | --- | --- | --- | --- |
| | | | | |
| Atom | Black Pirate | Blue Boys | Doctor Mid-Nite | Bulldog Drumhead |
| | | | | |
| Flash | Gay Ghost (a.k.a. Grim Ghost) | Ghost Patrol | Green Lantern | Gunner Godbee |
| | | | | |
| Hop Harrigan (a.k.a. Guardian Angel) | Hawkgirl | Hawkman | Justice Society of America | Little Boy Blue |
| | | | | |
| McSnurtle the Turtle (a.k.a. The Terrific Whazit) | Mr. Terrific | The Three Mouseketeers | Johnny Thunder | Red Tornado |
| | | | | |
| Red, White and Blue (Red Dugan, Whitey Smith, Blooey Blue) | Sargon the Sorcerer | Ultra-Man (Gary Concord) | The Whip (El Castigo) | Wildcat |
| | | | | |
| Wonder Woman | Black Canary | Bob Wiley | King | |
All images and characters depicted on this site are copyright their respective holders, and are used for informational purposes only. No infringement is intended and copyrights remain at source.