Adele Blanc-Sec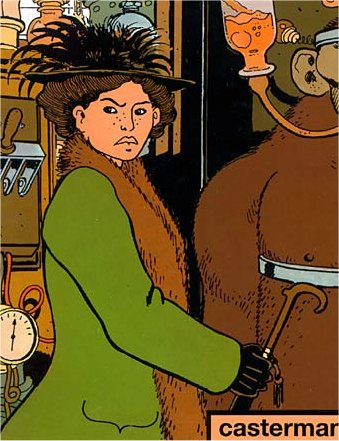 Real Name: Adele Blanc-Sec
Identity/Class: Normal human
Occupation: Freelance writer
Affiliations: Lucien Brindavoine, her Mummy (Egyptian variety, not a family member), Alexander the Pithecanthropus (revived caveman), Joseph (deceased)
Enemies: Otto Lindenberg, the Mafia, Clara Benhardt (cult leader), Philippe Boutardieu (insane telepath), Dieuleveult, Dugommier (corrupt cop and cult leader), Robert Espérandieu, Eugène Lobel
Known Relatives: Mireille Pain-Sec (sister), unnamed Great-Grand Uncle (deceased)
Aliases: None
Base of Operations: Paris, France, c.1911 onwards.
First Appearance: Adele Blanc-Sec newspaper strip, Sud-Ouest (1976)
Powers/Abilities: Keen mind, good shot.
History: Adele Blanc-Sec was a freelance writer operating in Paris, a young woman who was not not afraid to drink, shoot guns, smoke, or shoot like a man. She lived in a top floor apartment with only a Mummy her great grand uncle had brought back from his travels for company. In 1911 Paris was plagued by a sect of demon worshippers who were on a spree of human sacrifice, killing their enemies atop the Eiffel Tower, until Adele interfered and defeated the cult. She continued to encounter and battle a variety of bizarre beings, including mad scientists wanting to resurrect frozen cavemen as soldiers, an insane telepath who controlled a revived pterodactyl with his mental powers, Egyptian mummies brought back to life, and a host of other weird creatures. During one of these adventures (Mimmies on Parade) Adele was fatally stabbed through the heart, and would have died, had not a young scientist, aided by Adele's resurrected Mummy, placed her in hibernation.
Adele was finally awoken several years later, having slept through World War I. Her rescuer was Lucien Brindavoine, a photographer who was no stranger to weird adventure. Adele and Brindavoine were stalked again by their old enemies and investigated a conspiracy which led them to uncover the real reasons behind World War I, as well as other strange ectoplasmic phemenons.
Adele's last recorded adventure took place in 1922, and introduced Adele's sister, Mireille Pain-Sec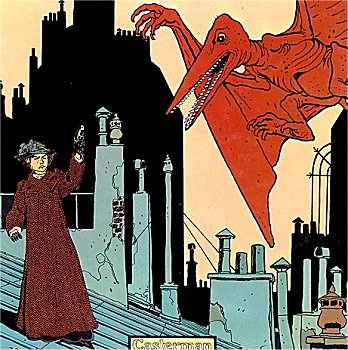 Comments: Created by Jacques Tardi. The first Adele Blanc-Sec story was originally serialized in the daily newspaper "Sud-Ouest" in 1976. It was then collected in a graphic novel by Belgian publisher Casterman.
Later stories were first serialized in Casterman's monthly comic magazine, "(A Suivre)", then published as graphic novels.
Thus far there have been eight stories.
Adele et la Bete [Adele And The Beast] (1976)

Le Demon de la Tour Eiffel [The Demon Of The Eiffel Tower] (1976)

Le Savant Fou [The Mad Scientist] (1977)

Momies en Folie [Mummies On Parade] (1978)

Le Secret de la Salamandre [The Secret Of The Salamander] (1981)

Le Noye a Deux Tetes [The Drowned Man With Two Heads] (1985)

Tous des Monstres [Everyone A Monster] (1994)

Le Mystere des Profondeurs [The Mystery of the Depths] (1998)
Adele's ally, Lucien Brindavoine pre-dates her and had adventures of his own.
Adieu Brindavoine ("Pilote" Nos. 680-700, 1973)

La Fleur au Fusil [The Flower in the Rifle] (10 p. story) ("Pilote" No. 743, 1974)
Adieu Brindavoine, serialized in 1972 & 1973 in the weekly magazine "Pilote", told the story of a young photographer in the Europe of 1914. Lucien Brindavoine gets caught up in a bizarre odyssey that takes him to the Middle East. There, he encounters a lunatic millionaire, Otto Lindenberg, who is trying to find a worthy heir to his fortune. The story ends with the beginning of World War I.
A later short story sequel, The Flower in the Rifle, was published in "Pilote" the following year and told more of the long-suffering Brindavoine's wartime experiences.
In addition, Momies en Folie (Adele's fourth adventure) served as a sequel of sorts to another Tardi story, Le Demon des Glaces [The Demon Of The Ice] (1974), bringing back several of the characters from same to encounter Adele. The Demon of the Ice, which was released directly in album form by "Pilote"'s publisher Dargaud in 1974, was a deliberate homage to Jules Verne. It told the story of mad scientist Carlo Gelati and his secret sea fortress, disguised as an artificial iceberg. The story takes place in the 1890's, and Gelati's arch-enemy, Simone Pouffiot, clearly anticipates Adele Blanc-Sec.
In an interview, Tardi explained that Adele's "death" in Momies en Folie was necessitated by the onset of World War I. Her feisty nature made it impossible to provide her with a place in the war. She would not have been allowed to fight, and could no more have settled for being a nurse, than she could have remained home rolling bandages. Hence he placed her on ice for the duration of the war. In The Secret of the Salamander, Tardi deals with Brindavoine's post-war adventures, leading to Adele's resurrection in November, 1918.
The first five Adele Blanc-Sec stories as well as Adieu Brindavoine were translated by Randy & Jean-Marc Lofficier. They were first serialized in b&w in Dark Horse's "Cheval Noir" comic, then published as graphic novels by NBM.
Much of the information on this page comes verbatim from Cool French Comics, used with permission.
Pascal Fernandez maintains a French website about Adele, which you might want to check out. There is also an English language website devoted to her.
CLARIFICATIONS: None.
Any Additions/Corrections? Please let me know.
All images and characters depicted on this site are copyright their respective holders, and are used for informational purposes only. No infringement is intended and copyrights remain at source.